CONTINUOUS FURNACE FOR CARBURIZING, HARDENING AND TEMPERING
To see the specification of your hardware, click on the appropriate section.

APPLICATION AND FEATURES OF SECOND WASHING DEVICE FOR DEGREASING AND RINSING RG807
The rear washing device (secondary washing device) is used to rinse and degrease products after the quenching tank before loading into the tempering furnace. Two types of front washing devices are available - immersion and flat type.
Tank has attached with heater to supply hot water with preheating zone in carburizing furnace to save electricity. It has equipped with oil and water separator and strong air blower. Quenching oil will attach on the material that will let quenching oil back to the oil tank for reused.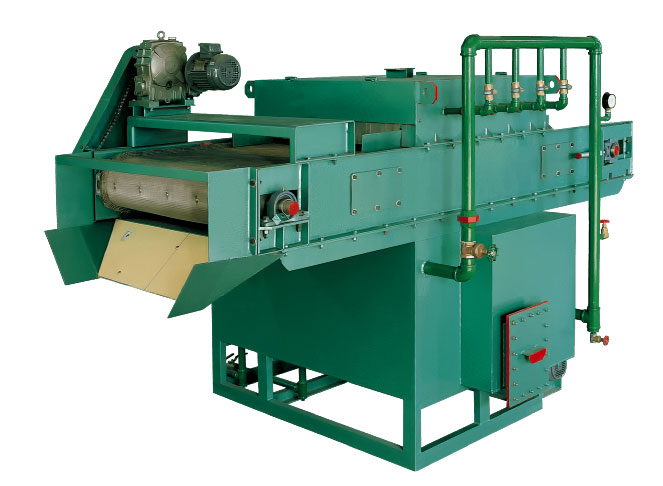 Technical specification of the Second electric heated immersion washing device:
Washing zone
60…80°C
Hot air drying zone                    
80…100°C

For 1 bath indicated above one pump and six heaters are applied of 52 kW total power.

Pumps for irrigation
1 pcs
Oil separator operates on the principle of densities separation
1 pcs
Electric heating (13 kW)
4 pcs
The volume of the washing tank
about 2 m3
Engine power
0,75 kW
Outlook of the Rear Immersion Degreasing & Washing Machine
Technical Specification of the Electrically Heated Immersion Degreasing & Washing Tank
Model
Conveyor width, mm
Supporting power, kW
Tank capacity, l
Pumps for circulation and degreasing, HP
External dimensions of the tank, mm
Width
Height
Length
RG-807A-A
600
26
2180
2
1900
2345
3800
RG-807A-1
600
26
2180
2
1900
2345
3800
RG-807A-2
700
26
2540
2
2000
2345
3800
RG-807A-3
800
26
2900
2
2100
2345
3800
RG-807A-4
1000
26
3620
2
2300
2345
3800
RG-807A-5
1000
26
3620
2
2300
2345
3800
RG-807A-6
1000
26
3620
3
2300
2345
3800
RG-807A-6S
1000
26
3620
3
2300
2345
3800
RG-807A-7
1200
39
4350
5
2500
2345
3800
RG-807A-7S
1200
39
4350
5
2500
2345
3800
RG-807A-8
1400
39
5070
5
2500
2345
3800
Technical Specification of the Second Flat Type Degreasing & Washing Tank
Model
Conveyor width, mm
Supporting power, kW
Tank capacity, l
Pumps for circulation and degreasing, HP
External dimensions of the tank, mm
Width
Height
Length
RG-807B-A
600
26
900
2
1660
2215
3100
RG-807B-1
600
26
900
2
1660
2215
3100
RG-807B-2
700
26
1050
2
1760
2215
3100
RG-807B-3
800
26
1200
2
1860
2215
3100
RG-807B-4
1000
26
1500
2
2060
2215
3100
RG-807B-5
1000
26
1500
2
2060
2215
3100
RG-807B-6
1000
26
1500
3
2060
2215
3100
RG-807B-6S
1000
26
1500
3
2060
2215
3100
RG-807B-7
1200
39
1800
5
2260
2215
3100
RG-807B-7S
1200
39
1800
5
2260
2215
3100
RG-807B-8
1400
39
2100
5
2460
2215
3100
Typical equipment set of the Rear Immersion Degreasing & Washing Tank
Position
Name
Note
1
Washing bath:

Material: SS41
Immersion depth: 255 ~ 300 mm
Bath capacity: approximately 2,800 l
Dimensions of the bath: (W) 1530 mm × (H) 800 mm × (D) 2850 mm

2
Washing Pump power 3 h.p. (2.2 kW) with Y-filter (bypass)
1 unit
3
Washing conveyor:

Drive system: 1 h.p. engine (0.75 kW) with a gearbox (1/450) x 1 block
Type of conveyor belt: wire braided
Conveyor belt material: SUS204 stainless steel
Wire diameter: 1.6 mm × 1.6 mm
Dimensions: (W) 1000 mm × (H) 30 mm
Total conveyor tape length: 7.8 m

4
Conveyor frame: SS41 steel, reinforced construction
5
Conveyor Chain:

Chain Type: 05075L
Materials: SUS304 stainless steel chain plates, rollers + sleeves + SUS420 stainless steel pins

6
Heating system:

Heater type: electric pipe type
Heater power: 52 kW (13 kW / pcs × 4 pcs)
Temperature control: thermostat on / off.

7
Oil collector: band type power 0.2 kW
1 set
8
Support beam: L-shaped aluminum
9
Drying blower:

Air type
Power 3.7 kW (5 hp)

1 set
10
Injection tubes (patented design)
1 unit
11
Floor control system: proximity switch
1 unit
12
Manometer
1 set