WIRE HEAT TREATMENT FURNACE EQUIPMENT
BELL-TYPE FURNACE FOR SPHEROID ANNEALING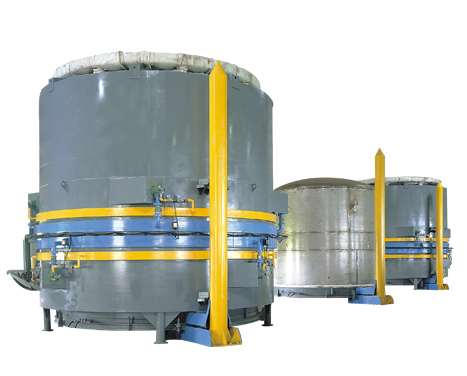 Application:
Bell furnaces are used in iron and steel industry: steel wire bright annealing, spheroid annealing of low-alloy wire coil, steel strip annealing, spheroid and bright annealing of medium / low high-carbon steel, stainless steel, chromium, chromium-nickel steel, special alloys of nickel, iron and chromium, heat treatment of metal balls, normalization, tempering.
In the aluminum industry: for hardening, annealing of aluminum foil, secondary heat treatment.
In copper industry: bright annealing of wires, pipes, metal grids, sheets, copper and thermal processing of light metal alloys.
FEATURES AND SPECIFICATIONS OF BELL-TYPE FURNACES
Temperature control: twenty-stage program and logic controller includes 19 configurations and can accurately and completely control the temperature. Durable inner coating of the furnace provides high-quality thermal insulation. High heating and cooling rates are achieved due to excellent thermal insulation properties of the ceramic fibers and conductivity.
Type of heating: electric, gas. Temperature curve is adjusted by the operator.
Atmospheric monitoring:
atmosphere: N2, H2, endothermic gas. Mixed endothermic and enriched gas is used to increase the amount of carbon emitted and the process of decarbonization. Always maintain an effective, stable, high-speed process gas convection.
Operating system:
10 pre-programmed regimes of temperature management . Automatic ignition management. All production processes are controlled on screencomputer.
Air cooling, air cooling system management.
The quality and performance.
No pollution, no emissions.
Early warning system:
Emergency gas valve is activated automatically when the gas pressure reaches extreme high or low standards. The system warns and stops accessory power. Prevention and control of temperature automatically. The system also prevents any leaking gas.
SPECIFICATIONS OF BELL-TYPE FURNACES FOR WIRE ANNEALING
| Type | Size, mm | power. kW | Temperature, °C (MAX) | Capacity (MAX) (kg/furnace) |
| --- | --- | --- | --- | --- |
| RGB-1020 | Ø1200x2000В | 120 | 850 | 2000 |
| RGB-2020 | Ø2000x2000В | 240 | >800 | 6000 |
| RGB-2020 | Ø2000x2000В | 240 | 850 | 6000 |
| RGB-2420 | Ø2450x2000В~2400В | 300 | >800 | 10000 |
| RGB-2820 | Ø2800x2000В~2400В | 360 | >800 | 16000 |
| RGB-3024 | Ø3000x2400В~3000В | 390 | >800 | 25000 |
| RGB-3430 | Ø3400x2400В~3000В | 420 | >800 | 40000 |
| RGB-4530 | Ø4500x3000В~4000В | 520 | >800 | 45000 |