WIRE DRAWING EQUIPMENT
COMBINED WIRE DRAWING MACHINE
Combined drawing machine is complex combination, and the production will be high-efficiency and guarantee to achieve best quality. This drawing machine integrates the advantages of machines from Germany and Japan. Best quality parts and materials are used on our product. Design the machine with a higher grade of tolerance to increase the durability of the machine. Faster processor units and software are used to ensure the machine's ease of use.
The drawing equipment could be applied to various shafts, sports equipment, various hardware supplies, auto and motorcycle parts, hand tools, bicycle parts, mechanical parts and so on. Along with the combined drawing machine, there are some multi choices for adaptation as listed below.
Coil Opener.
Push Pointer.
Shot Blasting Machine.
Straightening and Polishing Machine.
Swaging Machine.
Pointing Machine.
Chamfering Machine.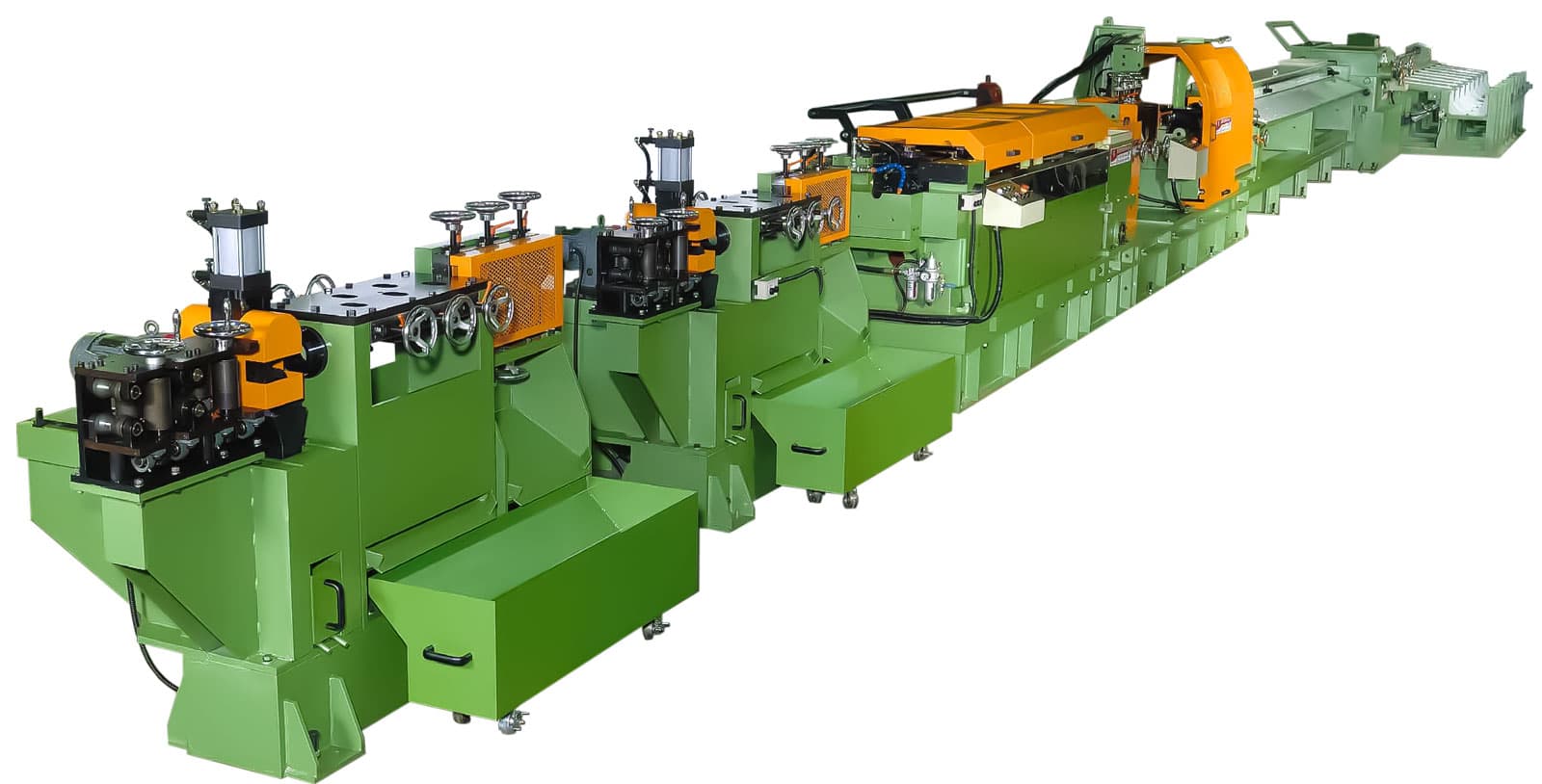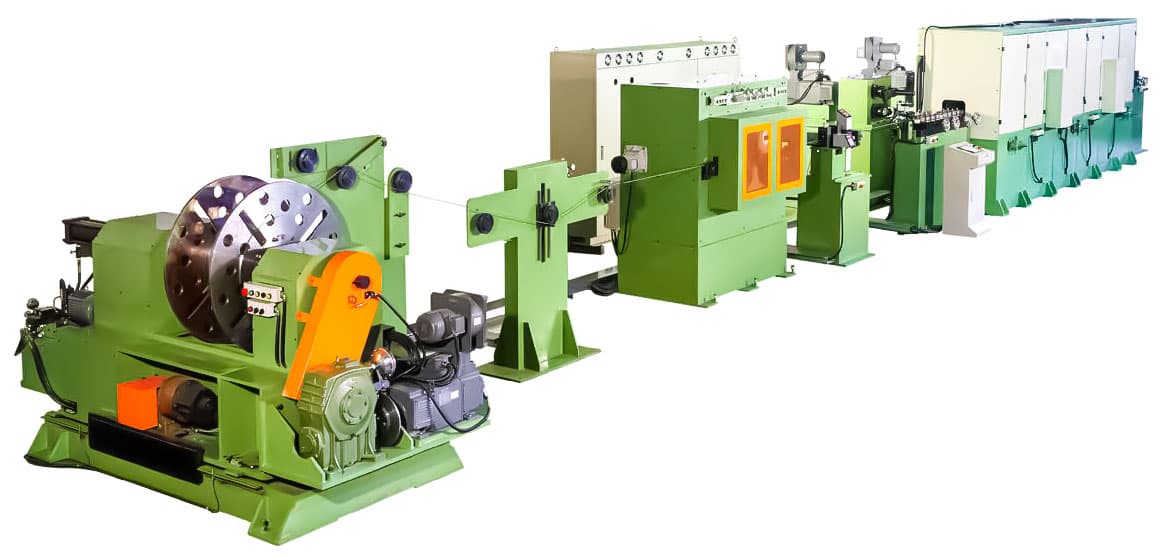 Specification
Type
Working Diameter
Working Length (m)
Max. Tension (kg)
Drawing Speed (m/min)
Braking Moment for shearing part (N-m)
Total Power (kW)
Total Weight (t)
Weight of Steel (t)
Straightness of finished product (mm/m)
Surface roughness of finished products
Cutting Length (m)
Round (mm)
Hex (mm)
Square (mm)
0
Ø3 - Ø8
H3 - H7
S3 - S6
2 - 8
2000
80
142
80
15
3.0 (max)
≤0.1 ~ ≤0.8
Ra 1.6
2 - 6
1
Ø5 - Ø13
H5.5 - H11
S5.5 - S9
4000
70
112
19
1B
Ø5 - Ø16
H5.5 - H14
S5.5 - S14
5000
145
21
1C
Ø6 - Ø20
H6 - H18
S6 - S18
10000
60
24
2
Ø10 - Ø25
H10 - H22
S10 - S22
525
240
34
3
Ø16 - Ø36
H16 - H32
S16 - S30
15000
310
61
4
Ø30 - Ø60
H30 - H50
S30 - S45
40000
25
340
78
AUTOMATIC COMBINED WIRE DRAWING LINE LAYOUT

Use scrollbar to view the entire equipment layout
Bar Production Procedure for Peeled Bar
Bar Production Procedure for Cold Drawn Bar
Coil Pay-Off Stand
(Option)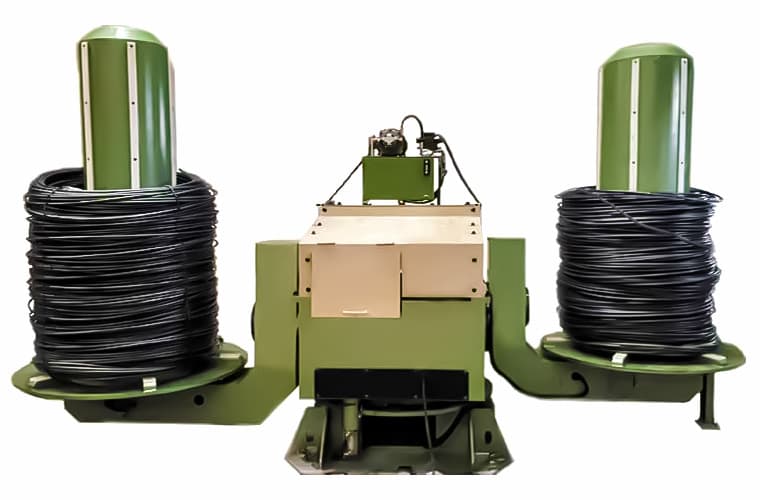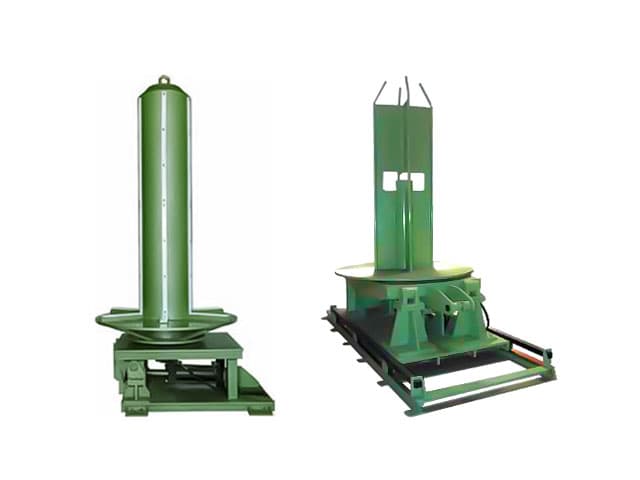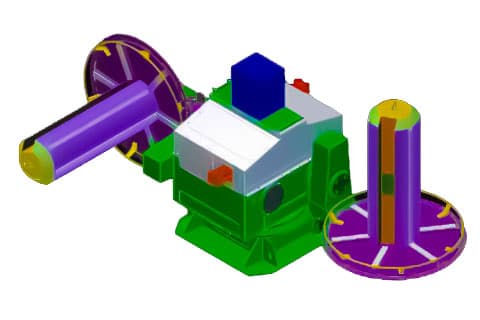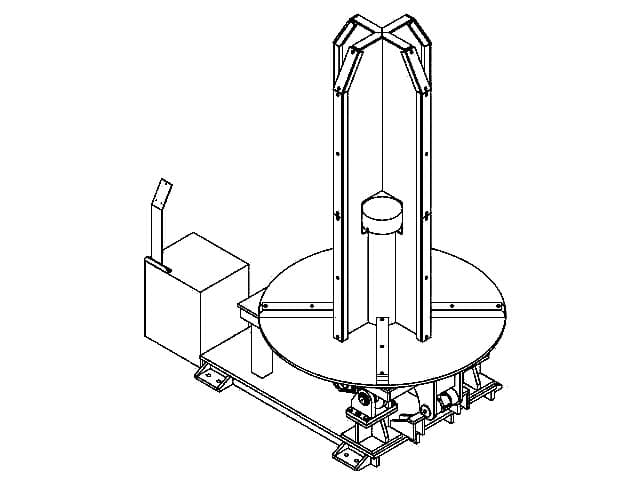 There are two type of coil pay-off stands:
90 degree Tilt-able Coil Pay-off stand.
360 degree Circumgyration Coil Pay-off stand.
Equip with the track and sensor, which can stop the pay-off stand and combined drawing machine simultaneously.
Loading weight of Coil Pay-off stand: max. 3 ton.
Pay-off Stand can turn over by 90 degree angle.
Oil box including motor.
Coil Opener
(Option)
To pull the coil into the straightening roller by robot arm. Then, straight the end of coil by rotating rollers. Before the coil enters the drawing die, the beginning of the coil should be reduced the diameter to pass the drawing die.
The coil opener can pull out the end of large diameter wire coils quickly and easily. The crooked part of wire will pass through the straightening rollers and be straightened.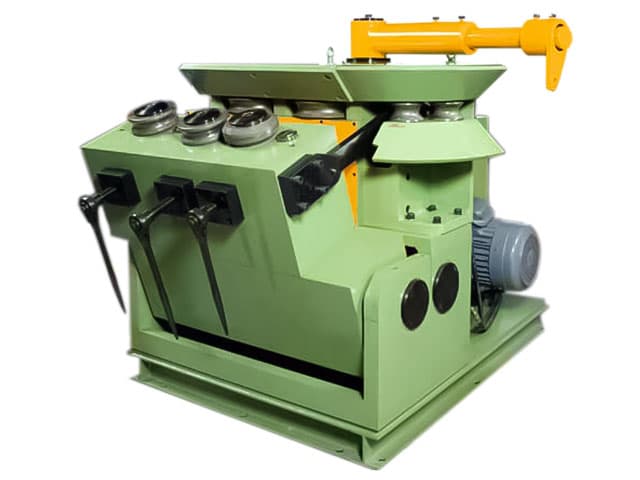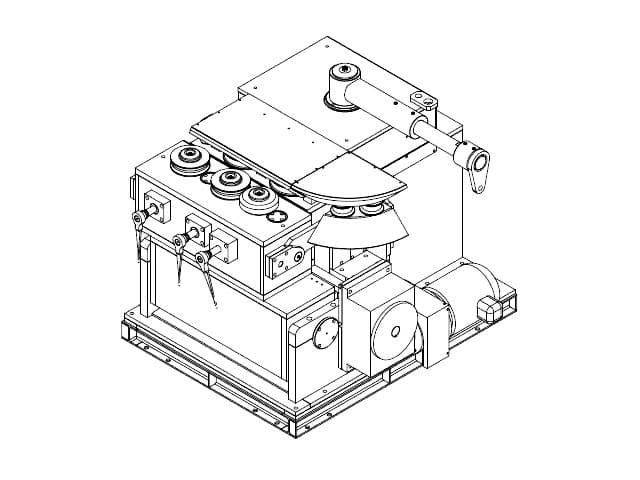 Customized suitable diameter.
Robot arm with power (3.7kw / reduction rate 1:100): 1 pcs.
Straightening roller with power (7.5kw / reduction rate 1:60): 5 pcs.
Passive roller: 2 pcs.
Pre-Straight Unit before Shot-Blasting Machine
(Option)
Equip with powerful pinch roller and horizontal (inverted type) / vertical rollers to pre-straight the coil. It also can be used with In-Line Shot Blasting Machine. Also, equip the chip collecting barrel for the black bar.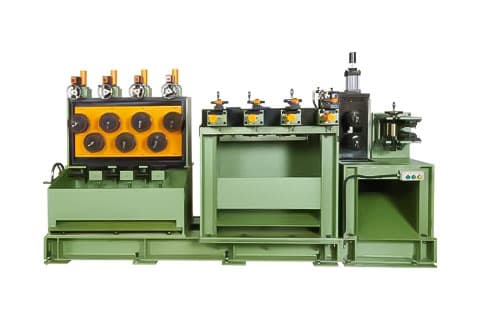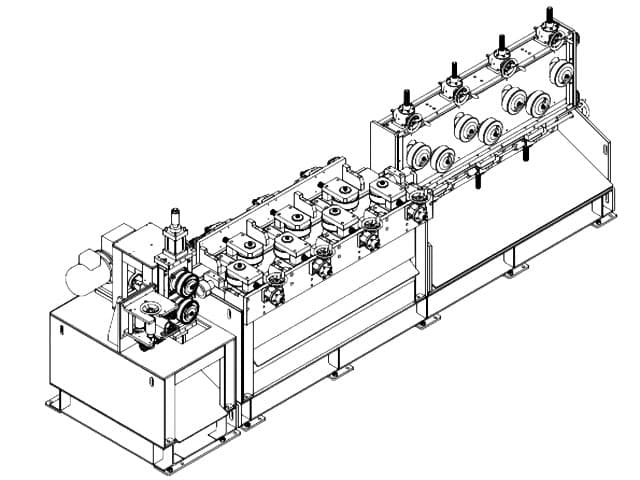 Motor force roller for material feeding.
Power feeding roll.
Horizontal straightening machine. 4 rollers are adjust freely.
Vertical straightening machine. 4 rollers are adjust freely.
Pointing Machine
(Option)
To cut the end of the coil / bar by rotating cutting head.
Before the coil enters the drawing die, the beginning of the coil should be reduced the diameter to pass the drawing die. The function of the pointing machine is to reduce the diameter.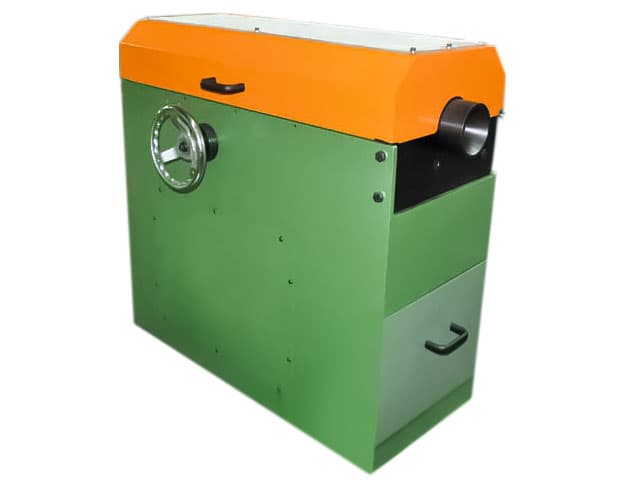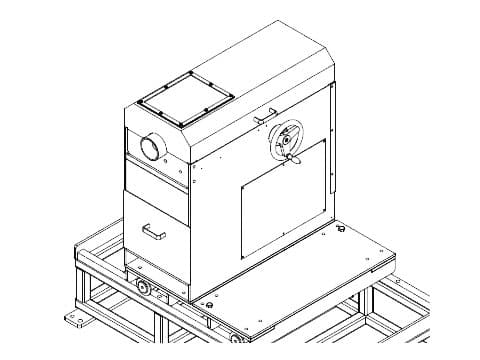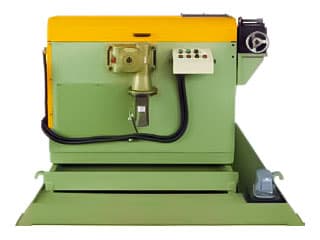 Auto feeding.
Customized suitable diameter.
Cutting with four knives.
Movable-the bottom with tracks.
Chip collecting device moves to the operating side, which needs to install wheels at the bottom.
Pointing length: max. 300 mm.
Specification
Working Diameter
Ø19 - Ø80 mm
H19 - H63.5 mm
S19 - S40 mm
Working Bar Length
2 - 8 M
Length Tolerance
<0.8 mm
Pointing Length
400 mm
Cutting Depth (Radius)
2.0 mm
Diameter Tolerance
<2 mm
Shot Blasting Machine
(Option)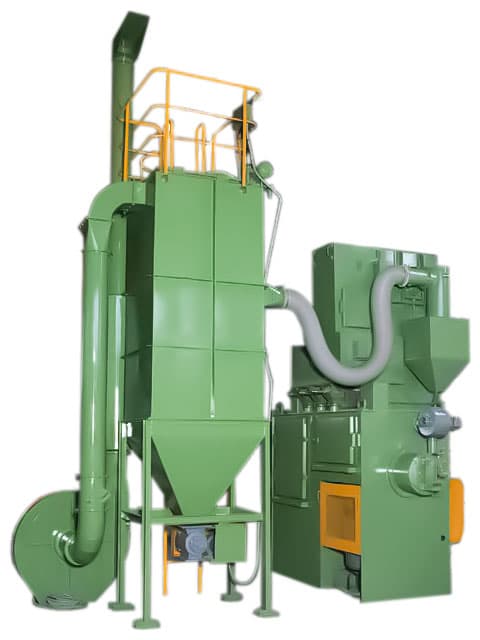 Shot Blasting machine use steel ball and high speed rotation fling roller to get the centrifugal force. It beats on the surface of the bar to remove the rust and oxidation surface. And it can replace the non-environmental pickling.
The impeller will eject the steel beads at fast speed and incessantly to strike the surface of the bar. The cast sand or rust skin attached on the coil surface will be fall off.
Feed roller groups.
Heaving device.
Blasting cabin.
Four Set Impeller.
Dust Collection Machine.
Conveyer.
Control system.
Working Speed match the speed of combined drawing machine.
Pre-Straight Unit (after Shot-Blasting Machine)
Equip with powerful pinch roller and horizontal / vertical rollers to pre-straight the coil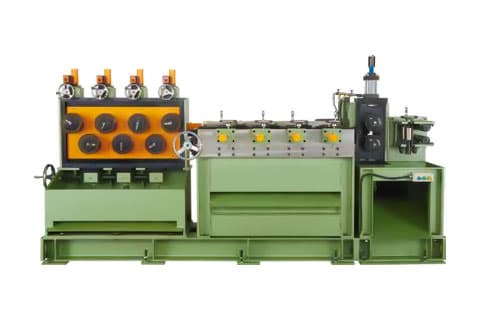 Hydraulic Push Pointer
(Option)
The push pointer mechanism uses hydraulic power to push the wire end into the drawing die.
Body is constructed by high tensile welding, two high pressure hydraulic cylinder are equipped for the easy to set stoke with a high efficient operation.
This is only suitable for the wires over 18mm diameter. This unit is optional.
Customize suitable diameter.
Gripper set: 1 set.
Oil vat for the gripper: 1 pcs.
Oil vat for push: 2 pcs.
Limit switch: 2 pcs.
Oil pump combination 3.75 kw / 210 kg/cm2: 1 set.
Pulling force of push pointer: 300 kg/cm2.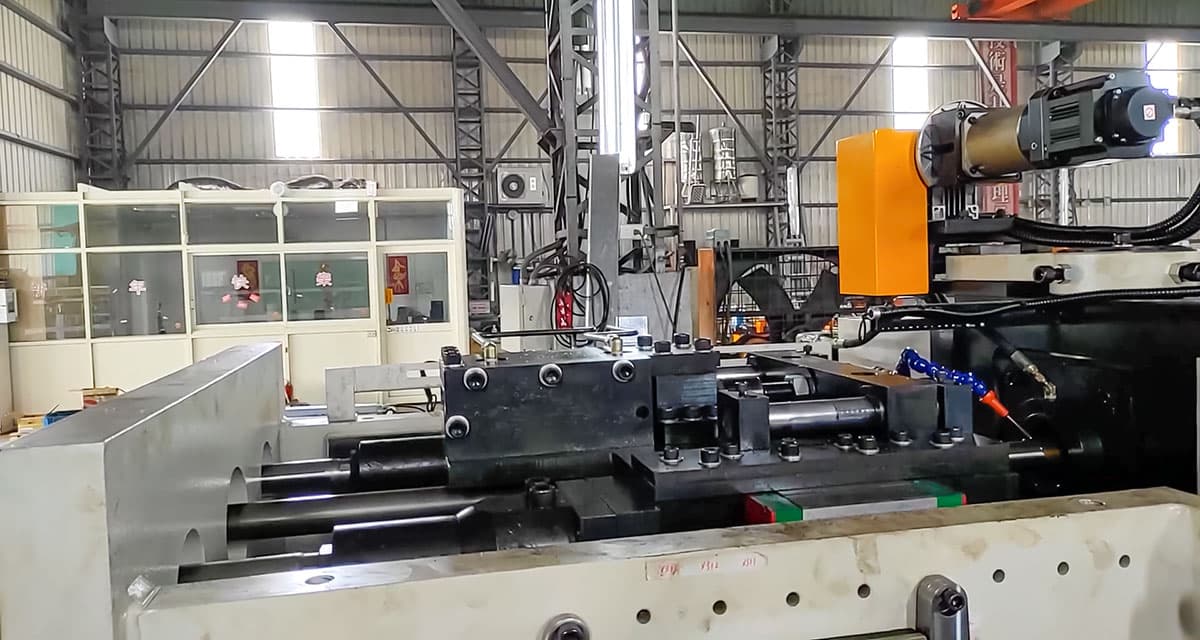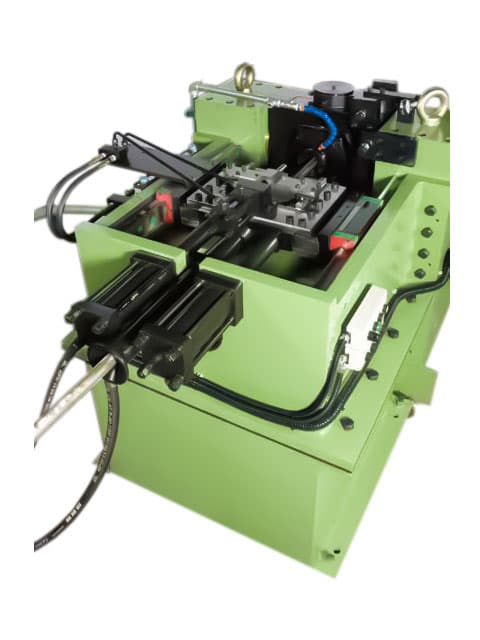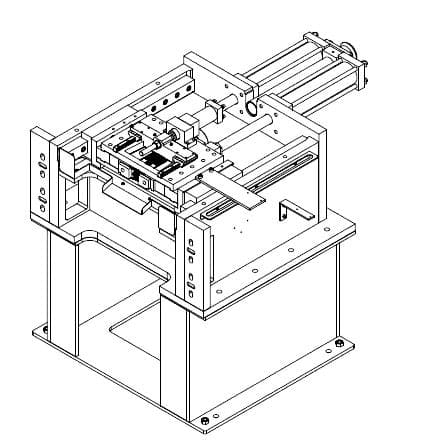 Drawing Unit
The casting part is above FC25 level and base is machined in one piece. It is high precision and strength. All rectangular rail and V shape rail were replaced with liner rail to provide better durability and substitute nature.
Twin cam use manufactured by forging with alloy and processed by 5 axis machine. The precision and durability provides long-time running without wear and it makes the movement of the gliding set smoothly.
The main body of the drawing seat.
Reducer & motor unit.
Twin cam & axis unit.
Front and back drawing glide set and pincer unit.
Hydraulic pressure with the nitrogen bottle.
Auto-oiler (could set up oiler frequency on interface).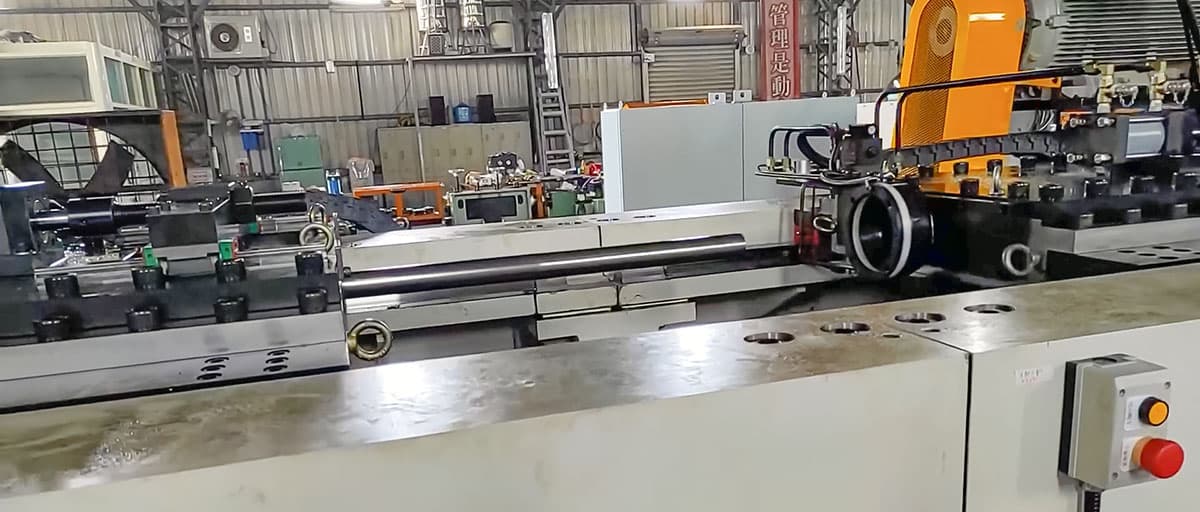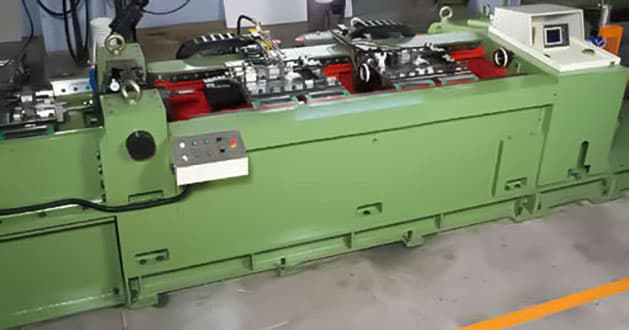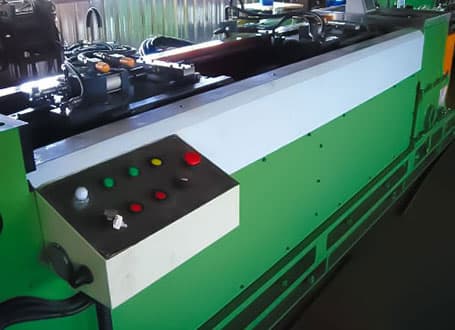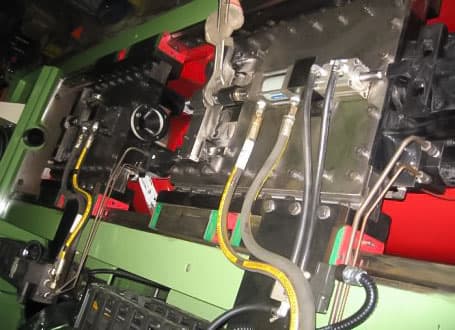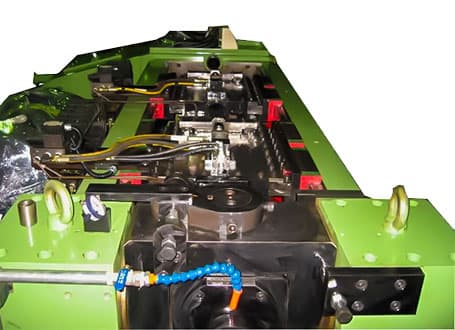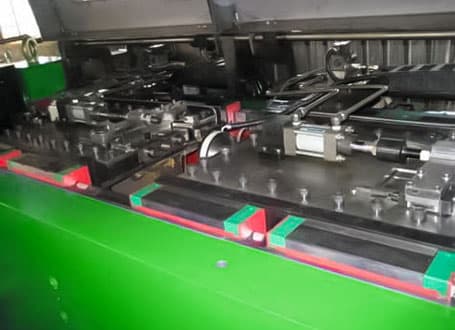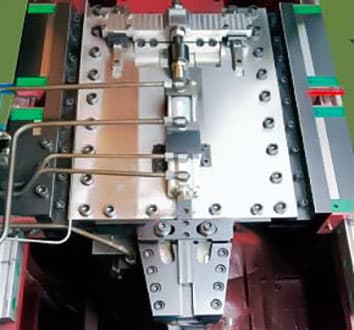 Die Holder System
Cross construction design is to replace ball type die holder, a dial indicator is equipped to see the statistical adjustment amount.
Option - Motorized Die Holder System.
Cross Main die holder

Outside die holder- adjust up and down.
Inside die holder- adjust left and right.

Quick plugging oil pipeline
Centrifugal filter machine
Gauge with base
Lubricate Pump unit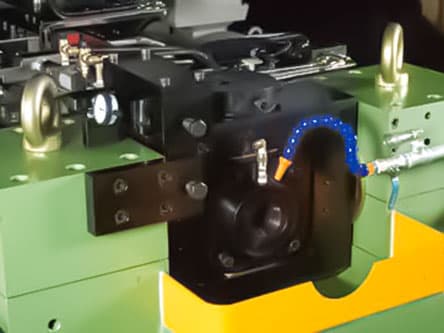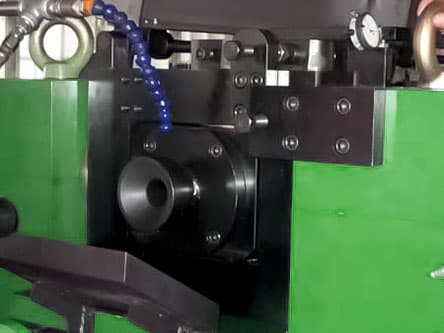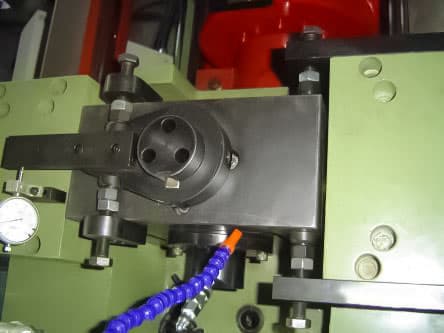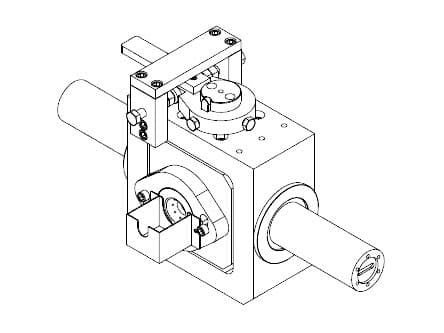 Precise Straightening Machine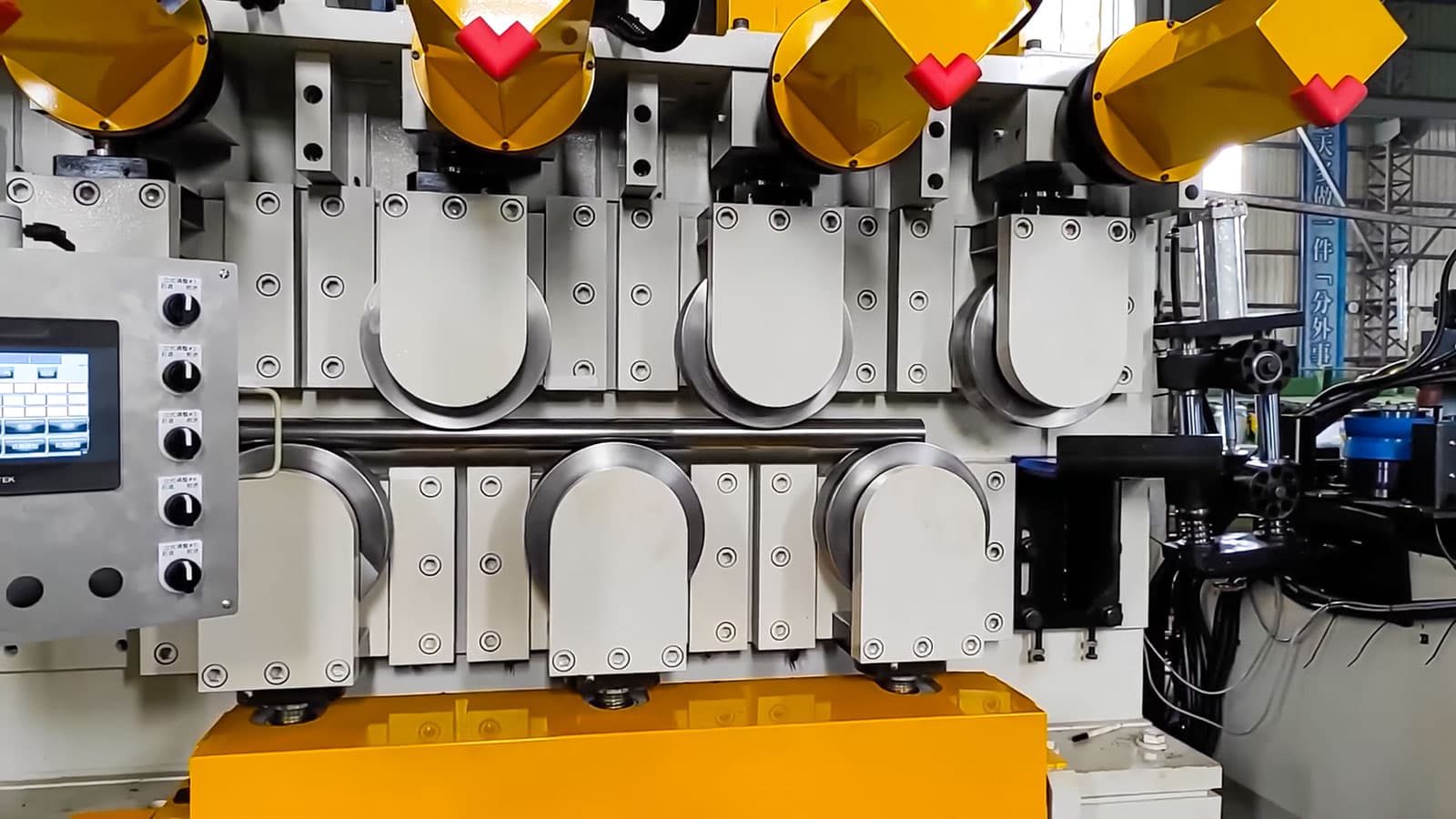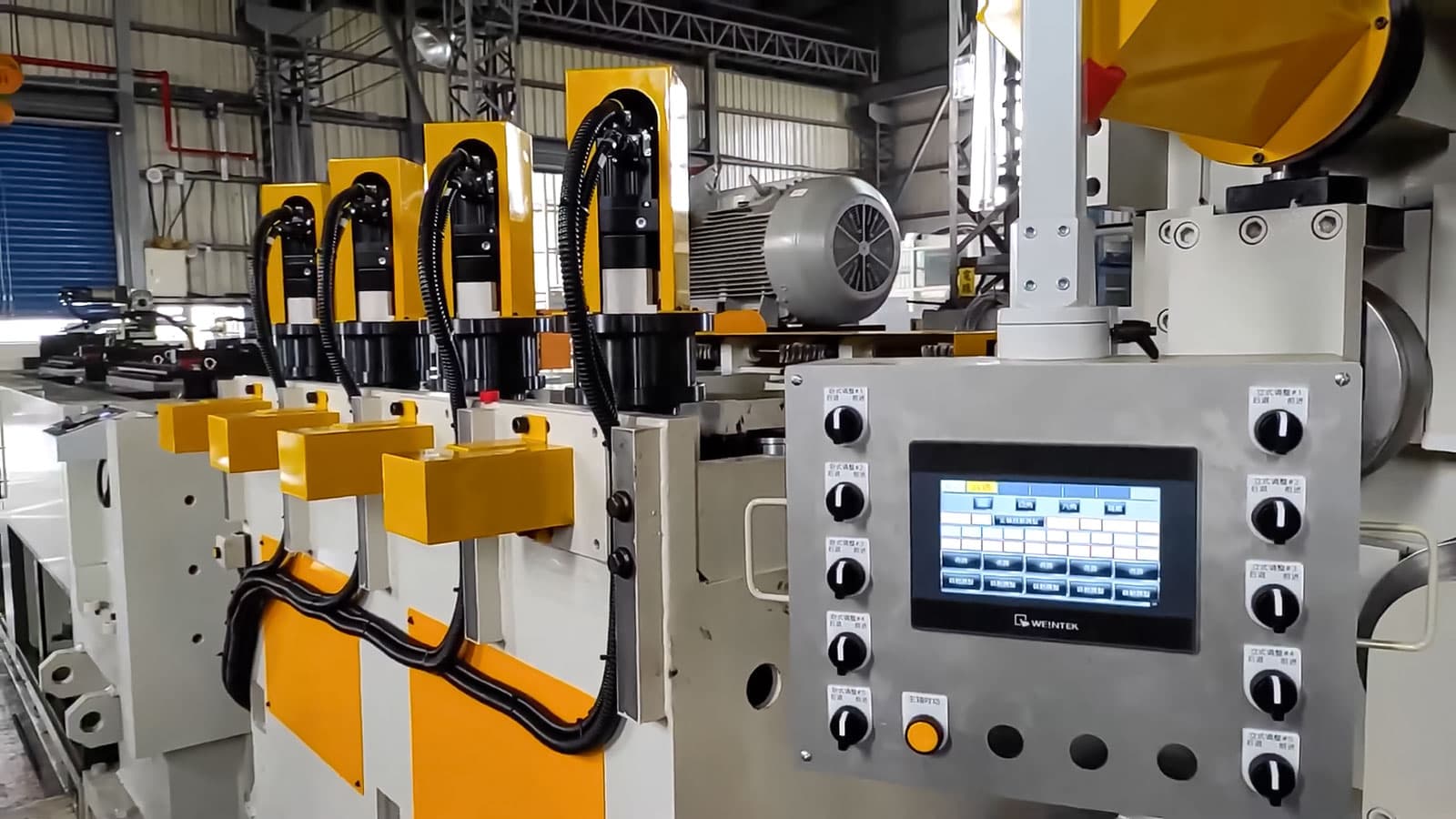 Straightening rollers are powerful with adjustable speed. It is synchronized with the drawing machine. Roller adjustment is driven by motor on one side, and by hand wheel on the other.
There are 7 vertical and 7 horizontal rollers, and the bar straightness can be reached by adjusting the straightening rollers.
Horizontal precise straightening unit:

5 Motive straightening rollers.
2 Passive straightening rollers.
Power is the reduction machine 20HP - 1:15.

Vertical precise straightening unit:

5 Motive straightening rollers.
2 Passive straightening rollers.
Power is the reduction machine 20HP - 1:15.
Length Measure System
Measure bar length and speed directly.
Length tolerance is ±5 mm.
Japanese encoder.
Air pressure clip bar set.
Ring Sensor.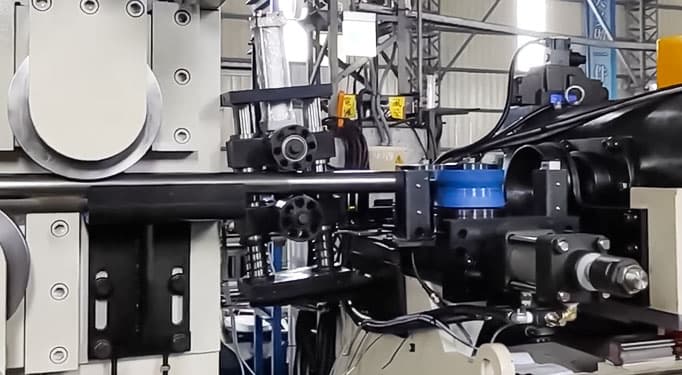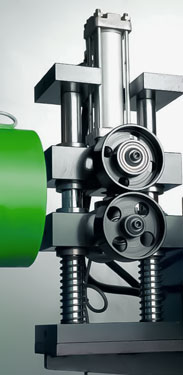 Laser O.D. Measurement
(Option)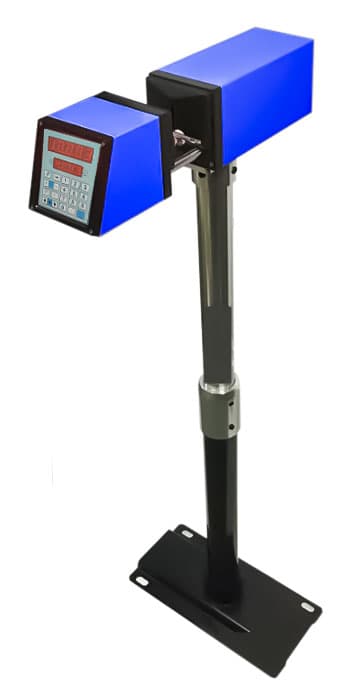 Laser beam detects the diameter of the bars directly and inspects the size on-line. Feedback function is optional.
Dynamic Shear
Cutting unit is drived by servo motor. The transmission is by the gear and rack.
Also, equip with high precision linear rail and hydraulic shearing.
Using servo motor to drive the unit and the gear wheel, collocate with high precision linear rail and use oil hydraulic cutting.
Main shearing set.
Linear glide track & lump.
Interior hydraulic cutting set.
High Pressure oil pump with nitrogen bottle.
Servo motor & reducer.
Power feed roller set.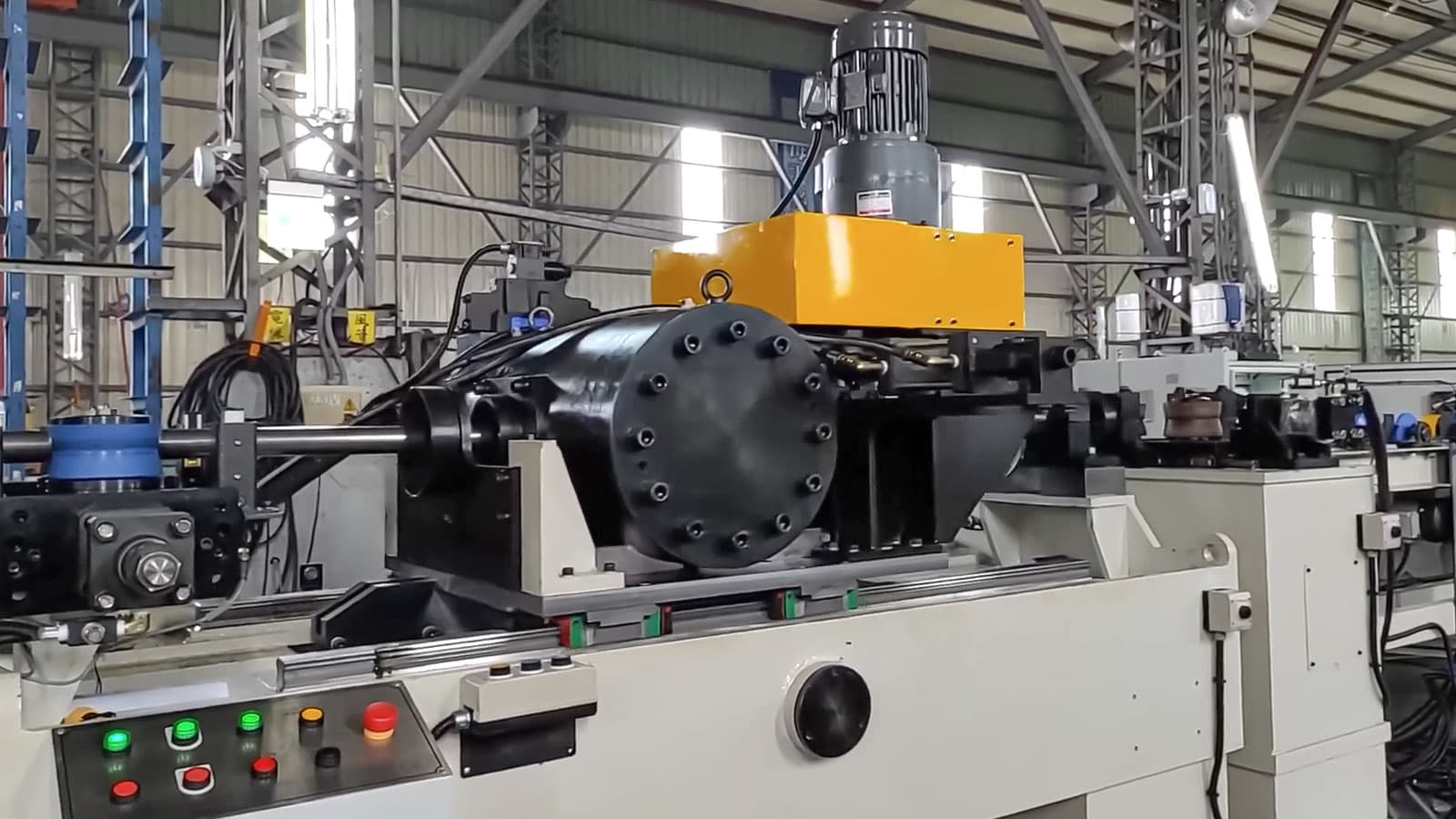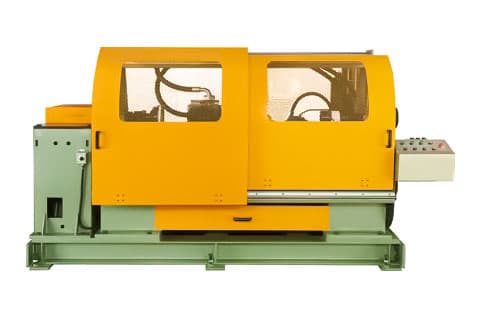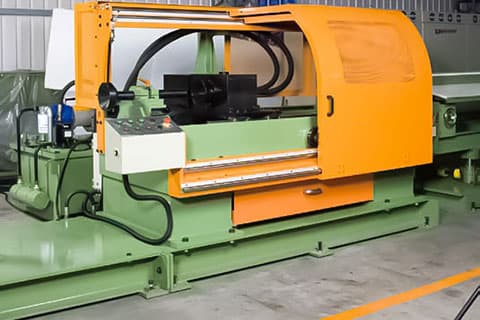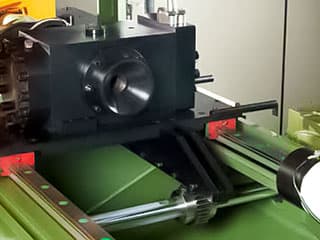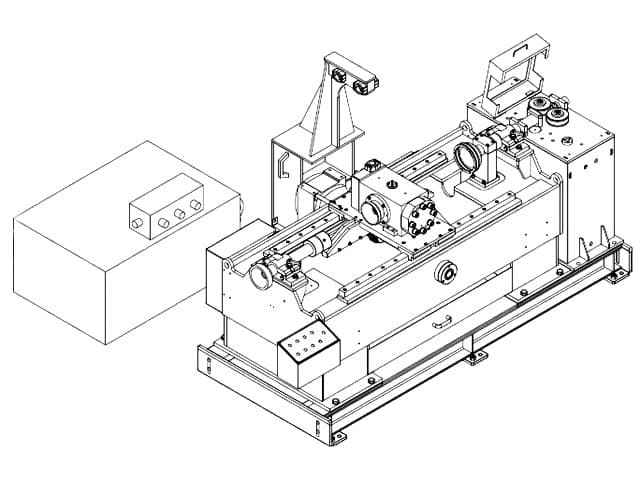 Guide Pipe Box
Movable guide pipe box is easily to change the bar diameter and length. It means unnecessary to change the pipe and move the polishing machine. The height is adjustable to collocate two roller straightening machine.
Conduit Pipe Set (adjustable guide pipe depends on bar diameter).
Prop Stand (3 sets).
0.75 kW Power delivery material machine.
Unloading board of special shape.
Install auto-output lubricating in feeding conduit area.
Suitable for round bar 8.5 m (max)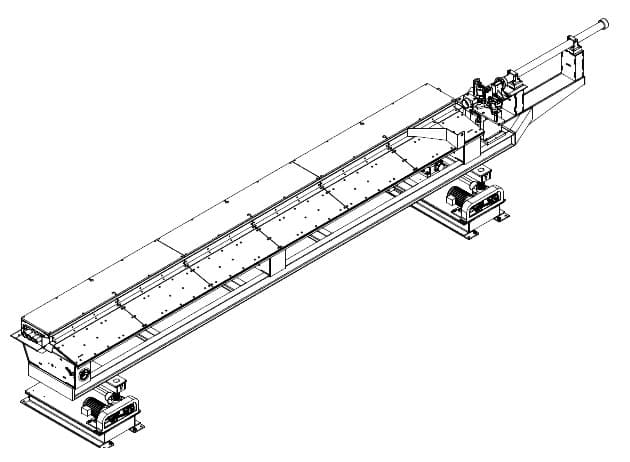 Two Roller Straightening Machine
This machine equipped with one concave and one convex rollers. The bar passed two rollers can get the straightness and polish efficiency. Moreover, this machine equips the MMI (touch monitor) to set the paramefers, and figures are capable to be recorded.
Lubricating oil pump.
Centrifugal oil filter.
Machine set.
Protecting lid.
Guide Plate Holder.
Motor (LOW & HIGH) 2 pcs.
Concave and Convex Roller.
Hydraulic oil tank.
The firm seat of leading board.
Scale.
Waterproof cover and lubrication oil injection pipe.
Specification
Type-0
Type-1
Type-3
Type-6
Type-7
Bar Diameter
Ø4 - Ø10 mm
Ø5 - Ø25 mm
Ø20 - Ø55 mm
Ø40 - Ø100 mm
Ø50 - Ø120 mm
Motor Power
10 kW×2
15 kW×2
37 kW×2
75 kW×2
90 kW×2
Speed
30-60 m/min
15-45 m/min
15-30 m/min
10-15 m/min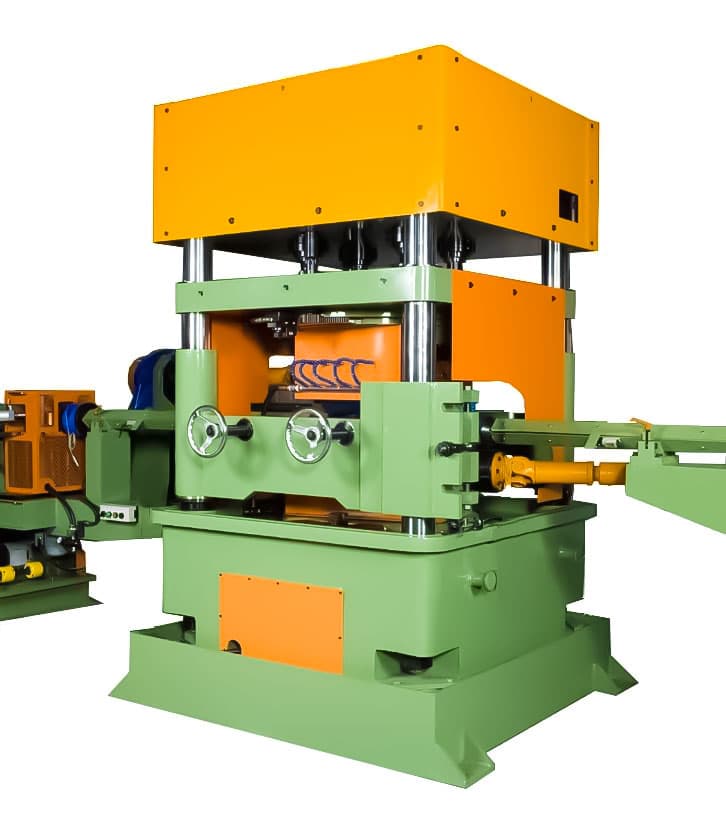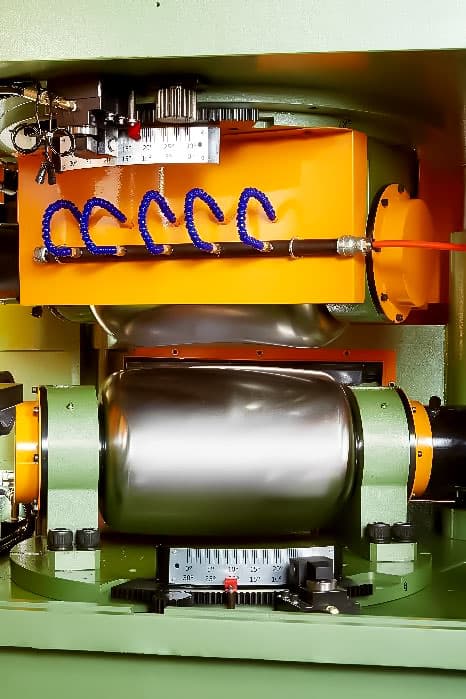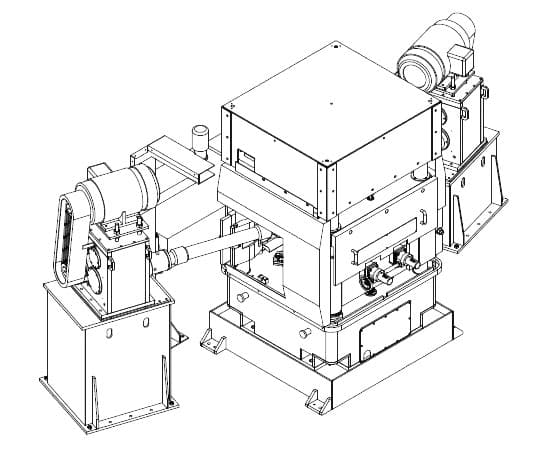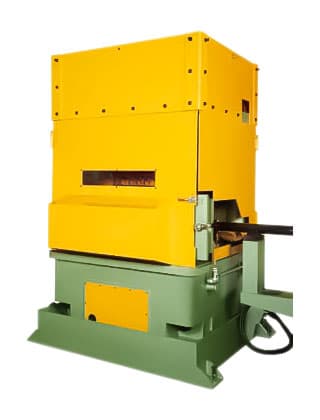 Polishing machine
The polishing and straightening machine equips with two pairs of polishing disc and 5 - 7 straightening rings (nozzle). Polishing disc / straight ring (nozzle) are made by high rigid tunsten carbide. Polishing range: Ø3 mm - Ø25 mm in bar diameter.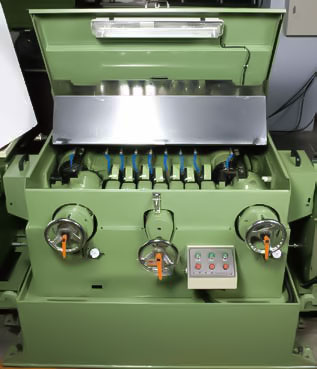 Unloading Rack
Pneumatic unloading rack can unload the materail at operation side and opposite side. It also can equip with Eddy Current Detector to separate good products from bad. In-Line Chamfering Machine also can be combined.
V-type tank set (Adjustable).
Two-way cylinder set.
Sensor.
Collecting rack.
Power of elevating function: 0.75 kW×2.
Suitable for round bar 8.5 m (max).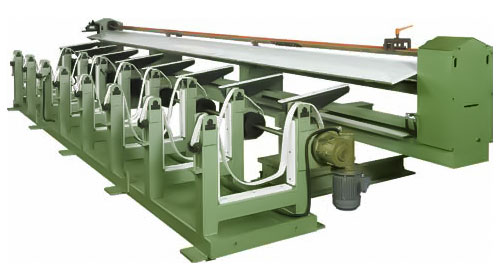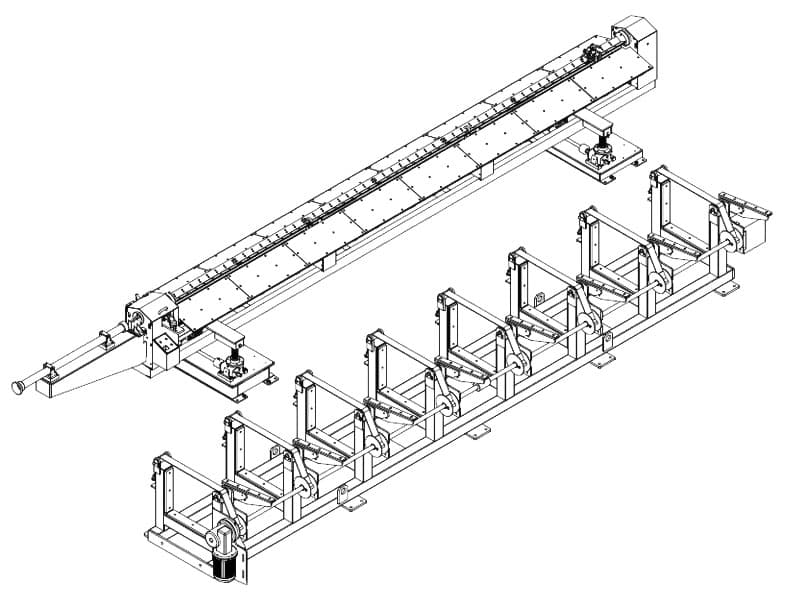 Electric Control Cabinet
High precision PLC is used for controlling all movement and speed. The cabinet equips with the dustproof design and cooling fan.
Indoor control box - dust-proof type.
Cooling fan set with temperature sensing.
ABB Frequency converter.
Japanese MITSUBISHI PLC controller.
French electromagnetic contact.
Japanese OMRON relay.
TECO breaker.
Japanese MITSUBISHI servo.
MMI (man-machine interface) parameter input system.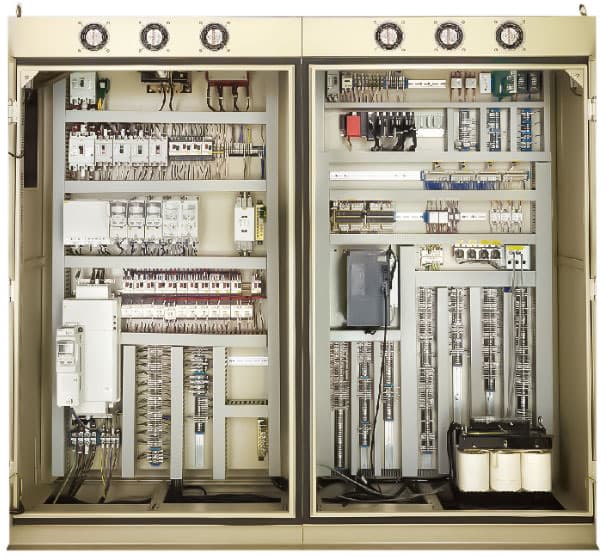 Chamfering Machine
(Option)
The material for the automatic lathes often requires a certain bar end shape to ensure a trouble-free feed in the lathe. The advantages of the Chamfering Machine are:
Chamfering Machine can be used in-line / off-line with the Combined Drawing Machine.
High performance.
Surface facing / chamfering synchronization.
Quick tool replacement.
Specification
Type-310
Type-516
Type-1025
Type-2050
Type-40100
Working Diameter
Ø3 - Ø10 mm
Ø5 - Ø16 mm
Ø10 - Ø25 mm
Ø20 - Ø50 mm
Ø40 - Ø100 mm
Working Shape
Round Bar, Hex Bar, Square Bar, Tube
Working Length
2-6 m
Material
Copper, Iron, Aluminium
Model
Off-Line Automatic Chamfer / In-Line Automatic Chamfer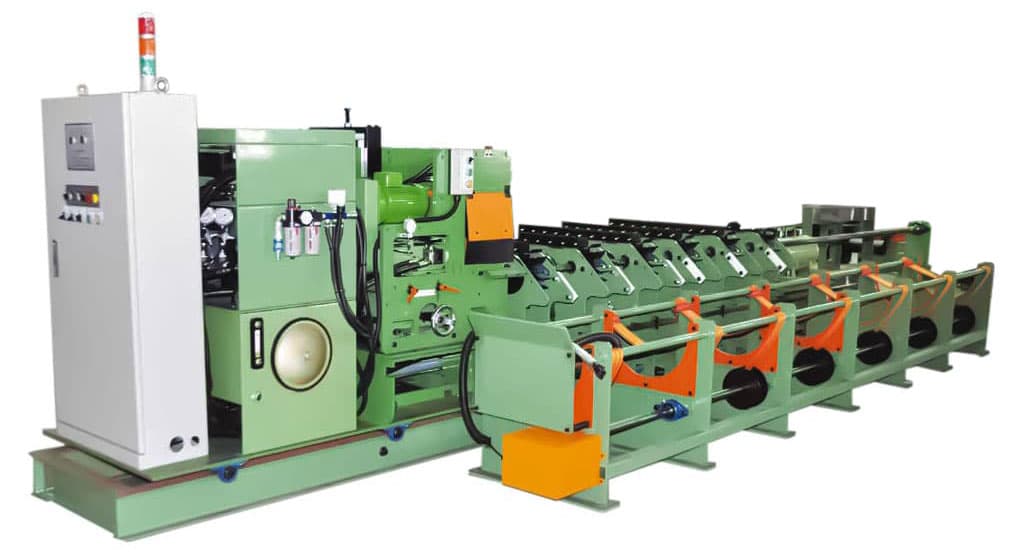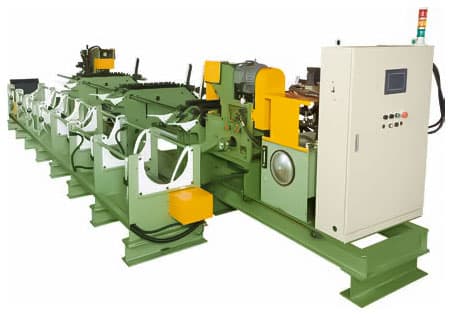 Video of wire drawing equipment in operation