WIRE/ROD CALIBRATION EQUIPMENT AND LINES
Optional Equipment for Wire / Rod Calibration Lines
Turning machines for steel surface treatment

Main characteristics of the turning machines for steel surface treatment:
Turning machines for steel surface treatment are widely used for cleaning oxidized, rusty and uneven surfaces of round steel through hot rolling to obtain a bright surface and precise dimensions.
Measurement parameters and wear compensation: optical devices control processing, compensate tool wear after the stripping process.
Safety: a lubricant and coolant ensure smooth and safe operation of the system.
Waste-free production: the principle of operation of the equipment is based on the automatic sorting of waste for recycling.
Control system for cleaning the entire production line.
Effective workflow monitoring.
Equipment of vibration suppression system.
Stability of raw material supply.
Protection of raw materials from damage.
Working length: 2,5 ~ 8 meters
Outlet diameter: 20 ~ 125 mm
Cutting depth: radius 2,5 mm
Working speed: 10 m/min
Spindle rotation speed: 200 rpm
The customer can use the equipment in conjunction with two-roll mill leveler as of autonomous action or in conjunction with continuous production line.
Video of the operation of the turning machines for steel surface treatment
AUTOMATIC WELDING MACHINE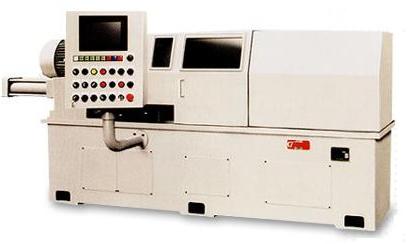 Automatic welding machine of horizontal type is fully functional welding equipment, widely used in the production of automobile parts, industrial machine parts and electrical parts. The use of this equipment can reduce the cost, increase product quality and performance.
Features of welding equipment:
Equipped with a control device, providing reliable welding.
It supports multiple stationary welding jigs.
Rotating device can be attached to side clamps.
Compatible with any type of cutting device.
Welding equipment specifications
Model
RG-15
RG-25
RG-35
RG-45
RG-60
RG-80
Welding
Diameter of the rod
3-5
6-25
6-35
8-45
10-60
19-80
Gas tube assembly
17.3
34
48.6
60.5
76.3
101.6
Material length (turning side)
Ø15x200
Ø25x300
Ø35x300
Ø42x300
Ø56x300
Ø76x300
Working length after installation
500
650
800
800
800
1200
Power
Friction heating kg.
1200
3000
5000
10000
15000
30000
Heading pressure kg.
1300
5000
10000
20000
30000
60000
Main shaft 50 HZ, rev./Min.
4000
2175
2175
2100
1500
800
Welding 60 Hz, rev./Min.
4900
2625
2625
2100
1500
800
The primary turning shaft
Switching system, kg = m
Electromagnetic multi-plate clutch
40
40
40
70
100
160
Braking time, sec.
0.2
0.2
0.2
0.3
0.3
0.3
Switching system, kg = m
Electromagnetic multi-plate clutch
70
70
70
100
160
160
Braking time, sec.
0.2
0.2
0.2
0.3
0.3
0.3
Main bearing shaft length
100
102
110
120
160
180
Forward Speed
6000
5000
5500
5300
5500
3800
Slide
Reverse Speed
10000
5300
5500
5500
5500
3700
Moving Range
250
280
280
350
330
300
Chuck
Hydraulic collet
-
-
Hydraulic three-throw chuck
Material Processing
Chuck Options
2800
6000
9500
9500
12000
15000
Clamp
Hydraulic horizontal open system
Length
2100
4500
9000
9900
13000
15800
Adjustment
Adjustment Time
0~999.9
0~999.9
0~999.9
0~999.9
0~999.9
0~999.9
Main drive shaft
7.5
7.5
11
15
22
45
Engine
Hydraulic
2.2
3.7
3.7
5.5
7.5
11