WIRE PACKAGING
AUTOMATIC WIRE WINDING AND PACKAGING MACHINE RGW-3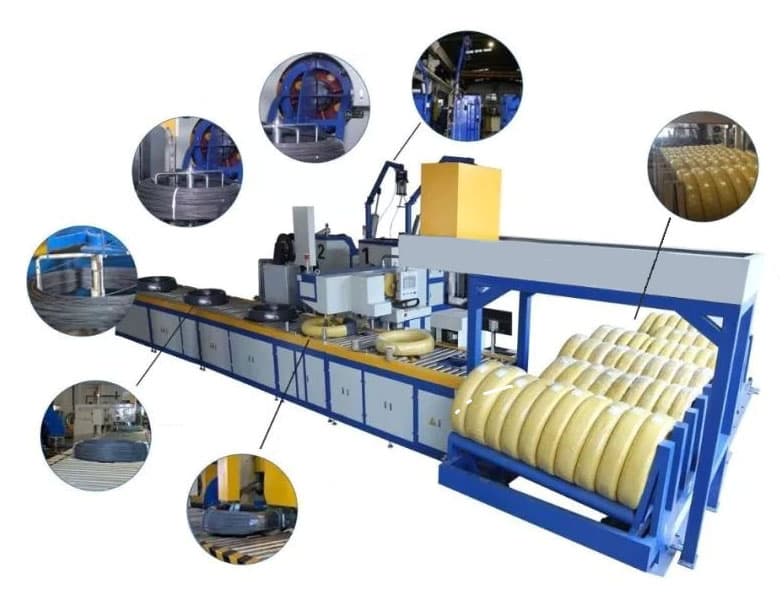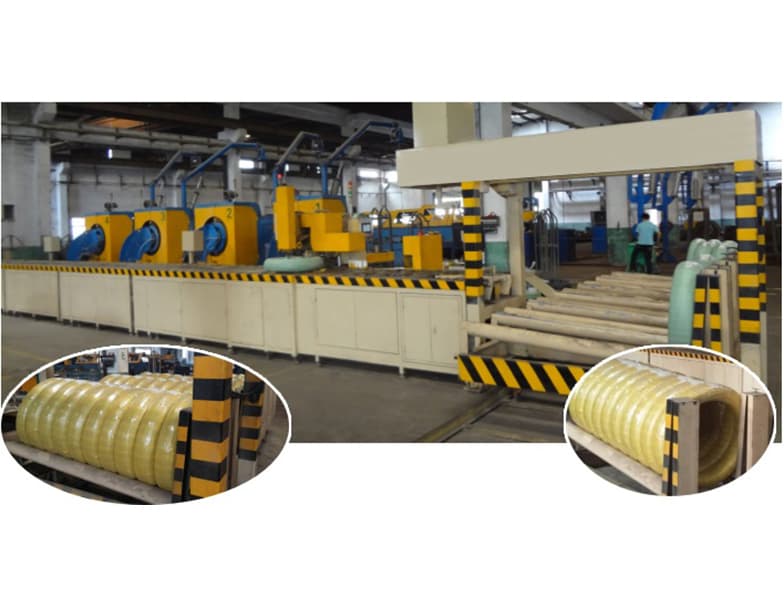 Main functions
Manual / automatic mode selection
PLC programmable control system
HMI interface
If the width, inner and outer diameter are entered into the PLC, the length of the packing tape and the numbers of winders can be automatically adjusted.
Packing material can be selected in accordance with customer's preferences; adjustment of packing tape is also possible upon request.
Automatic alarm displays messages about errors
Independent control cabinet
The machine is easy to operate as the system selects the most appropriate packaging options automatically. The C-shaped rotating ring that is made of a cast construction is very strong and stable.
The main unit can be moved left and right to accommodate products with different inner and outer diameters.
Features and Advantages of the Equipment
The equipment is suitable for wire coils with an external diameter of 2000 mm, an internal diameter of 600 mm, a thickness of 800 mm
The equipment is made of structural steel.
PLC control system manufactured by Siemens or Mitsubishi
Alarm and status management system
Pneumatic components manufactured by Yadeke
Equipment width 16 m, length 18 m, height 5 m
Cost reduction: labor costs can be reduced by more than 90°/o, and packaging material costs can be reduced by 30%
High productivity: automatic weighing, label printing and labeling can be directly linked to ERP system and generate reports in order to avoid any errors cause by manual input
Stable and reliable performance, attractive appearance
Convenience tune-up and operational safety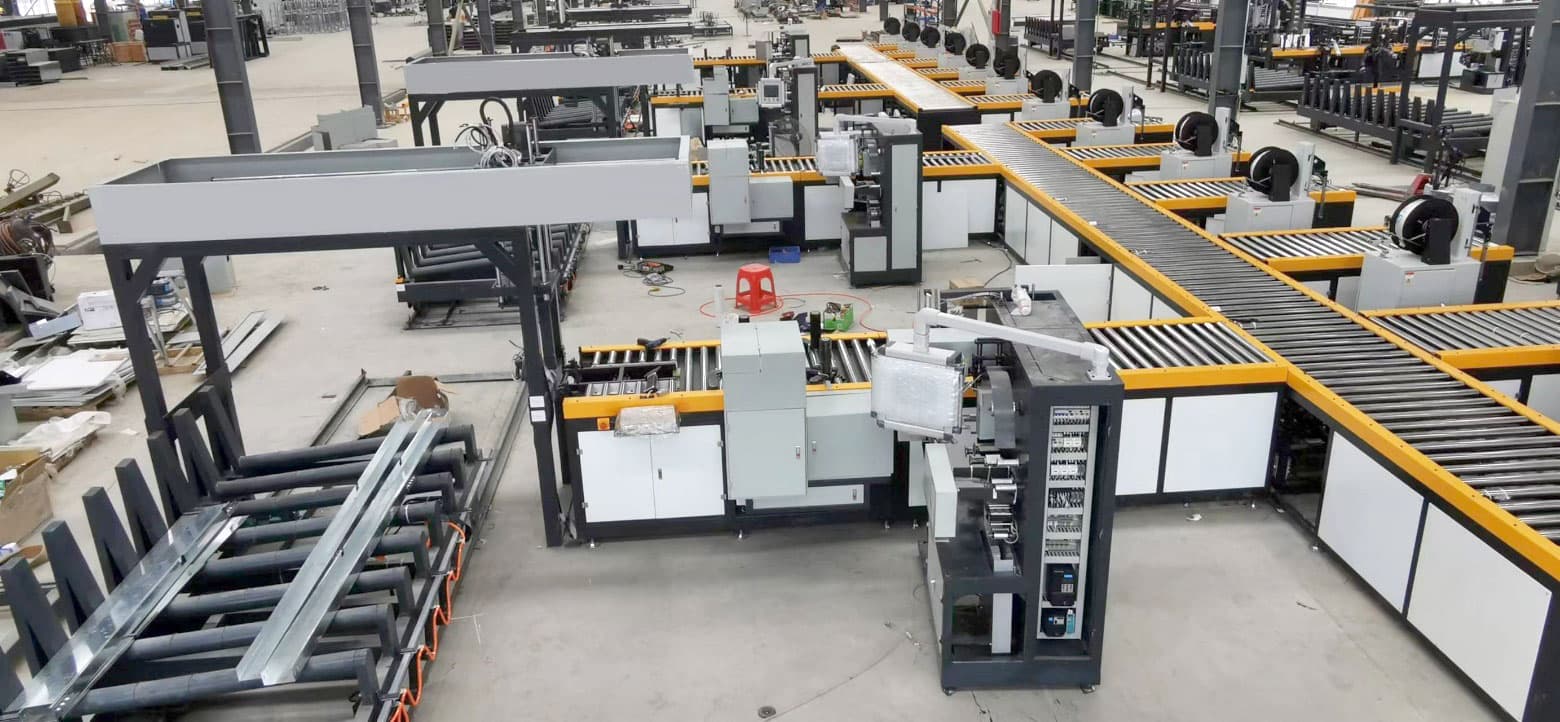 TECHNICAL SPECIFICATIONS
The automatic wire winding and packaging machine has a modular structure and is equipped with a number of functions:
Wire coil calibration, weighing and winding
Coil transportation and packaging
Real-time label printing and labeling
Material classification
Temporary storage
Data entry
Unloading
The machine is simple and efficient to assemble and can be assembled in accordance with customer's requirements.
Process flows

Disk transfer machine

Automatic cutting and packing line

Automatic weighing and labeling

The finished product is transported to temporary storage
Configuration of equipment for winding and packing wire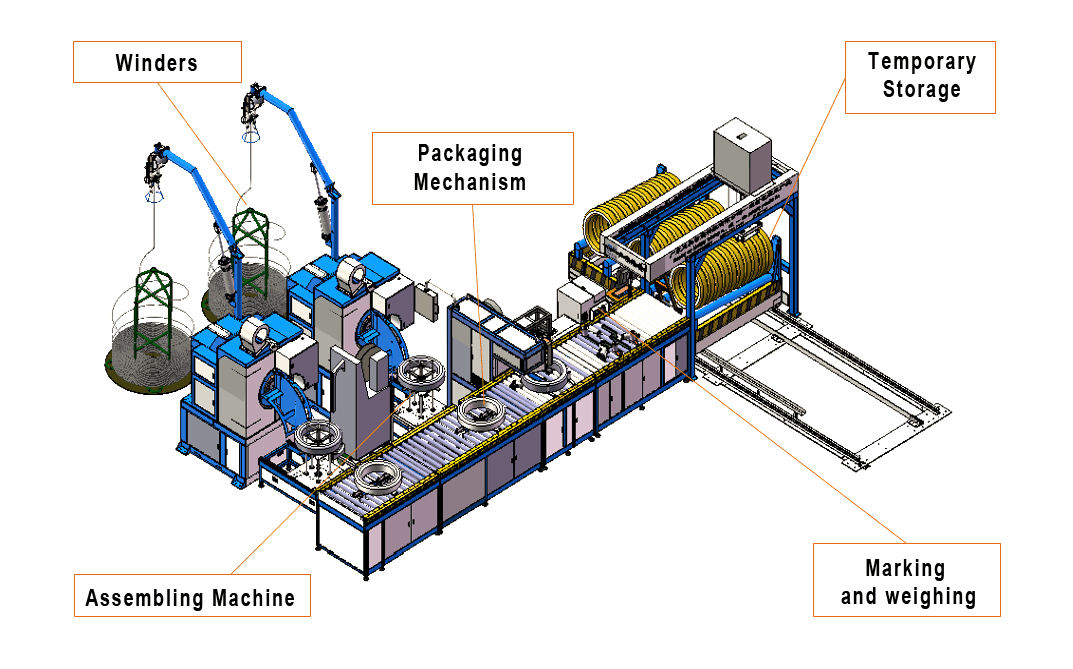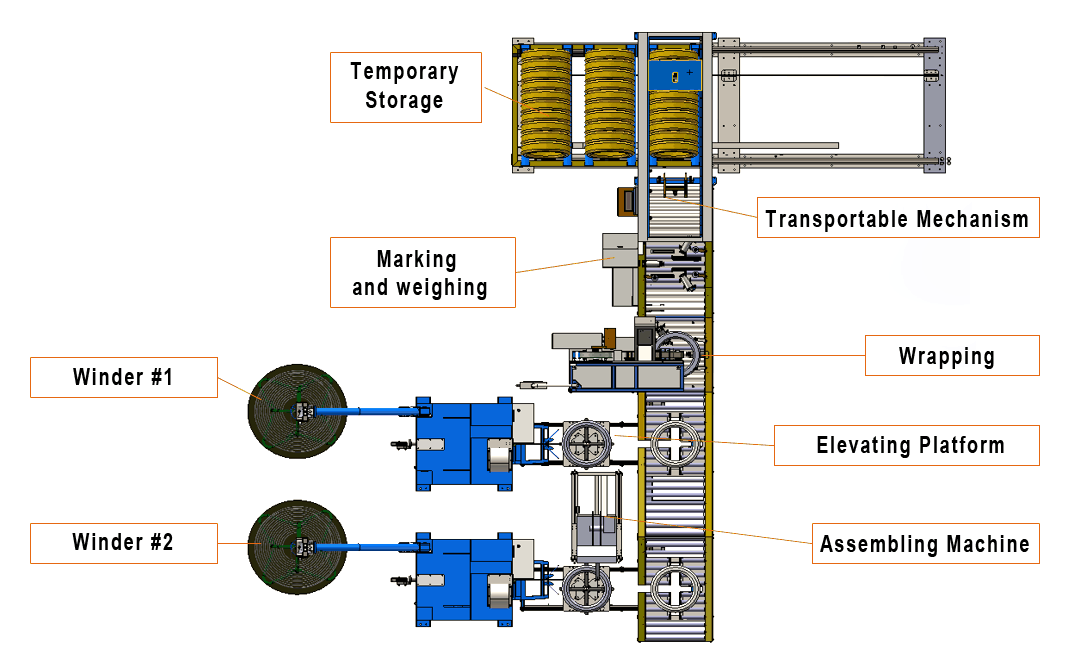 Equipment dimensions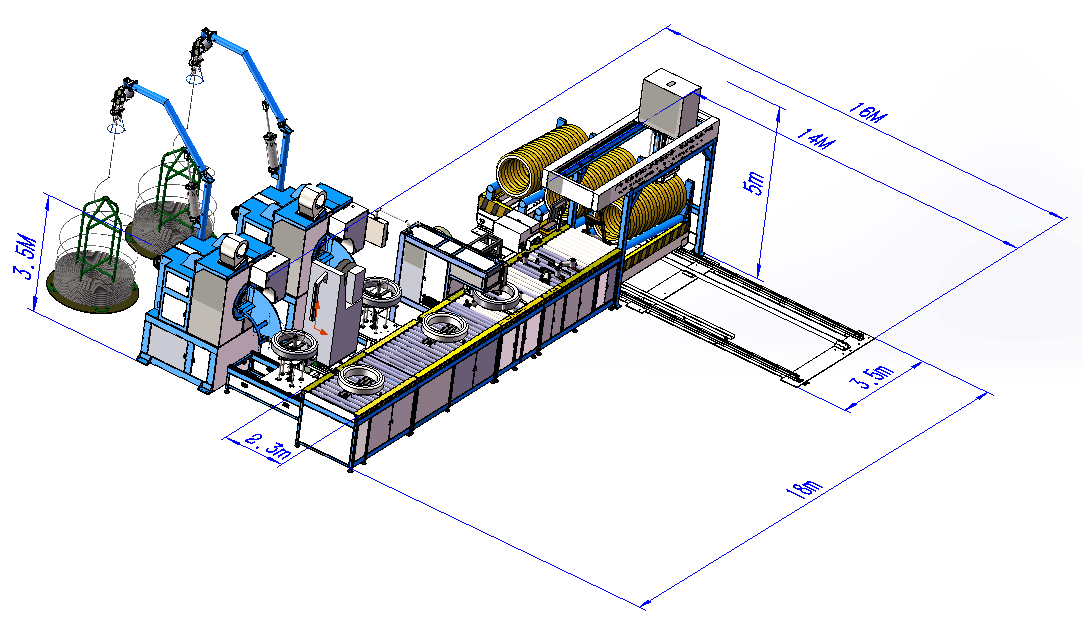 Finished products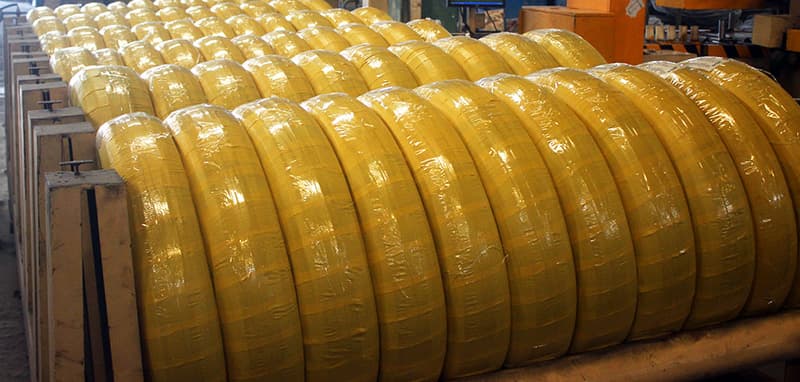 Parameters of automatic wire winding and packaging machine
Model
RGW-3
Type
Horizontal
Equipment size
length 18 m, width 16 m, height 5 m
Feed ring size (standard)
720 mm х 500 mm х 210 mm
Product width
50-100 mm
Inner diameter
500 mm
Outer diameter
750 mm
Length
210 mm
Weight
50 - 150 kg
Ring speed
10 - 100 r/min
Roller speed
1 - 3 m/min
Packaging

Winding film/ antirust film: width 60 - 90 mm, paper core inner diameter 50 mm, outer diameter 100 - 150 mm.

Braided tape/ composite paper tape/ wrinkled paper tape etc.: width 60 - 90 mm, paper core inner diameter 55 mm, outer diameter 100 - 150 mm

Voltage
AC 220/380V, 50/60 Hz