COILING AND FORMING EQUIPMENT FOR SPRINGS, RINGS AND SPECIAL FASTENERS
SPRING SCROLL EQUIPMENT
8-AXIS CNC SPRING SCROLL MACHINE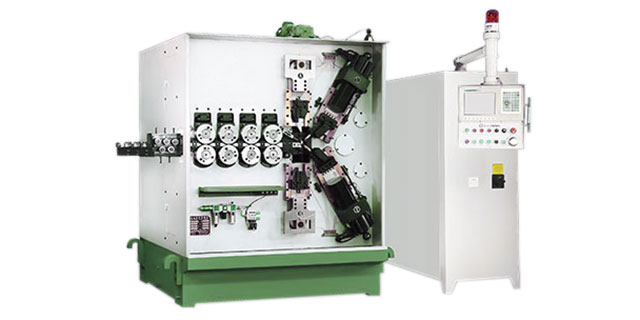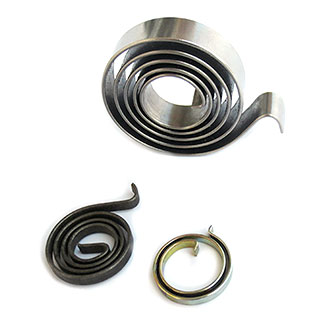 Main Features of Spring Scroll Machine
Controlled with 8 axis, wire feed axis, slide block of upper variable diameter, slider block of down variable diameter, up-cut blade axis, down-cut blade axis, outside torsion axis, center torsion rotary mandrel axis.
The eight axis can operate as single-step or synchronously.
Computer interface is available in Chinese and English, which makes the operation much easier.
The Spring Scroll Equipment can produce scroll spring with different specifications.
RK-type Vortex Spring Coiling Machine Specifications
| | |
| --- | --- |
| Number of Axes | 8 Axis (Wire Feed,Upper variable diameter slider, down variable diameter slider, Up-cut, Down-cut, Outside torsion, Center torsion, Rotary mandrel) |
| Max. Outside Diameter of the Steel Wire | 4 x 14 mm |
| Max. Outside Diameter | Ø80 mm |
| Wire Feed Length | No Limitation |
| Wire Feed Speed | 80 m/min |
| Forming Way | Double Points |
| Number of Wire Feed Axes | 4 Pairs |
| Up Variable Diameter Motor | 2.7 kw |
| Down Variable Diameter Motor | 2.7 kw |
| Outside Torsion Motor | 2 kw |
| Inner Torsion Motor | 2 kw |
| Rotary Mandrel Motor | 2 kw |
| Wire Feed Axis Motor | 30 kw |
| Up-cut Motor | 7 kw |
| Down-cut Motor | 7 kw |
| Machine Dimension (LxWxH) | 2100 x 1800 x 2200 mm |
| Machine Weight | 7000 kg |
| Voltage | 3PH AC380V 50HZ |