PACKAGING EQUIPMENT FOR FASTENERS, METAL HARDWARE AND PARTS
PRINTING AND LABELING UNIT RG-C891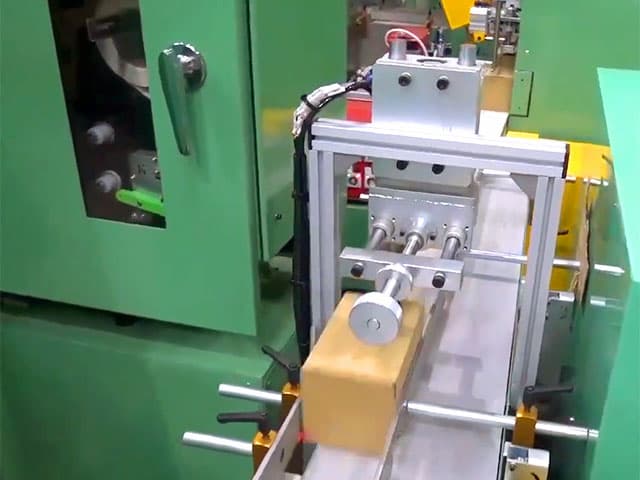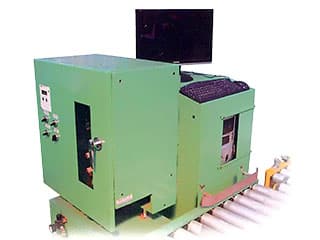 Computer-controlled machine for printing and labeling boxes with fasteners and hardware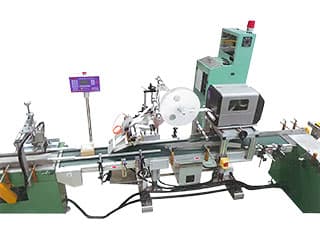 Applicator RG-B-891-T/L for applying self-adhesive labels from above and at an angle of 90°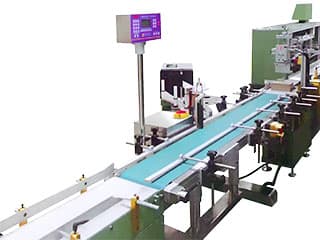 Applicator RG-B-891-S/F for side self-adhesive labeling
Description of the machine for printing and labeling the boxes
Automatic applicators are designed for applying self-adhesive labels on moving boxes of any size on a conveyor belt or in start-stop mode. The printing and labeling unit is equipped with a conveyor for sealing and labeling the box. The belt drive conveyor is installed in the line immediately after the filling conveyor. The conveyor consists of one section, the length of which is 1800 mm.
The sealed boxes from the conveyor are fed to the labeling unit and then sent to the slewing conveyor to orient the boxes to the pallet.
The label design is provided by the Customer. Product description, logos, dates, product code and other characteristics are edited on the PC labeling equipment. Print color is black. The printer uses thermal transfer ribbon printing.
Features of labeling equipment
This labeling equipment is designed for applying pre-defined self-adhesive labels from a roll at the top, side and / or bottom to a corrugated cardboard box of various sizes. For automatic labeling, an additional built-in conveyor of the appropriate configuration is used. Standard equipment includes touch screen controls. The control system can be expanded with additional necessary functions for the operator. The size of the label is 100 × 80 mm. The printer for printing on labels in the hot way such as GSC or an ordinary printer with numbers and letters - product description, logos, dates, product code and other characteristics.