HEAT TREATMENT EQUIPMENT. VACUUM FURNACES
VACUUM FURNACES FOR HEAT TREATMENT
Vacuum furnaces are designed for heat treatment in vacuum and / or in a non-oxidizing atmosphere. Vacuum furnaces are used for the manufacture of products for the aerospace industry, medicine, mechanical engineering, automotive, metallurgy, electronic industry, chemical industry, they are used for sintering ceramics and metal powders in the manufacture of tools.
A vacuum furnace is a versatile tool that allows almost any type of heat treatment: quenching, tempering, carburizing, nitrocarburizing, carbonitriding, annealing, vacuum brazing, plasma nitriding, ceramics sintering, metal powder sintering, degassing during casting and much more. In addition, vacuum chamber furnaces can be used for laboratory research, material testing, thermal cycling, sintering / melting of metals, ceramics, graphite, glass, for annealing, for vacuum brazing, etc.
Since any surface modifications, such as carburizing, oxidation, scale formation or decarburization, are excluded in vacuum, after heat treatment in a vacuum oven, the products acquire a bright and clean surface.
Compared with the traditional silicon carbide furnace, the energy saving is over 50%.
Advantages of vacuum furnaces
Purification steps exception.
Bright, without oxidation of the surface of finished products.
Flux-free solder.
Controlled heating.
Reproducible process.
No toxic waste and hazardous gases.
The equipment may be integrated into the production line.
Application of Furnaces
Hardening of tool steel.
Soldering in high vacuum.
Aluminizing of turbine blades and vanes.
Sintering in hydrogen cell seals.
Diffusion welding of turbofan blades.
Carburizing injection system.
Carburizing gear elements.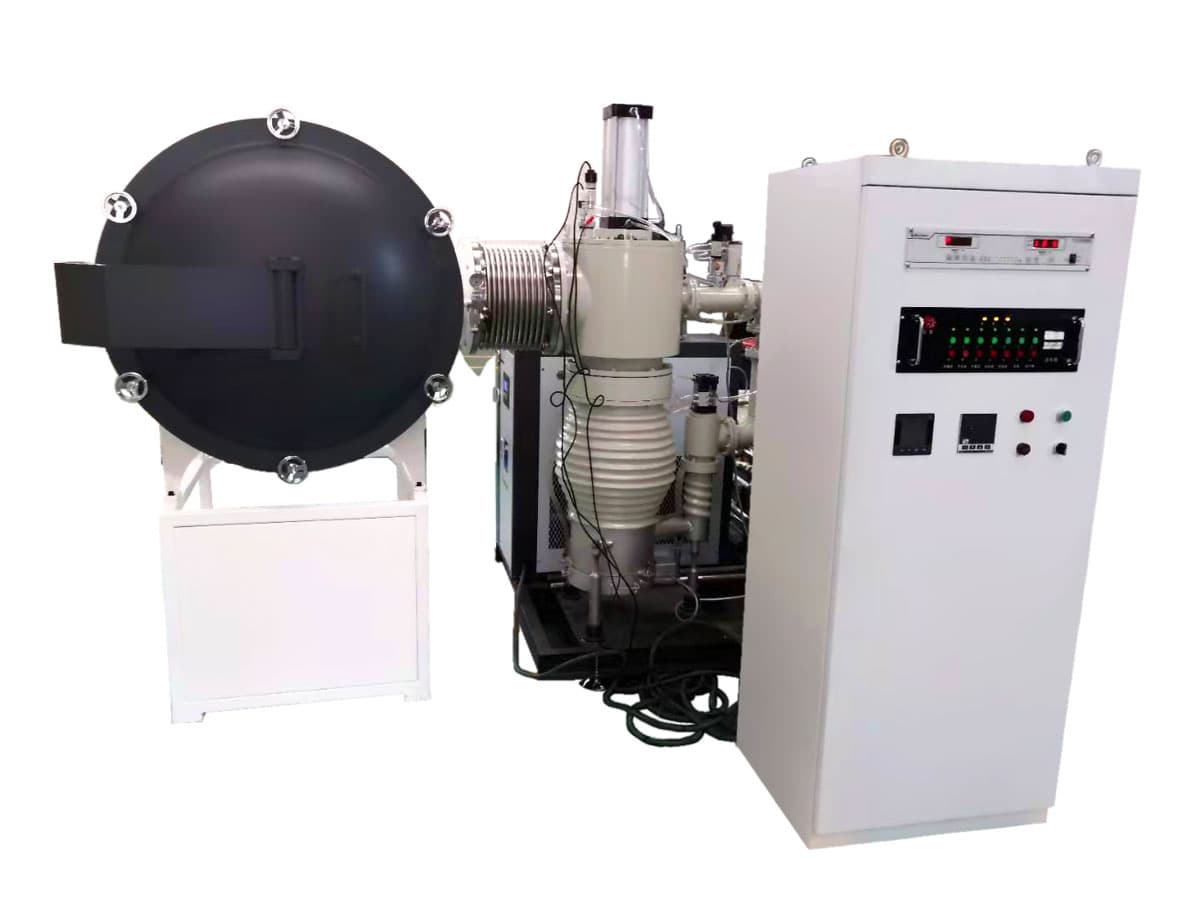 Custom-made furnace and vacuum system
The main element of the vacuum furnace is the heating chamber, which is a sealed vessel with a connected system of vacuum pumps that create and maintain a vacuum at a level needs. The chamber of the vacuum furnace is made to order in accordance with the dimensions required by the customer.
Additionally, a vacuum system is designed and installed to ensure the required vacuum degree level. We can equip different type of vacuum pump and different models to meet your vacuum degree requirements. The vacuum system, depending on the requirements for the vacuum level, includes the appropriate pumps (molecular pump / roots pump / diffusion pump / mechanical pump, etc.), an industrial refrigerator for cooling the vacuum system (chiller), an air compressor.
The furnace valve control is equipped with an intake valve, an exhaust valve, and a vacuum valve. It can pass argon, nitrogen and other gases.
Technical Parameters
Chamber volume
3.375 L
6.21 L
12 L
18.75 L
30 L
Chamber size (W × D × H
150 × 150 × 150 mm
180 × 230 × 150 mm
200 × 300 × 200 mm
250 × 300 × 250 mm
300 × 500 × 200 mm
Supply voltage
220V
380V / 3φ / 50Hz
Power consumption
2.5 kW
3 kW
5 kW
6 kW
7.5 kW
Max temperature design
1200°C
Continuous operating temp
1100°C
Heating element
high quality alloy resistance wire
Temperature precision
±1°C
Thermocouple
N type (nickel-chromium-silicon),
Temperature controller
SHIMADEN SRS10A (Japan) brand intelligent microcomputer PID-controller can program 4 groups 32 segments
Heating rate
≤40°C/minute (suggest 15-20°C/minute for longer life using of furnace)
Vacuum degree (

*

see Note)
-0.098 MPa
Safety protection
overheat and thermocouple-break alarm
Net weight
1500 kg
It will reached according to different vacuum pump system equipped and your budget & real requirement
The main elements of the vacuum furnace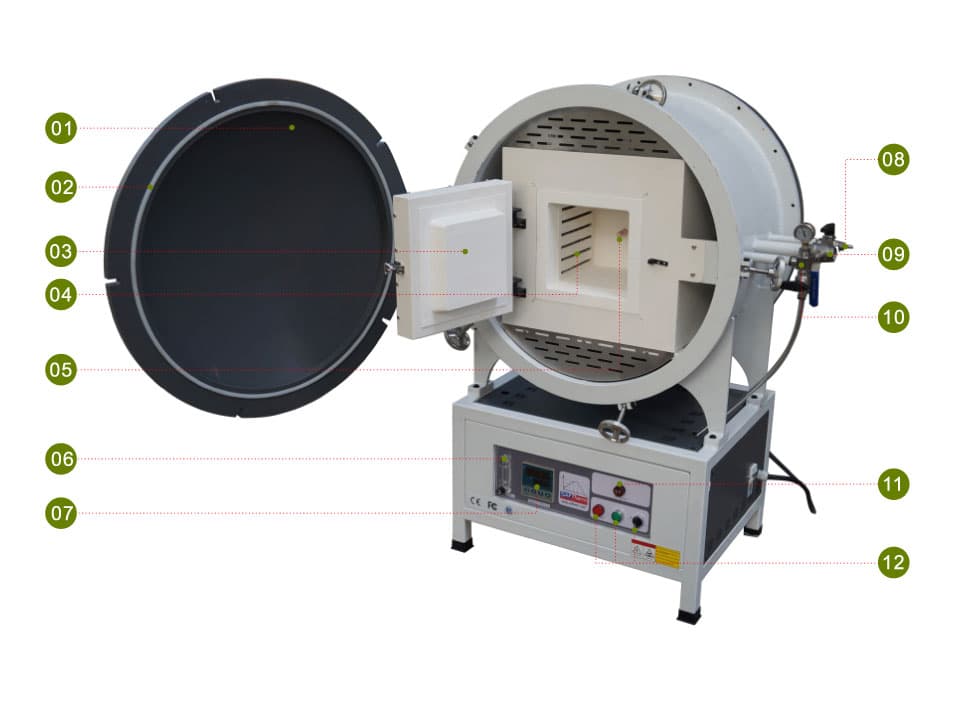 Outer Steel Door
O-shape Sealing Rubber Ring
Inner Insulation Door
HRE Resistance Wire
N-type Thermocouple
Gas Flow Meter
Shimaden Temperature Controller
Gas Outlet
Vacuum Pump Inlet
Gas Inlet
Sound-light Alarm
Operating Buttons
Features of the design of the vacuum furnace
Temperature control is carried out by high-precision PID controllers. The use of the PID controller allows you to program the temperature modes in the furnace with the programming up to 32 segments of the temperature profiles (heating / maintaining);
Fast heating speed - it usually takes 60 minutes from room temperature to 1100°C;
Heating element use high temperature alloy resistance wire for long time using.
The furnace is made of high quality materials and has a high temperature stability.
Furnace shell made from high quality cold-rolled round steel sheets CNC processing;
Chamber material adopts vacuum forming ceramic fiber, which has the advantage of no powder drops off with high temperature, small heating capacity and saving energy more than 50%;
The thermal insulation of the furnace is made of high quality thermal insulation material to ensure a good uniformity;
Electronic parts and components adopt SCHNEIDER brand with earth leakage function and it is safe and reliable.;
Certification ISO9001 / CE / SGS.
Optional
paperless recorder;
gas supply system;
vacuum system;
digital vacuum gauge;
RS485 and USB ports for connecting to a computer.
Furnace Chamber Material
The combustion chamber is the main component of the furnace, and therefore high quality chamber material is the main part of a good furnace. Polycrystalline alumina ceramic fiber is one of the most advanced latest type of super lightweight high temperature insulating materials.
The vacuum furnace uses Mitsubishi (Japan) polycrystalline fiber as basic material and the inorganic polycrystalline ceramic fiber materials was made by wet vacuum molding ways with good thermal shock and thermal stability, low heat capacity and low thermal conductivity. Compared with the traditional silicon carbide furnace, the energy saving is over 50%!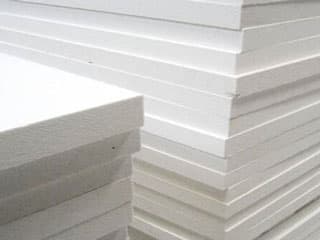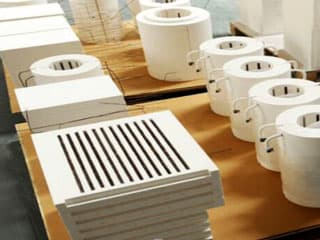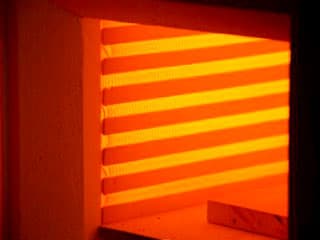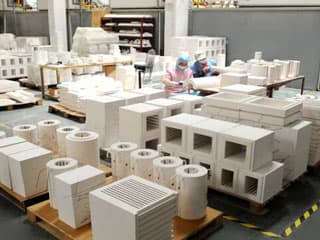 Vacuum Furnace Packing and Shipping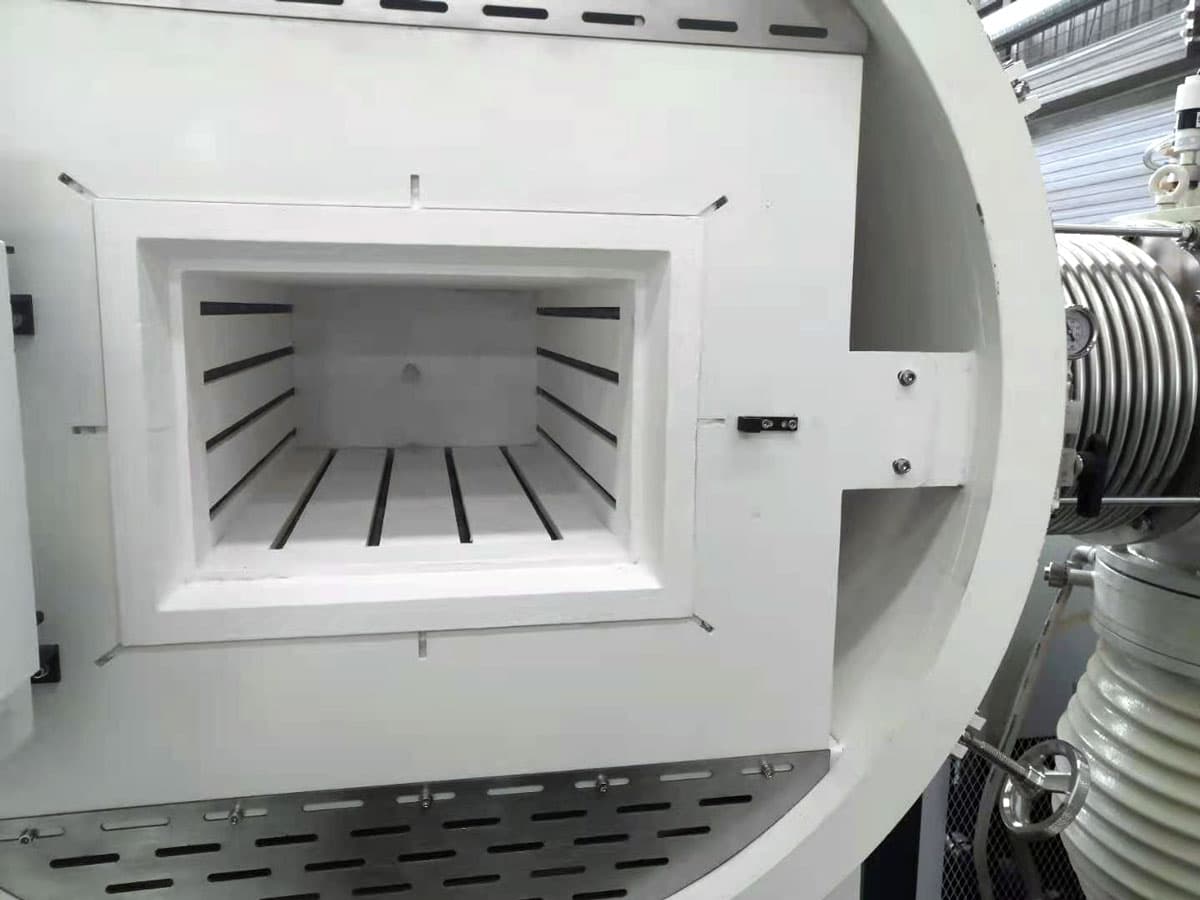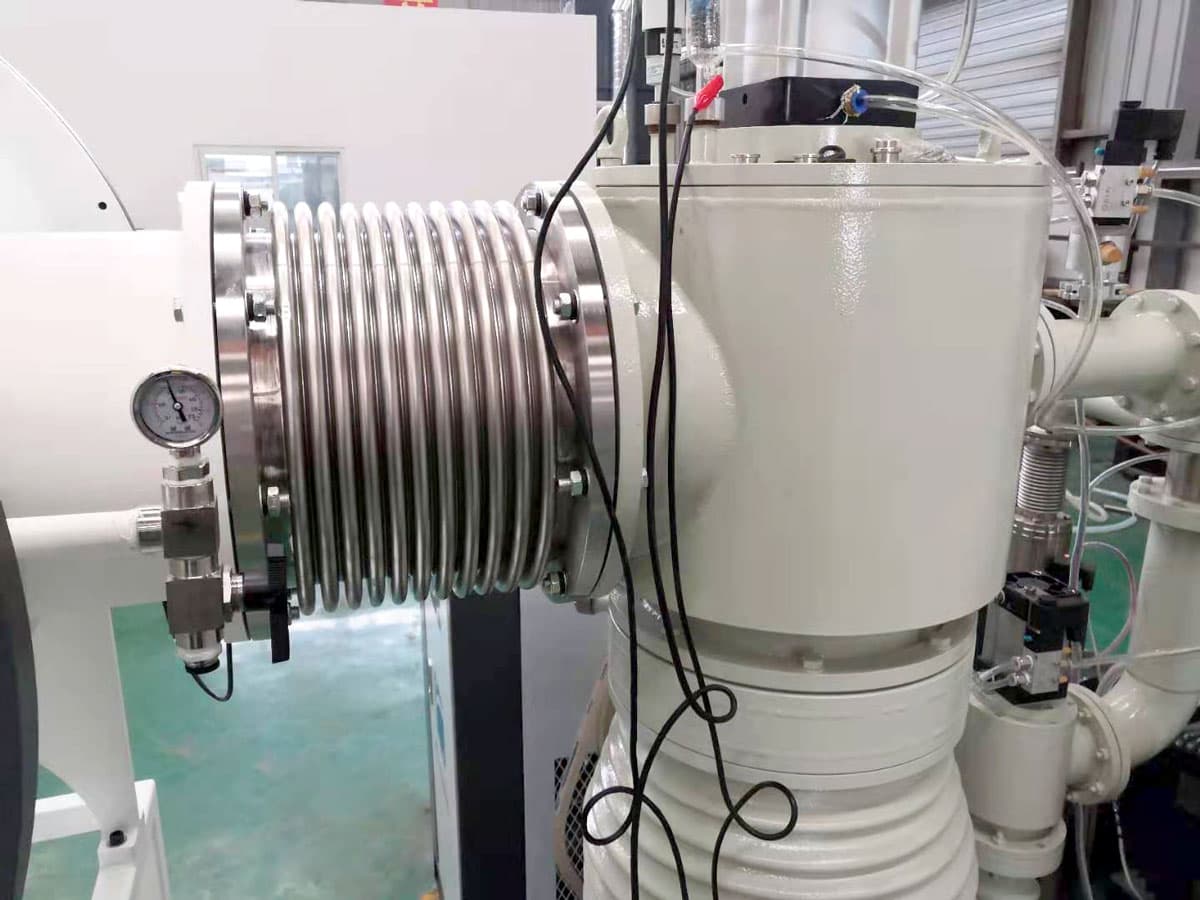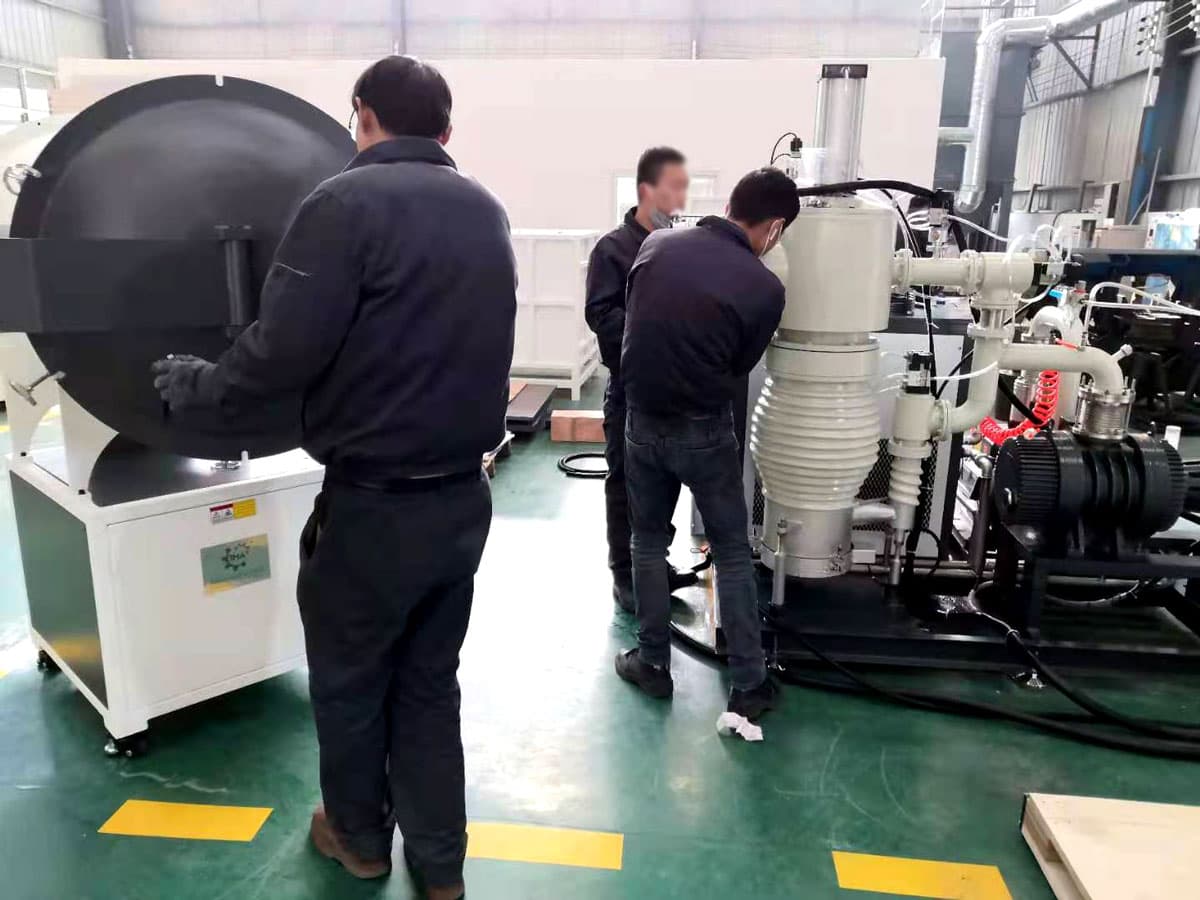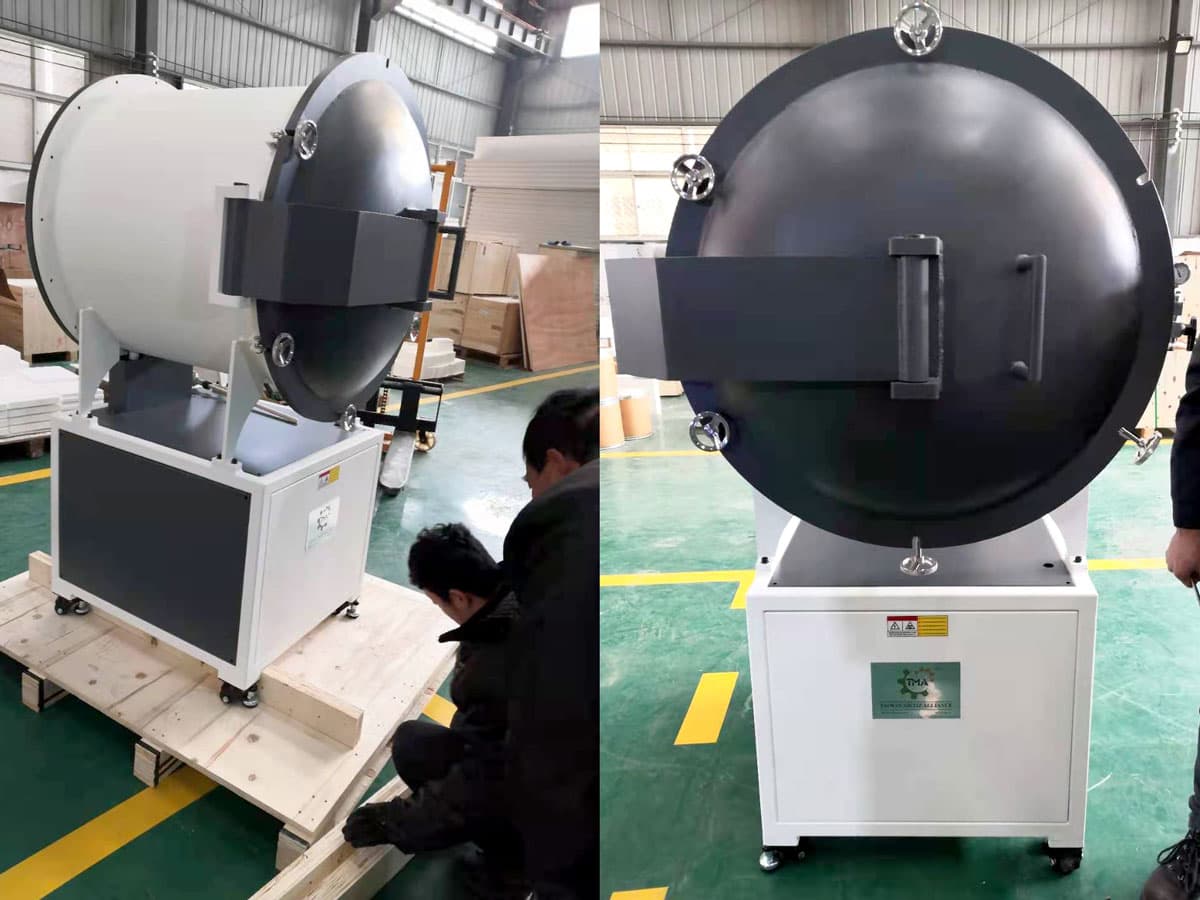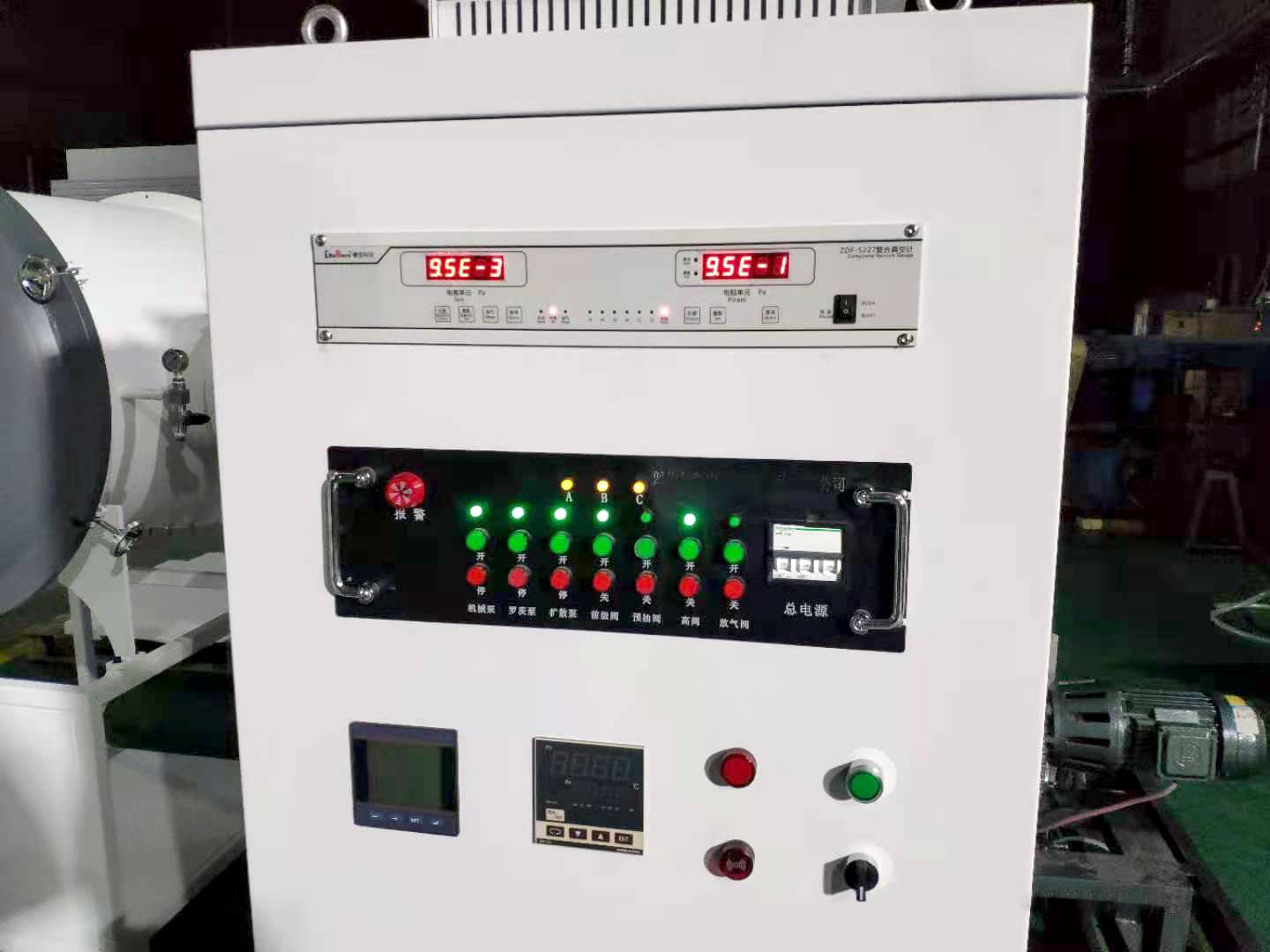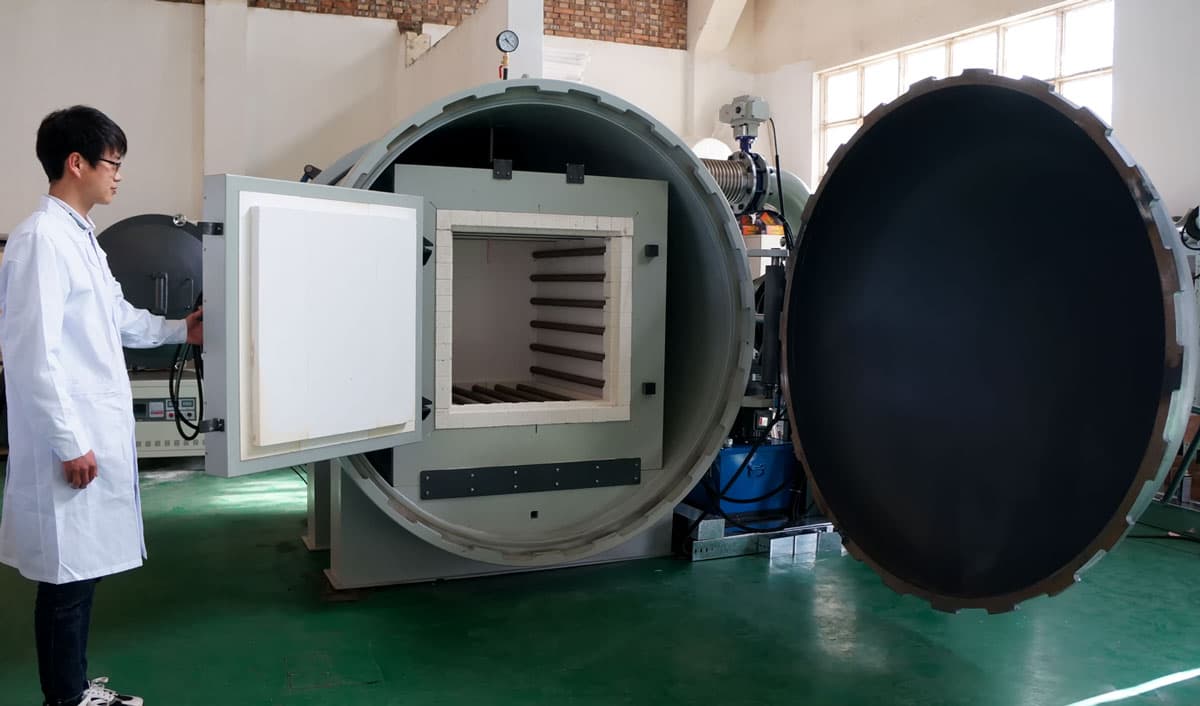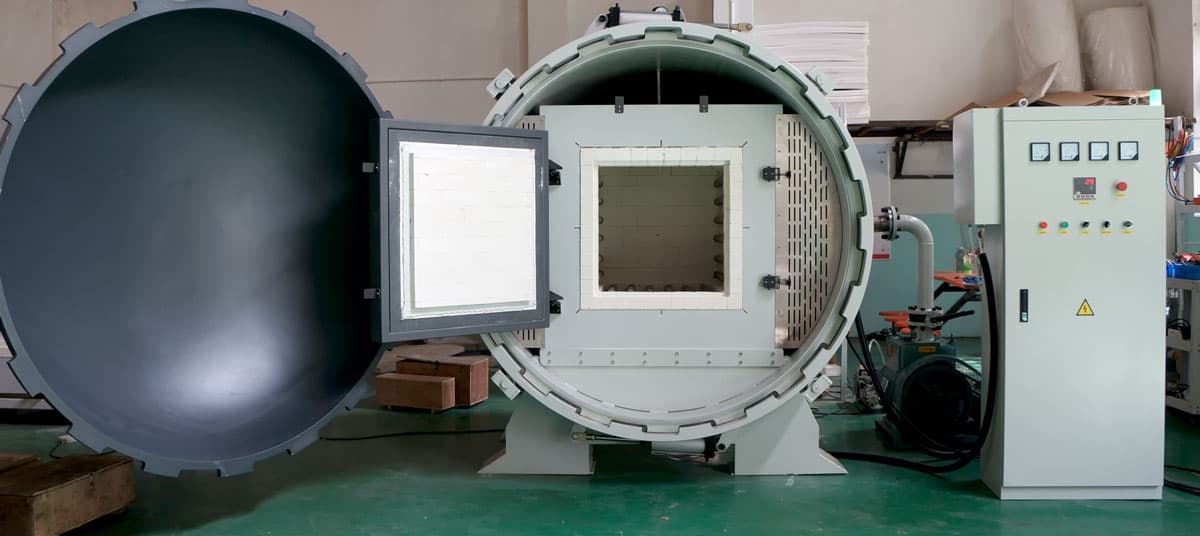 Vacuum Hardening Furnace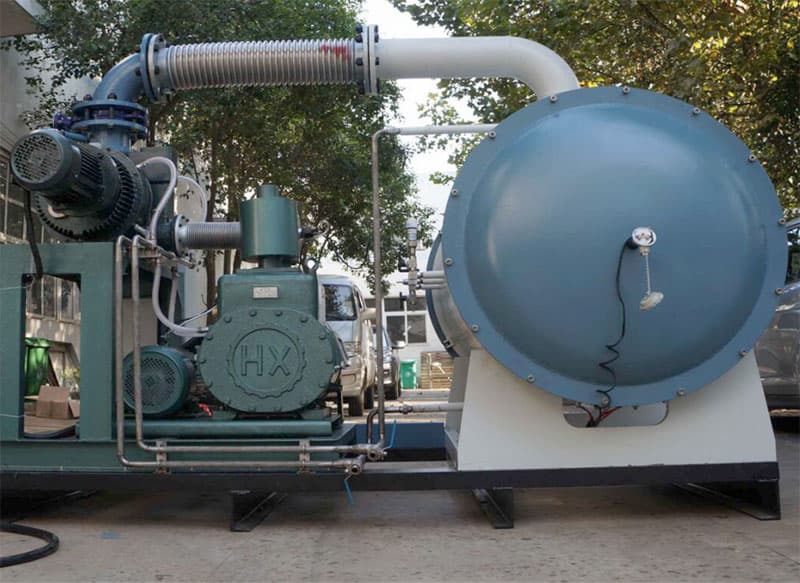 This furnace is the most advanced vacuum hardening furnace with gas hardening system, designed for a wide range of thermal treatments, including cooling, hardening, tempering, degassing, annealing and soldering speed steel and special products of the aerospace industry. The furnace has a compact design, is equipped with a high speed fan, heat exchanger. The equipment has minimum consumption of gas, electricity, water and a working space. Insulation and heating elements provide long and reliable service of the furnace.
Advantages of the furnace:
Performance 100- 2000 kg.
The heating element is made of metal or graphite.
High efficiency gas quench. The highest pressure is 9 bar.
Easy to operate. Human-machine interface.
The use of furnaces:
Alloy steel, stainless steel, elastic alloys.
Hardened stainless steel.
Heat treatment in the aerospace industry.
Heat treatment of bearing steel.
Heat treatment of stainless steel.
Heat treatment of titanium alloys.
Vacuum dewaxing sintering furnace
To achieve a high density and to remove gases and contaminants with preliminary sintering and removal of the binder, the vacuum sintering furnace with dewaxing of casting metal under pressure can be performed in a gas atmosphere where muffle gas output will remove binders or other outgassing products, preventing them contact with the heating element and the area at the same time improving temperature uniformity. The actual sintering process may be performed under high vacuum or in a gas to remove any contaminants from the article. This design ensures that the parts are disengaged completely through the gas flow during the output cycle of the binder and sintered to full density.
All control of flow, temperature and partial pressure is computerized and automated. All operating data, such as temperature, gas flow, pressure, total power and gas consumption recorded for each pass.
This type of furnace performs cost-effective production and ensures high quality as well as an appropriate effective method.
Furnace Application
Solid Metals & Materials (borides, carbides, nitrides, silicides).
Tantalum condensers.
High melting metal.
Permanent magnets.
High speed steel and stainless steels.
Ceramic material such as SiC, SiN, BC, Al2O3.
Furnace Features
Treatment of any metal with any binder.
Treatment in nitrogen, hydrogen, argon or air.
Treatment from atmospheric pressure to partial pressure and high vacuum.
Programmable control of any parameter in any segment, while output of the binder or sintering.
Less process gas, electricity, less processing time and footprint is used.
Vacuum Hydrogen Sintering Furnace
Vacuum furnaces for sintering in hydrogen are specifically designed to meet the needs of a diversified market and demanding customers. Reliable, user-friendly design of equipment helps to increase productivity, improve product quality.
Furnaces are equipped with an automatic electric drive with pneumatic clamps for easy and full access to the loading area. The heating zone is made of refractory material, ensures rapid heating and temperature uniformity. Protective atmosphere provides uniform heating furnace working space, the surface quality of finished products and energy saving. Furnaces have good security features and reliability.
Application of Hydrogen Sintering Furnace
Sintering of Ta-alloys, molybdenum, tungsten carbide.
Sintering of magnetic iron alloys.
Sintering of bronze, brass, stainless steel.
Sintering of general Fe material.
Advantage of Hydrogen Sintering Furnace
An independent system of protection against overheating.
Rapid cooling system.
Optional dew point monitors and moisturize equipments.
Optional bottom trim heater for ultra-precise temperature uniformity application.
Vacuum Hot Press Furnace
Vacuum presses for hot pressing process all known ceramic materials. Presses are available with insulation of graphite, tungsten, molybdenum mesh with the heating zone formed of carbide. As a protective atmosphere high vacuum, inert environment, reducing atmosphere, oxidizing atmosphere can be used. Equipment body is made of steel plate that protects the press from changes such as distortion or deformation occurring in the conventional welded frame. The design of the equipment makes the possibility of processing products under high pressure, pre-calculated theoretically. Vacuum presses can operate at high temperatures of the heating zone, have a multilayer insulation and complex thermal control system. The alarm system, hydraulic and atmospheric pressure control valves, control system lock, equipment stop, water supply and control system provide additional safety overheat.
Application of the Furnace
Vacuum sputtering material sintering.
Diffusion bonding.
Ceramic Processing.
Metal Processing.
Advantage of the Furnace
Improved performance and safety.
Passed quality control for safety.
Excellent temperature uniformity.
Fully automatic control and data acquisition system.
Simple thermal dewaxing process, a sintering process under high pressure.
Vacuum Tempering Furnace
The process of tempering is carried out by immersing the product in the furnace chamber for a time necessary to bring to the product of the strength and ductility. Tempering is a complex process, in the process of tempering it is necessary to pay attention to the time, temperature uniformity, the cooling process. In addition, the product should not lose bright metal surface after the procedure. Vacuum furnaces for tempering perfectly follow the above conditions. The line is made of heating nickel, chromium, equipped with a thermal shield of SUS304steel, vacuum pump, rapid cooling system and automatic control panel is versatile, reliable and user-friendly design.
Application of Furnaces
Alloy steel, flexible alloy, stainless steel, bearing steel.
Hardened stainless steel.
Heat treatment in the aerospace industry.
Heat treatment of bearing steel.
Heat treatment of stainless steel.
Heat treatment of titanium alloys.
Advantage of Furnaces
Uniformity of temperature is achieved through the circulation of hot air.
Performance 100 - 2000 kg.
Ni, Cr, or Graphite heating element.
Easy to operate. Human-machine interface.
Programmable temperature control.
Vacuum Brazing Furnace
Soldering of metals occurs when the brazing material comes in contact with the diffusion metal components during the vacuum heat treatment. Finished products are bright and clean. Furthermore, vacuum soldering of parts is an environmentally friendly process. In absence of oxygen flux for soldering is required, the final product does not contain pores and is not oxidized. The vacuum soldering furnace offers one of the most reliable methods of connection products, having a number of advantages. These furnaces are particularly recommended for manufacturers of tools and complex parts.
Application of Vacuum Brazing Furnace
Aerospace industry.
Satellite communication.
Electronics technology.
Medical technology.
Nuclear fusion and fission.
Advantage of Vacuum Brazing Furnace
Fluxless brazing.
No hazardous fumes or toxic waste.
Uniformity of temperature.
Excellent tensile and sealing.
Synchronicity of vacuum brazing and heat treatment.
Vacuum Induction Furnace
Initially, vacuum induction furnaces used to make alloys of certain properties to meet the requirements of specialized industries. Nowadays production of high quality materials with a wide range of applications is the most important task. Alloys obtained by treatment in an induction furnace used in very difficult situations, including super alloys that can withstand the highest possible temperature, stainless steel for nuclear applications, as well as magnetic alloys with high purity and permeability.
Thus, vacuum induction furnace is an indispensable tool for the production of special alloys that require processing in a vacuum or in an inert gas atmosphere to avoid a reaction with atmospheric oxygen. Vacuum furnaces are ideally suited for metals with a high degree of purification without the presence of oxidation impurities.
Vacuum induction furnaces are particularly suitable for melting and casting of iron, nickel, cobalt and their alloys, in vacuum or controlled atmosphere to achieve the desired production requirements, providing high performance, ease of operation and low maintenance costs.
The use of furnaces:
Melting and casting of special steel and alloys with very complicated composition in vacuum atmosphere or inert gas atmosphere.
Shaped castings.
Production of powder.
Directional solidification / casting of single crystals.
Casting electrodes.
Continuous casting.
The advantage of furnaces:
Easy to operate, maintain, precise control.
High level of operational reliability and good accessibility.
The ability to batch processing of small dimensions.
Automatic control and data processing (drawing up the minutes).
Reliable protection system of vacuum atmosphere.
Low production costs.
A wide range of standard accessories and options to fully adapt to the specific requirements of the customer.
Strict control of the chemical composition of the alloy.
Vacuum Induction Skull Melting Furnaces
Vacuum Induction Skull Melting is a method of melting metals in a segmented water-cooled copper vessel while under vacuum or controlled atmosphere using an induction coil. Vacuum Induction Skull Melting Furnaces provide superior chemical and thermal homogeneity when compared to more traditional methods of melting reactive materials such as arc skull casting. Vacuum induction skull melting processes are used primarily for melting of reactive metals.
Application
Super clean metal materials
Reactive metals such as Titanium, Zirconium, Tantalum.
Advantage
Low cost of charge material.
Suitable for simultaneous processing of various alloys in a furnace chamber, eliminating the possibility of cross chemical reactions.
They work under an inert gas under pressure, which eliminates or minimizes losses of alloy.
Characterized by short cycle times.
Vacuum Arc Remelting furnace
Vacuum arc remelting furnaces (VAR process) perform a process of continuous remelting in vacuum. Advantages of arc remelting is allocation of a large amount of energy and control need. Innovative technology, design management systems and processes, allows processing in a vacuum of special steels, super alloys, alloys of iron, nickel, cobalt, titanium, to achieve strength properties, heat resistance and the quality of the components products.
Application of vacuum arc remelting furnaces
Super alloys for the chemical industry.
Special alloys for the electronics industry.
Special alloys for the aerospace industry.
Structural steel for the turbine and generator shafts.
Melting of reactive metals (titanium, zirconium and their alloys).
Advantages of vacuum arc remelting furnaces
Removal of associated gases, such as hydrogen and nitrogen.
Minimizing the content of unwanted trace elements with high vapor pressure.
Increased rates of metals purity and their alloys.
Directional solidification, low shrinkage of the metal.