HOT FORGING EQUIPMENT FOR FASTENERS, PARTS AND HARDWARE
EQUIPMENT FOR METAL HARDWARE, FASTENERS AND COMPONENT PARTS HOT HEADING
GENERAL INFORMATION
Blanks produced by hot die forging have complex shapes with high strength, durability and a wide range of steel grades used (low / medium / high carbon steel, stainless steel, alloy steel, special alloy steel), aluminum or copper alloys.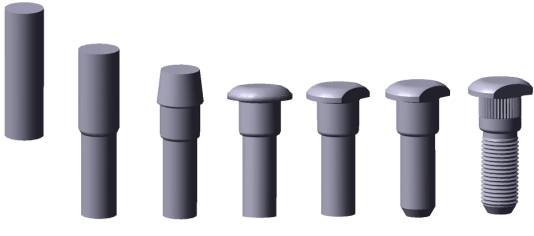 TECHNOLOGICAL PROCESS METAL HARDWARE FASTENERS AND COMPONENT PARTS HOT HEADING
Components of the process:
Cutting machine.
Heating furnace.
Rolling mill.
Forging press.
Parting (punching) press.

Video of the operation of the Equipment
HOT STAMPING PRODUCTION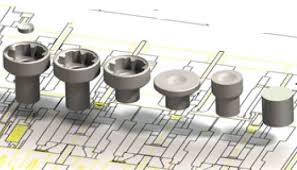 The method of hot stamping can be obtained by: gears, rollers, spiders, caps, flanges, links, cranks, parts of isolation valves, oil industry parts, railway parts crankshafts, connecting rods, internal combustion engine details, solid-rolled rings, joint fists, tie rods, spanners, valves, stainless steel tanks, hot water tanks, equipment for spraying, metal bars and much more (see. fig.).
PECULIARITIES OF THE EQUIPMENT FOR METAL HARDWARE, FASTENERS AND COMPONENT PARTS HOT HEADING
Equipment for fasteners, metal hardware and component parts hot heading proposed by Taiwan Metiz Alliance has the following characteristics:
Equipment design minimizes the possibility of blanks jams in the mold cavity and reduces the demand for metal.
High starting effort provides operational efficiency.
High speed and precision of movements extend the service life of the mold.
Accuracy of the equipment is confirmed by CNS standard.
Special design of the transmission can significantly reduce the noise level during operation of the press.
and much more.
Send us your drawings of parts with technical specifications, and we will find you necessary equipment.