Dear Partners,
We are having a long weekends coming up to celebrate the Middle Autumn Festival (Taiwan National Holiday) September 29th - October 1st.
We would like to take this great opportunity to thank you for your continued support, wish you and your family, the members of your company healthy, wealthy, prosperous and all the best.
Happy Middle Autumn Festival!
THREAD ROLLING MACHINES FOR THE FASTENERS INDUSTRY
FEATURES OF THREAD ROLLING EQUIPMENT FOR THREADING FOR SELF-TAPPING SETS AND SCREWS
Initially blanks of self-tappers and screws are put into the hopper. From the hopper via the vibration conveyor mechanism and the anchor mechanism blanks come into threading zone. However, they are strictly oriented towards the working elements. Working elements are flat dies. They are moved towards and parallel to each other and perpendicular to the axis of the self-tappers or screws, wherein the dies are pressed tightly to the rod product. Dies are made on basic parameters of thread fasteners. In Russia - according to the metric version. Foreign manufacturers may use for cutting inch threads dies on the self-tappers and screws. Option kinematic scheme of manufacturing self-tappers and screws shown in Figure.
Equipment for rolling threads on self-tappers and screws is suitable for thread-rolling on blanks:
Diameter 0.8 mm-19 mm.
Length 3-200 mm.
Maximum output 500 pcs. / min.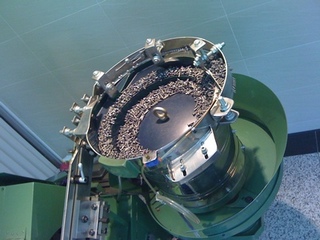 HIGH SPEED THREAD ROLLING MACHINES
IN THE PROTECTIVE COVER

FOR THREAD ROLLING ON SCREWS, SELF-TAPPING SCREWS



Specifications of thread rolling machines
Model
Max. blank diameter
Max. blank length
Performance,
pcs/min
Die dimension,
mm
Main motor power
Machine dimensions,
L × W × H, cm
Net weight,
kg
Gross weight,
kg
AR-003HDC
0.8~3.5 mm
24 mm
230~250
19 × 25 × 51~64
1 HP
128 × 96 × 127
600
660
AR-001FC
0.8~2.0 mm
0.8~10 mm
100~150
15 × 20 × 45~55
1 HP
145 × 122 × 169
710
880
AR-003THC
0.8~2.6 mm
16 mm
280~400
350~500
15 × 20 × 45~55
15 × 25 × 51~64
2 HP
145 × 105 × 150
600
680
AR-004THC
2~4 mm
3~30 mm
300~450
19 × 25 × 51~64
20 × 35 × 65~80
3 HP
165 × 114 × 147
1000
1120
AR-15THC
2~6 mm
64 mm
200~300
25 × 70 × 76~90
25 × 70 × 90~105
5 HP
197 × 155 × 167
1650
1800
AR-20THC
3-6 mm
76 mm
150~200
25 × 83 × 100~115
5 HP
230 × 178 × 166
2100
2300
AR-25THC
4~8 mm
102 mm
80~100
25 × 102 × 127~140
7.5 HP
230 × 180 × 200
2450
2600
Machines for thread rolling on screws and self-tapping screws with
a drum feeder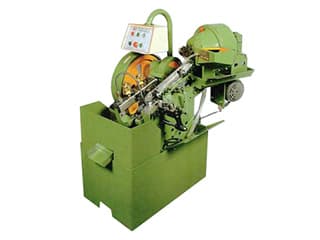 AR-003HD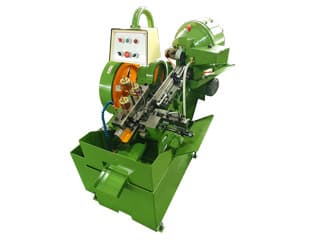 AR-3.5TH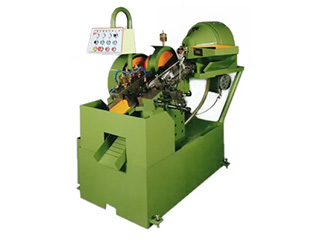 AR-15HD
AR-15TH
Specifications of thread rolling equipment
Model
Max. blank diameter
Max. blank length
Performance,
pcs/min
Die dimension,
mm
Main motor power
Machine dimensions,
L × W × H, cm
Net weight,
kg
Gross weight,
kg
AR-003HD
0.8~3.5 mm
24 mm
230~250
19 × 25 × 51~64
1 HP
124 × 96 × 121
500
550
AR-3.5TH
2~3.5 mm
25 mm
250~320
19 × 30 × 51~64
19 × 30 × 65~80
2 HP
165 × 98 × 151
620
750
AR-15HD
2~5 mm
50 mm
120~160
25 × 57 × 76~90
3 HP
163 × 130 × 140
750
850
AR-15TH
2~6 mm
64 mm
200~300
25 × 70 × 76~90
25 × 70 × 90~105
5 HP
191 × 150 × 162
1450
1600
ROLLING THREADS EQUIPMENT ON SELF TAPPERS AND SCREW
WITH VIBRATING FEEDER
Specifications of equipment for rolling threads
Model
Max. blank diameter
Max. blank length
Performance,
pcs/min
Die dimension,
mm
Main motor power
Machine dimensions,
L × W × H, cm
Net weight,
kg
Gross weight,
kg
AR-003HD
0.8~3.5 mm
24 mm
230~250
19 × 25 × 51~64
1 HP
154 × 130 × 121
570
620
AR-15TH
2~6 mm
64 mm
200~300
25 × 70 × 76~90
25 × 70 × 90~105
5 HP
191 × 150 × 162
1450
1600
AR-20TH
3~6 mm
75 mm
150~200
25 × 83 × 90~105
25 × 83 × 100~115
7.5 HP
200 × 178 × 166
1775
1950
AR-25TH
4~8 mm
100 mm
80~100
25 × 102 × 127~140
210 × 160 × 160
2300
2500
AR-30TH
4~10 mm
152 mm
60~75
25 × 152 × 152~165
240 × 170 × 170
2400
2700
AR-40TH
8~19 mm
200 mm
45~50
38 × 200 × 230~265
25 HP
485 × 250 × 200
8000
8500
High-speed

equipment for rolling threads on self-tappers and screws with vibration feeder



High speed thread rolling machine AR-003TH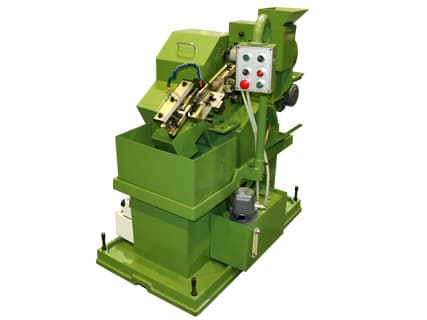 Max. blank diameter
0.8-2.6 mm
Max. blank length
16 mm
Performance
280-400 pcs/min
350-500 pcs/min
Die dimension
15×20×45~55 mm
15×25×51~64 mm
Main motor power
2 HP
Machine dimensions, L × W × H
145 × 90 × 152 cm
Net weight
420 kg
Gross weight

520 kg
High speed thread rolling machine AR-004TH
Max. blank diameter
2-4 mm
Max. blank length
3-30 mm
Performance
300-450 pcs/min
Die dimension
19×25×51~64 mm
20×35×65~80 mm
Main motor power
3 HP
Machine dimensions, L × W × H
142 × 114 × 140 cm
Net weight
850 kg
Gross weight

940 kg