ACCESSORIES FOR ELECTROPLATING EQUIPMENT
ELECTROPLATING BARRELS
Galvanic drums are manufactured based on imported polypropylene material without welds, capable of handling solids and heavy articles. Drum body if reinforced with polypropylene rods and laid pipes made of carbon steel. Important elements of the body are protected by fiber that can withstand high temperatures and resistance. T-shapes brass panels provides high conductivity, while the outside surface of the drum is covered with a material able to withstand the acidic and alkaline media.
The inner surface of the galvanic drum has a relief structure because of small convex quadrilateral pyramids. This prevents the blanks from sticking to each other in the drum during the process of galvanizing, phosphatizing of other application.
The diameter of the holes in the drum are designed so as to perfectly ensure access of water and other substances inside the drum and to preclude jamming of products.
GALVANIC DRUMS FOR PROCESSING PRODUCTS OF ELONGATED SHAPE
Galvanic drums for processing products of elongated shape are specifically designed for electroplating long screws. The size of the drum can be adjusted according to the length of the processed product.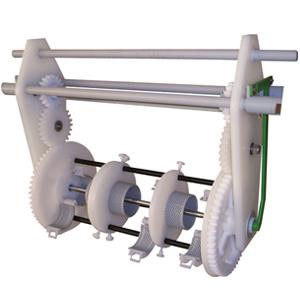 OCTAGONAL GALVANIC DRUMS
Octagonal drums have a much greater capacity of load and support the rotation function clockwise and counterclockwise, thereby providing the best process of mixing and uniform plating layer.
The body design eliminates drum jam products in its conductive holes, thereby prolonging the service life of equipment.
Arch-shaped holes provide high water permeability and other plating solution, improving the surface quality.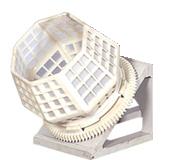 ACRYLIC GALVANIC DRUMS
Acrylic galvanic drums have high heat resistance, strength and corrosion resistance.
Body of the drum is made of acrylic, has good electrical conductivity, chemical exchange, ensures stable rotation of the treated products. Drums are fully compatible with the equipment for galvanizing, phosphatizing and can be installed inside the galvanic plating baths. The rotation speed of the drum is regulated in accordance with the plating process. In addition, it is possible to use drums of open or closed types simultaniously.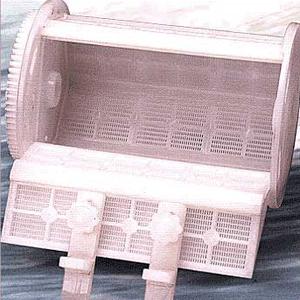 INSTALLATIONS FOR PREPARATION AND SOLUTIONS DOSING
Automatic installation for preparation and dosing of chemical solutions used in all kinds of electroplating additive.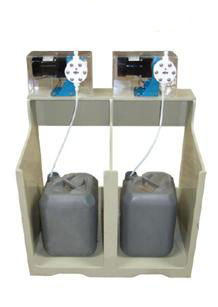 open body
with safety enclosure
Installation features
It is used in galvanic baths of various types.
Operating pressure: max. 10 kg/cm2.
Valid parameters of stroke length 0 ~ 100% without control function.
Casing unit for preparation and dosing of solutions in a protective casing is made of PVC, providing strength, ability to withstand acids. Casing unit for preparing and dosing solution without the cover is made of polypropylene, the material used in galvanic baths, characterized by ease at operating and ease replacement at case of fault.
Setting allows the use of various chemical substances: acid-base, converters.
The equipment is compatible with the operation of foreign chemicals detector.
Radiator is collocated with the heat dissipation mechanism that provides high quality heat dissipation, thereby extending the life of the device.
GALVANIC FILTERS FOR AIR PURIFICATION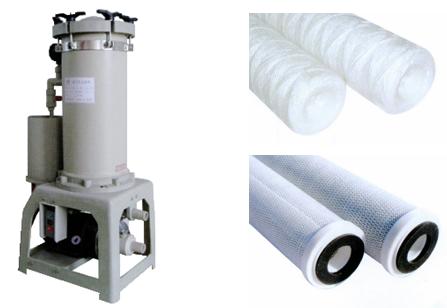 Galvanic filters are used for sanitation cleaning of aspiration air, vent emissions from solid and liquid aerosol particles generated during plating at operations such as chrome plating, anodizing in acids, electrochemical degreasing, galvanizing, etching stainless steel in acid and others.
Specifications filters

Model /
Options

Water consumption, m3/h

Cleaner

Working temp..,
 °C

volume of the working bath, h

Interface (Input / Output)

power, kW

Wool fibers

filter cartridge

Wool fibers/ filter cartridge

Wool fibers/ filter cartridge

WCGL-1

1

65x250, 1 pcs.

/

≤80

100

21x21

0.12

WCGL-3

3

65x250, 3 pcs.

/

≤80

300

21x21

0.25

WCGL-6

6

65x250, 6 pcs.

Ø180x30

≤80

600

40x32

0.75

WCGL-10

10

65x500, 7 pcs.

Ø280x35

≤80

1000

40x32 50x50

1.1/1.5

WCGL-15

15

65x500, 14 pcs.

Ø280x38

≤80

1500

50x50

2.2

WCGL-20

20

65x500, 14 pcs.

Ø280x40

≤80

2000

50x50

2.2

WCGL-25

25

65x500, 14 pcs.

Ø280x45

≤80

3500

50x50

2.2

WCGL-30

30

65x500, 14 pcs.

Ø280x45x2

≤80

3000

50x50

3.0
EQUIPMENT FOR CLEANING CARTRIDGES AND FILTERS FROM POLLUTION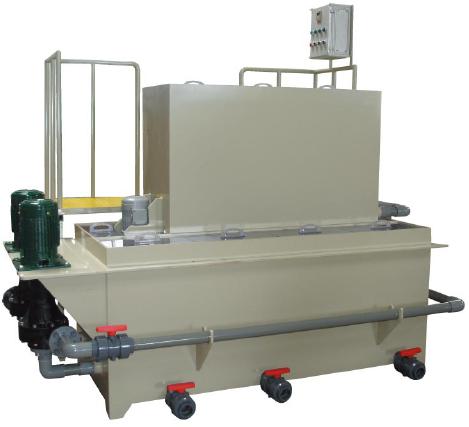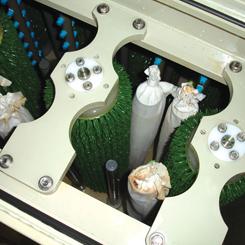 Features
Spray pipes and nozzles are designed to clean the filter cartridge and the surface from contamination.
The principle of operation is based on the spray tube cleaning the internal filter housings without the intervention of staff. Cleaning is carried out with water, to drive into the filter housing under high pressure. Equipment for cleaning cartridges and filters from contamination is able to clean up to 20 items at a time, which reduces the cost of labor.
Design of equipment for cleaning cartridges and filters can reduce production costs and water.
The surface of the equipment is made of polypropilene thus able to withstand the effects of acids and has an increased service life.
The device is easy and convenient to use.
AUTOMATIC DEHYDRATOR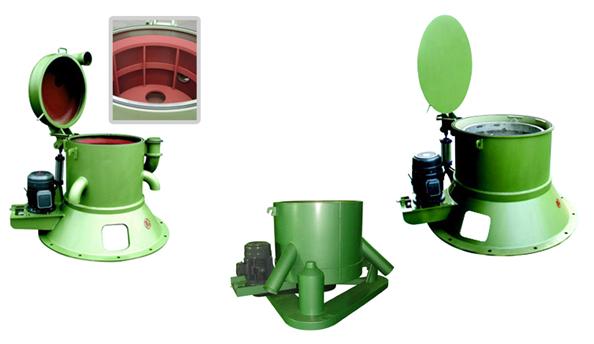 Suitable for all types of drying.
Features
The principle of operation is based on the use of the dehydrator centrifugal forces and drying by hot air, which promotes rapid removal of water from the product, making it clean and bright.
The carrier of the dehydrator consists of cast steel and is located on the bottom of the equipment, has a shock-resistant properties and ensures the stability of the whole unit, increasing the life of the device.
Brake system consisting of a frequency converter and pneumatic brake, allows you to save time and increase safety.
Dehydrator opens automatically after completion of the drying process.
The drying process can save time and reduce production costs.
Speed control via frequency conversion mechanism allows achieve high stability of the workflow.
Dehydrator features high speed and low noise generation.
Dehydrators of semi-automatic type and manual controlled are also available on request.
AUTOMATIC CONTROL PANEL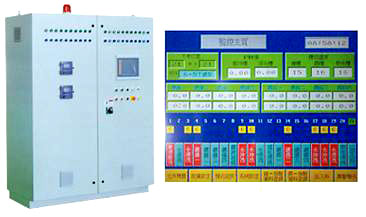 Features
Automatic Control Panel of galvanic line is made on the basis of industrial computer system software, it has a display for adjustment and commissioning of programs and processes parameters. The system allows you to manage autooperator of various programs, moreover, there are reporting functions, passwords protection, configuration, alarm function, equipment overflow control, device for calculation and water-saving control system, heat exchanger plates, PH detector, galvanic liquid and raw material feeding control.
Automatic control panel is compatible with the operation of the rectifier, which is responsible for the constancy of the values of current and voltage.
GALVANIC RECTIFIERS (TRANSFORMATORS)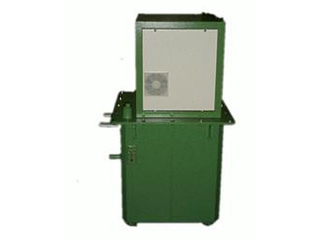 Features
The rectifier is used to convert AC to DC, it is the main element of electroplating, due to it the plating process perfoms; is on its power (current density) depends on the coating speed. When galvanizing ions in electrolytes and anodes ("plus" of the rectifier is connected to them) move in the direction of "minus" connected to the part to be coated. The main elements are galvanic rectifier transformers, diodes, copper coils, cores, and more.
Crucial resistance of the solution. The main parameter in the selection of the rectifier is the parts covered area (which is limited to the size of the suspension or drums). Supplied to the input current - two-phase, 380 V or 220 V (more energy consuming); operating voltage - 16 volts or more; output current has stepless adjustment. Also, our machines are equipped with a battery of reactive power compensators, which 2 times reduces the power consumption, so that the term of the equipment payback is about 3 months.
Rectifiers can also be used:
in wastewater treatment plants, wastewater treatment from heavy metals with help of reagents; or neutralizing effluents.
for laboratory studies, modeling processes (Hull cell).
processes for cadmium plating, chrome plating, electrochemical degreasing, copper plating, nickel plating, and others. The devices are complemented with throttle module (solenoid) – is driving to zero switching oscillations on output.
SUPPORT EQUIPMENT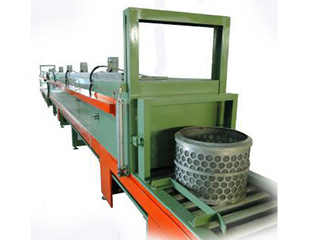 FURNACE FOR HYDROGEN
TREATMENT (EMBRITTLEMENT)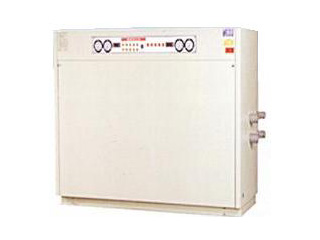 COOLING
DEVICE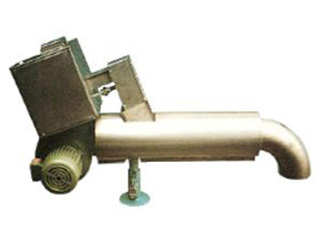 GAS
DEHYDRATOR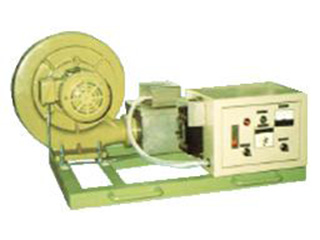 ELECTRIC
DEHYDRATOR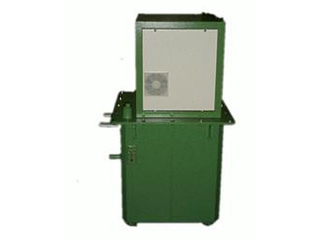 Rectifiers for galvanic baths. Rectifiers oil or air-cooled. Decision and choice in favor of one or the other depends on the actual operating environment.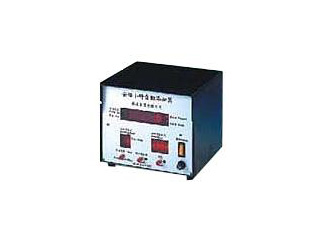 Charger. Amperage displayed digitally. All values and parameters are stored. The accuracy of the device is about 0.1%. The device automatically measures the strength of the supply current.