Dear Partners,
We are having a long weekends coming up to celebrate the Middle Autumn Festival (Taiwan National Holiday) September 29th - October 1st.
We would like to take this great opportunity to thank you for your continued support, wish you and your family, the members of your company healthy, wealthy, prosperous and all the best.
Happy Middle Autumn Festival!
EQUIPMENT FOR STUD BOLT AND PIN PRODUCTION
CHAMFERING MACHINES FOR B7 HIGH STRENGTH THREADED STUDS
One of the popular types of fasteners is a stud bolt. The most popular type is the high-strength stud B7. This kind of Threaded Studs are generally used in high pressure / temperature applications for steel pipe flanges and flanged fittings. Such studs are considered heat-resistant; the maximum working temperature is +510°C. The stud is structurally a rod with full or partial thread. It can be executed with or without chamfer. The material for the production of B7 studs is mainly alloy steels with an average carbon content, and sometimes stainless steels, followed by heat treatment. Heat treatment is required to achieve higher strength values. A stud bolt is made by passing a round steel rod through threading machines. In addition, a chamfer is made at the ends of the studs, which facilitates the connection with the nut and reduces the risk of thread damage at the start.
The RGS-33/42-B7 machines are designed for production of small and medium size batches of B7 stud blanks, which can be later thread-rolled on a 2-Roll machine. Each model has capacity for a wide range of wire diameters and lengths. The machines are easy to set, requiring very low maintenance.
The heavy-duty chamfer heads produce a clean smooth chamfer, and yield longer life of the carbide chamfer tips. The chamfers are cut dry at high speed, without lubricant. The dry chips are ejected out the machine, keeping the work area dry and clean. Stamping is done in an independent separate station and can be done on one side or both sides.
The machines accept pre-cut blanks, which can be fed automatically by an external feeder or a manual feed magazine. When working from long bars, we offer quick-change feed tables connected to bar shears that will cut the bars to a precise length, and remove the bar ends to a recycle bin. Working from coil is also possible, up to M24 (1").An optional conveyor can be added, to feed the chamfered and stamped blanks into a thread roller.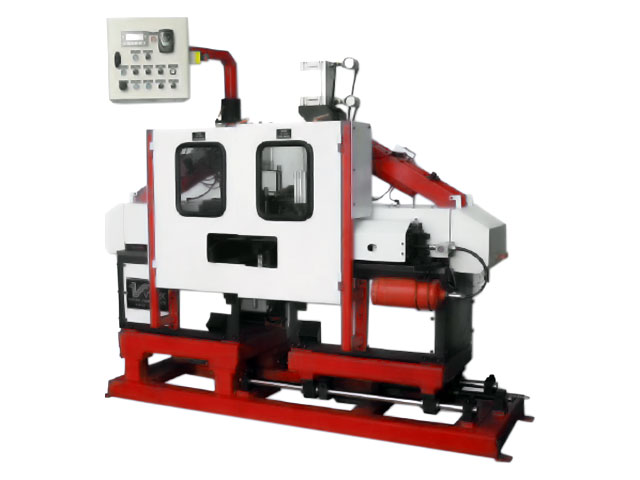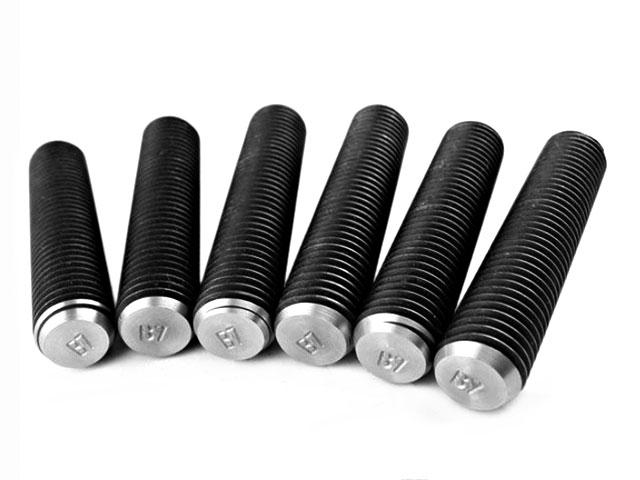 Chamfering Machines Specification
Chamfering Machine Model
RGS-33-B7
RGS-42-B7
Thread range
from M12 up to M33
from M12 up to M42
Wire dimeter range
from 10.7 mm up to 31 mm
from 10.7 mm up to 39 mm
Minimum stud length
60 mm (for M12)
up to 100 mm (for M33)
60 mm (for M12)
up to 120 mm (for M42)
Maximum stud length
300 mm
300 mm (option 400 mm)
Production rate
M12: 38 pcs/min
M16: 36 pcs/min
M20: 32 pcs/min
M24: 30 pcs/min
M27: 26 pcs/min
M30: 23 pcs/min
M33: 20 pcs/min
M36: 16 pcs/min
M12: 38 pcs/min
M16: 36 pcs/min
M20: 32 pcs/min
M24: 30 pcs/min
M27: 26 pcs/min
M30: 23 pcs/min
M33: 20 pcs/min
M36: 16 pcs/min
M39: 14 pcs/min
M42: 12 pcs/min
Electric power consumption
8 kW
10 kW
Floor space
2.0 m × 1.1 m
2.3 m × 1.2 m
Machine weight
2 tons
2.2 tons
DOUBLE-SIDED CHAMFERING MACHINES
These Dual-Side 2-Station Chamfering Machines are designed to chamfer and face both ends of straight bars in the diameter range of Ø5mm to Ø76mm. The machines can either be supplied as self-standing magazine feed machines, or integrated as part of a complete bar processing line. When working as part of a draw line, the machines can be equipped with two additional stations to overcome unequal length bars. In such case, the bars are first pushed to one side, chamfered and then chamfered on the second end.
Chamfer heads are uniquely supported inside a bushing. Resulting in a high quality chamfer and lower wear of the carbide chamfer tips. The turning heads can optionally do multiple operations and turn a finished part with a face, chamfer, or center bore.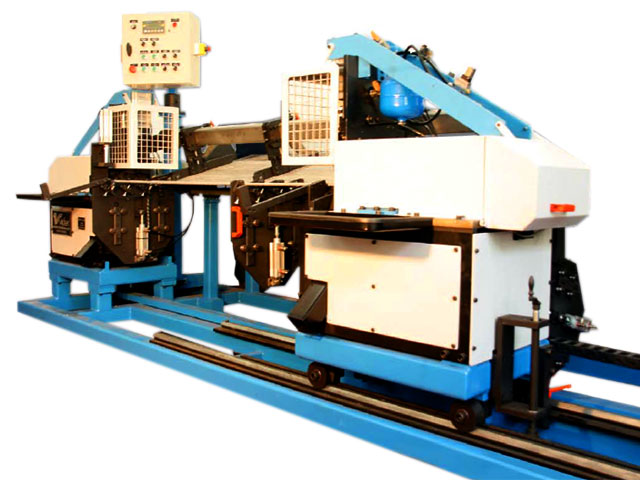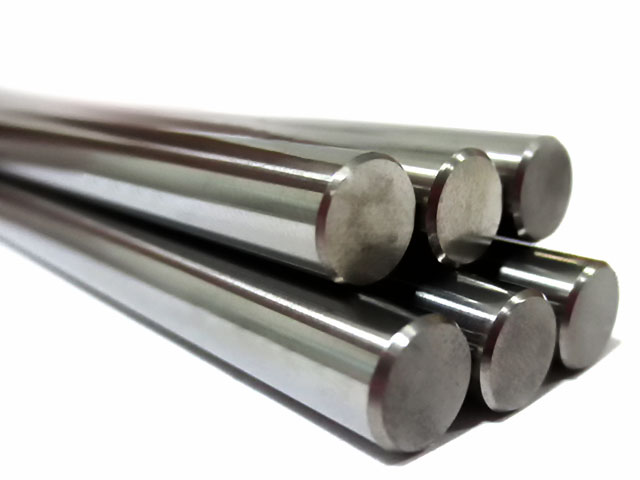 RGM-XX-D Series Double-sided chamfering machines specification
Chamfering Machine Model
RGM-16-D
RGM-25-D
RGM-32-D
RGM-40-D
RGM-50-D
RGM-76-D
Wire diameter range, up to 700 N/mm2 (100 kpsi)
5-13 mm 1/4"-5/8"
8-25 mm 5/16"-1
10-32 mm 3/8"-1¼"
16-40 mm 5/8"-1½"
20-50 mm 3/4"-2"
25-76 mm 1"-3"
Length range
Per request
CHAMFERING EQUIPMENT FOR THREADED ROD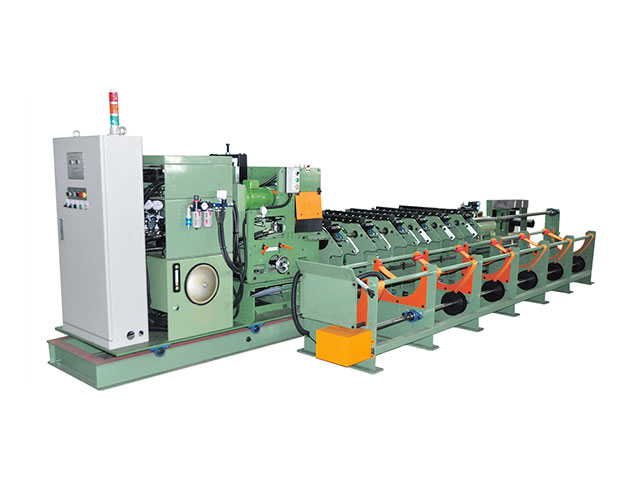 Features of chamfering equipment:
The chamfering machine is designed to chamfer the threaded rods, rods Ø3-50 mm, length 2 - 6 meters.
This chamfering machine is suitable for chamfering of copper, carbon steel, alloy steel, bearing steel, aluminium, etc.
Product profile - circle, hexagon, square.
High productivity, up to 23 bars per minute.
Combines the function of chamfering and edging machines for tetrahedral and hexagonal bars.
Synchronization of the process of chamfering (rounding).
Quick tool change.
The performance of the machine depends on the shape of the rods.
Dimensions of equipment 8000 × 3500 × 1000 mm
Machine weight 3500 kg
Supply voltage: 380V, 50Hz, 3 phase
Technical Specifications of Chamfering Equipment
Model
RG0310 - 2530
RG0513 - 2540
RG1025 - 2540
RG2050 - 2540
Wire dimeter range, mm
ø3 - ø10
ø5 - ø16
ø10 - ø25
ø 20 - ø50
Bar length, m
2.5 - 3
2.5 - 4
2.5 - 4
2.5 - 4
Processed material
Steel, non-ferrous metal
Processed profile
Round blank, hexagonal, square bars
Supply voltage
380V, 50Hz, 3 phase
Standalone Equipment / Calibration Line Equipment
* Design and specifications are subject to change without notice.
The equipment combines the function of chamfering and edging machine for wire and rods. The chamfering process is synchronized. The chamfering machine can be stand-alone or connected and integrated with the wire and bar calibration line.
Video of the work of the Chamfering Machine
Two chamfering options are available: ALTERNATELY from each end of the product or SIMULTANEOUSLY from two ends of the product
Samples of workpieces to be processed