COILING AND FORMING EQUIPMENT FOR SPRINGS, RINGS AND SPECIAL FASTENERS
SPRING WIRE BENDING EQUIPMENT
8-AXIS SPRING WIRE BENDING EQUIPMENT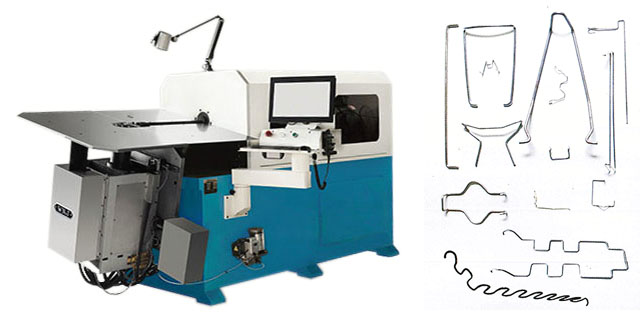 Main Features of Spring Wire Bending Equipment
Spring Wire Bending Machine has an Eight Axis Gearing design, forms springs with high speed, accuracy and stability.
The machine is equipped with Taiwan's software HUST and with a SANYO servomotor.
Wire feeding has a function of wire rotation; it is easy to setup and is more stable.
Computer interface is available in Chinese and English making the operation much easier.
Spring Wire Bending Equipment is suitable for different kinds of snake shaped spring, wire bending, special-shape spring, etc.
Technical Specifications of Spring Wire Bending Equipment
Model
RWZ-860
RWZ-880
RWZ-8120
Wire Diameter
Ø2.0 ~ Ø6.0
Ø3.0 ~ Ø8.0 soft wire
Ø2.0 ~ Ø6.0 rigid wire
Ø6.0 ~ Ø12
Max. Wire Feed Speed
60
60
55
Number of Axes
8 Axis
8 Axis
8 Axis
Number of Wire Feed
3 Pairs
3 Pairs
3 Pairs
Total Power (kw)
17.1
23.1
30.5
Wire Feed Servo Motor (kw)
3.8
4.5
5.5
Rotary Wire Servo Motor (kw)
3.8
4.5
5.5
Cutter Servo Motor (kw)
2
2.7
4.5
Bending Servo Motor
1.5 × 2 pcs
2.7 × 2 pcs
4.5 × 2 pcs
Lift & Tray Servo Motor
1.5 × 3 pcs
2 × 3 pcs
2 × 3 pcs
Bending Head & Body Distance (mm)
700
700
900
Machine Outside Dimension (mm)
3000 × 1850 × 1750
3200 × 2000 × 1900
3400 × 2100 × 2000
Machine Net Weight (kg)
2800
3000
3800