Dear Partners,
We are having a long weekends coming up to celebrate the Middle Autumn Festival (Taiwan National Holiday) September 29th - October 1st.
We would like to take this great opportunity to thank you for your continued support, wish you and your family, the members of your company healthy, wealthy, prosperous and all the best.
Happy Middle Autumn Festival!
WIRE PLATING EQUIPMENT
WIRE PICKLING AND PHOSPHATE EQUIPMENT
AUTOMATIC CONTINUOUS WIRE ETCHING LINE
Turnkey projects with full automation
The basis of stable drawing process and the properties of the finished product is descaled surface. A common method of descaling - mechanical - do not provide the required quality of cleaning (surface roughness of RA = 1.35 microns), which creates problems when applied to oily layer - reduced speed drawing.
Chemical method of etching by immersion in hydrochloric acid HCl is widely used - The surface roughness R a = 0.2 - 0.5 microns It allows increase speed drawing 3 times.
Highlights
Etching Line with automatic operator (capacity of up to 10,000 tons per month). The operator allows you to switch and reconfigure equipment for different process. The room is equipped with control software and graphics hardware.
The line is equipped with automatic switching trajectory of the wire coils suspended manipulators. Baths are equipped with automatic dosing of chemical solutions for each of the baths. Chemicals are stored in special tanks (storage tanks) and pumped as required specially equipped system pumps.
The system of loading riots is completely an automated. Supply system for the riots and etching process chain (phosphating) is controlled by a programmable logic controller. Filing riots rod in etching baths and technological processes are performed automatically by crane.
The line is equipped with a special hardware platform for inspection and repair lines. Platform service is intended for quick access and repair of equipment.
The line is equipped with a system for loading / unloading and transport riots rod. The system presented trolleys with automatic control.
The room is equipped with a control operator panel and light diagram indication event. Industrial computer. The line is equipped with an additional system of scrubbing and neutralization of air emissions.
Optional equipment that performs the role of automation lines is represented by the lifting crane.
AUTOMATIC ETCHING MILL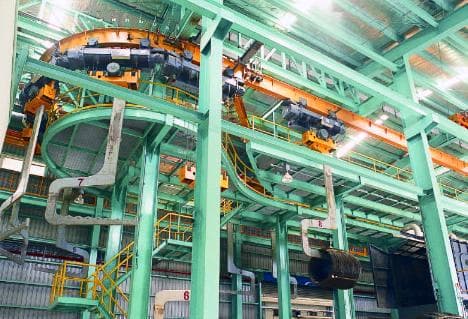 A fully automatic line of wire pickling equipment can produce up to 10,000 tons of products per month. Switching the line operation mode occurs automatically.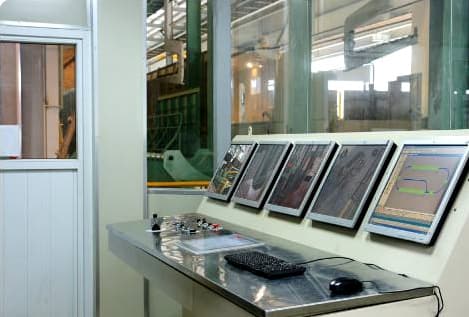 The line of wire pickling equipment is controlled in the control room using a graphical interface.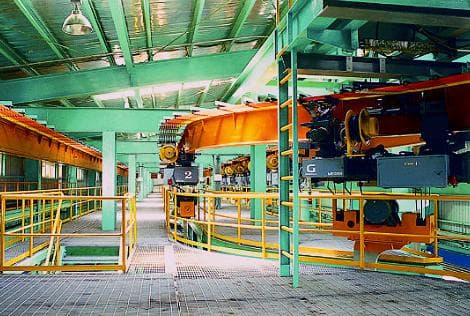 The platform is specifically designed to service a continuous automatic wire etching line.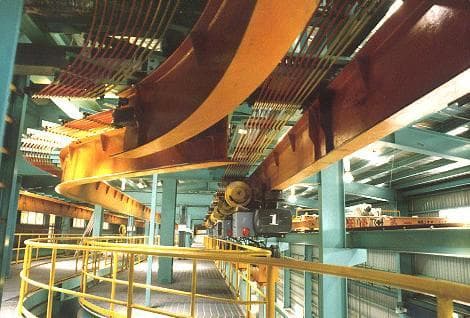 Unit number 1 (see figure) is the switching point for the etch line operation mode.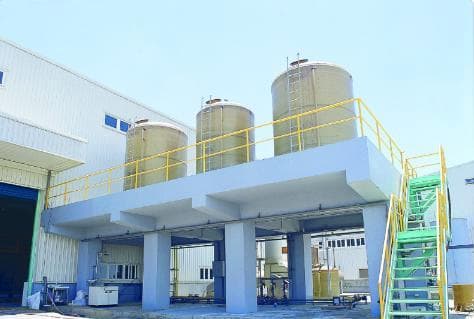 The pickling line is equipped with a chemical storage station and a pumping station.
Automatic dosing device for chemicals.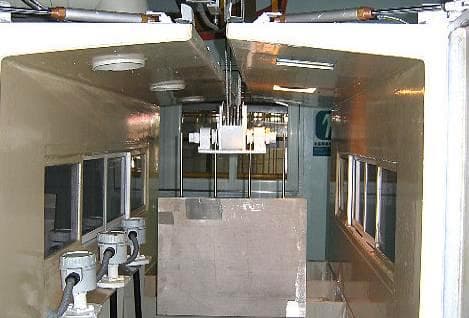 Auxiliary equipment for wire etching.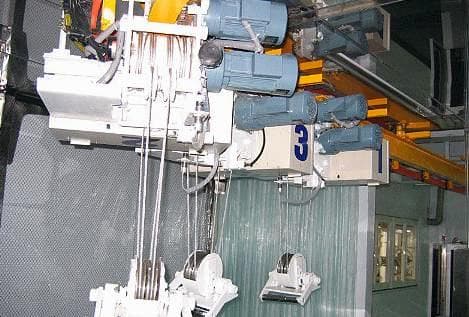 Elevating cranes aboveground for wire pickling line.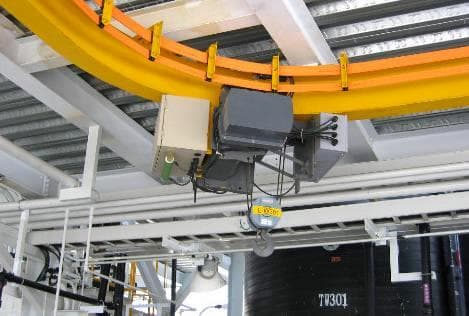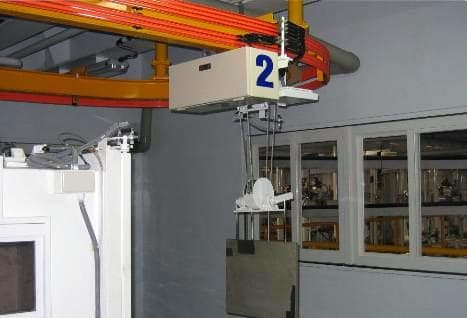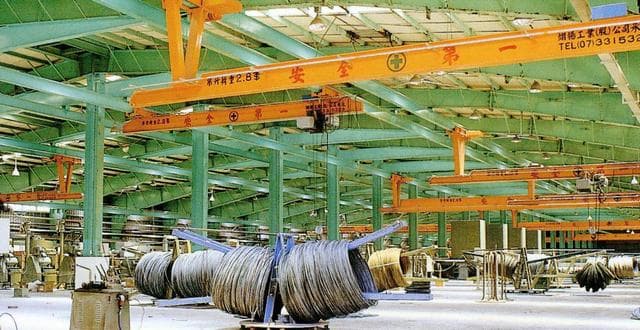 PRODUCTION FACILITY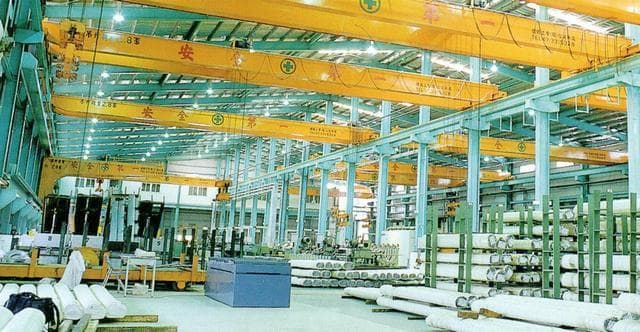 The process of etching the wire spool is continuous
Maintenance of the equipment and wire etching process is performed from the working platform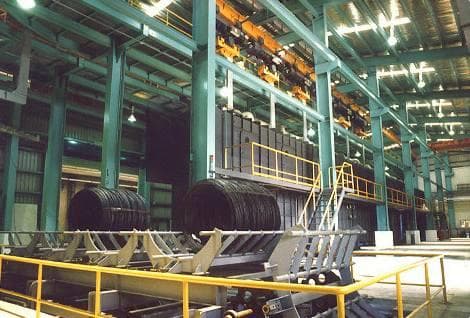 The maximum capacity of an automatic pickling line of continuous production is up to 50,000 tons / month.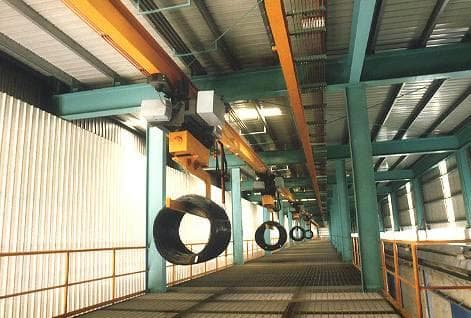 Feeding of raw materials is automatic.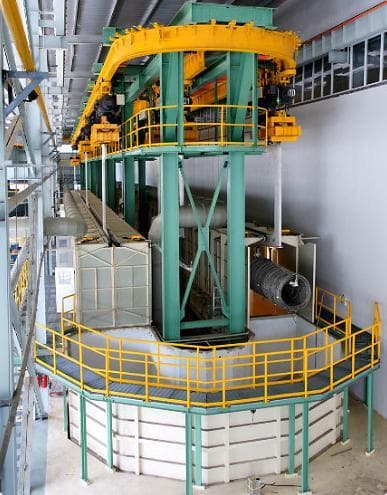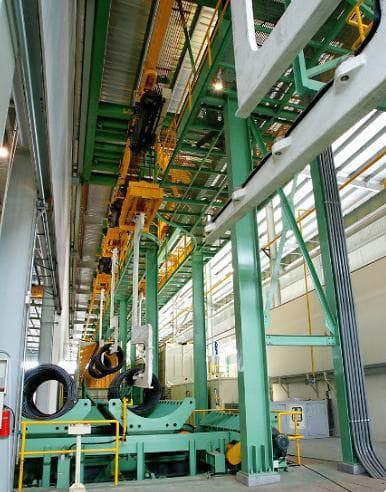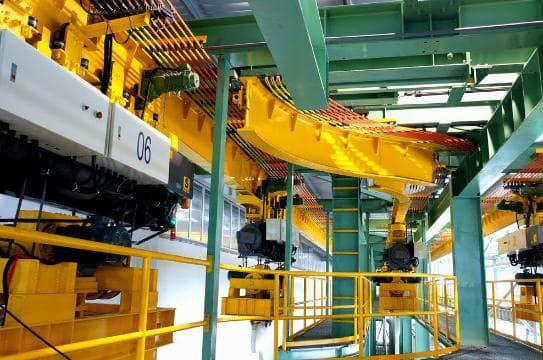 Switching the route of the wire coil movement is carried out in zone 06.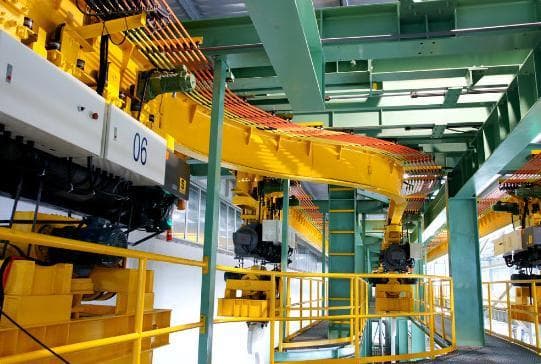 Switching the route of the wire coil movement is carried out in zone 06.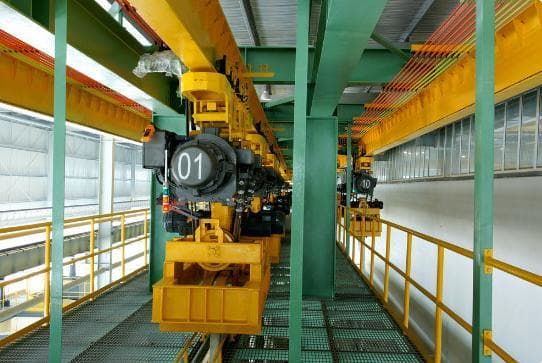 Service Platform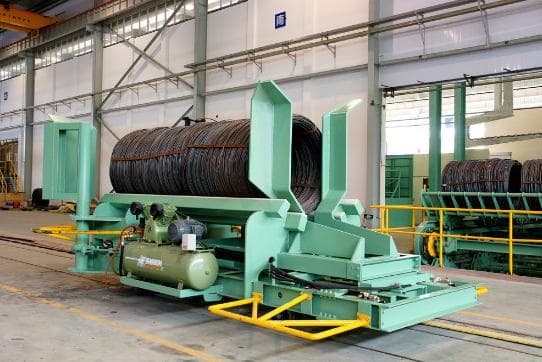 Unloading of the finished wire products is automatic.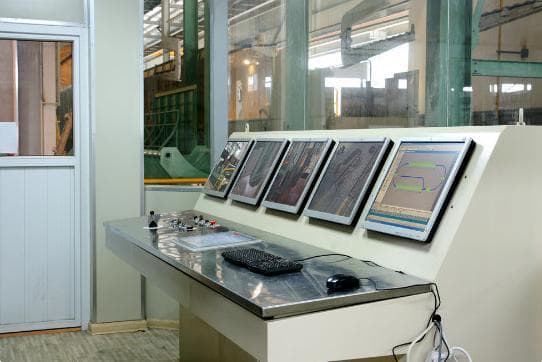 Wire etching line control room.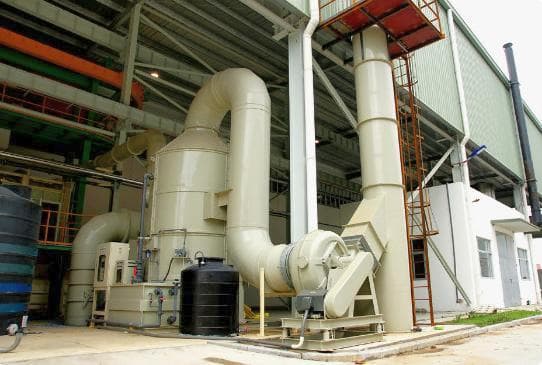 Waste processing plant for a continuous automatic wire etching line.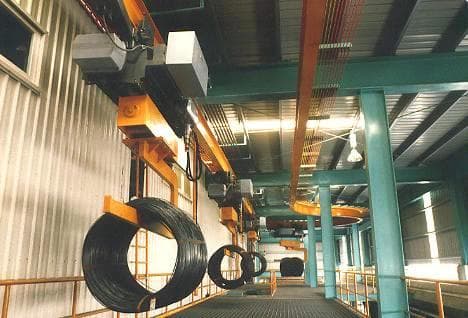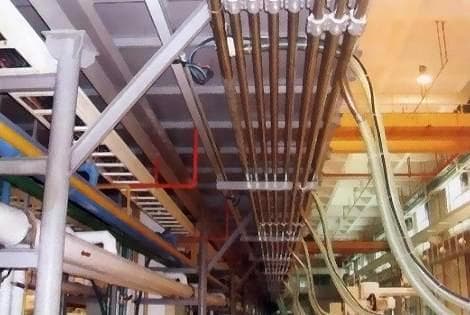 The transfer process of the finished wire products is managed centrally. The technological equipment is capable of continuous processing of wire coils weighing up to 20 tons.