STEEL WIRE DRAWING MACHINES
SINGLE CAPSTAN INVERTED HIGH SPEED VERTICAL WIRE DRAWING MACHINE FOR SCREW, BOLT AND NUT MAKING MACHINES
TAIWAN METIZ ALLIANCE offers Single Capstan Inverted High Speed Vertical Wire Drawing Machine for preparing Calibrated Wire used for production of Screws, Bolts, Nuts and Special Parts. Wire Drawing Diameter: from 36 mm to 3 mm.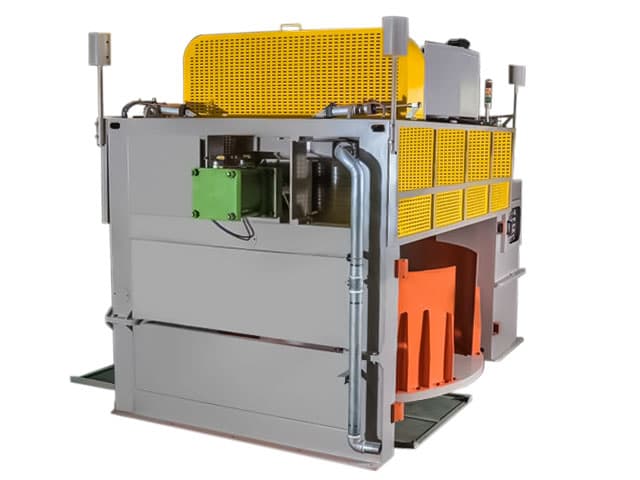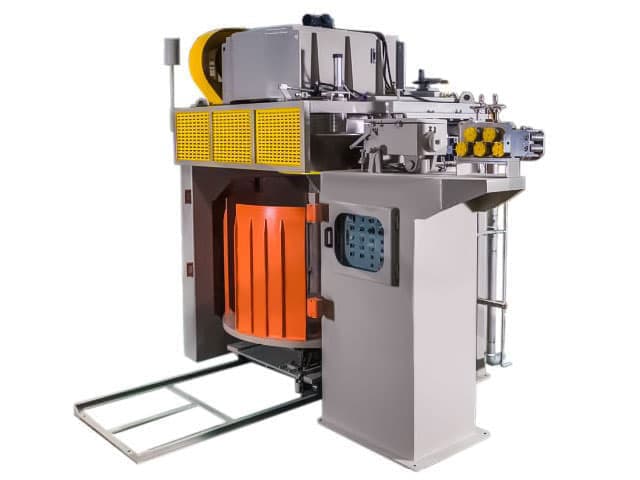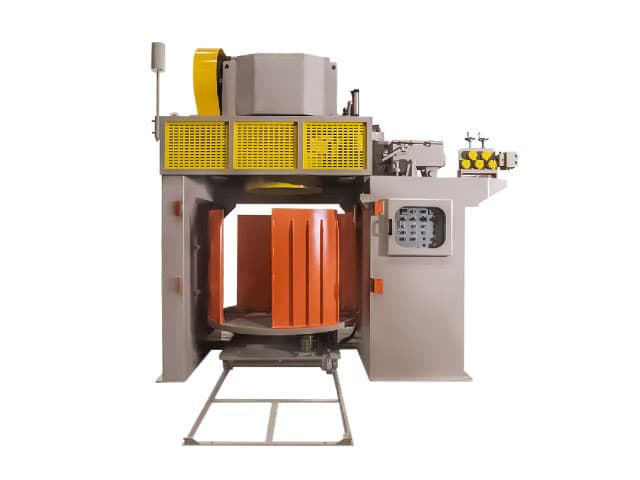 The information on the page conveys only general technical capabilities and the composition of the equipment. The design of the wire drawing line is carried out according to the technical specifications of the Customer.
Inverted vertical type wire drawing machine specification
Model
Inlet Diameter
Outlet Diameter
Total A.R.R
AVG A.R.R
Capstan Size
Capstan Drum Motor
Rotating Carrier Plate Motor
Drawing Speed Max.
Capacity, MTS/Hr.
Dies Amount
Winding Weight, MTS/pcs.
Pressing Rollers
RCD-600
Ø6.0 mm
Ø5.25 mm
23.4%
Ø600 mm
50 HP
2 HP
120 m/min
1.22
1
0.5 - 2.0
2 sets (Double-Rollers)
Ø5.5 mm
Ø4.8 mm
23.8%
1.02
Ø5.5 mm
Ø4.65 mm
28.5%
0.96
Ø3.3 mm
Ø2.8 mm
28.0%
0.35
Ø3.0 mm
Ø2.45 mm
33.3%
0.27
RCD-800
Ø14.0 mm – Ø6.0 mm
Ø12.0 mm – Ø5.5 mm
26.5% - 16.0%
Ø800 mm
75 HP
3 HP
80 m/min
4.26 - 0.90
1.5 - 2.5
RCD-900
Ø22.0 mm – Ø6.5 mm
Ø20.0 mm – Ø5.0 mm
17.4% - 40.8%
Ø900 mm
100 HP
50 m/min
7.4 - 0.46
3 sets (Double-Rollers)
RCD-1000
Ø20.0 mm – Ø12.0 mm
Ø18.0 mm – Ø10.7 mm
19.0% - 20.5%
Ø1000 mm
50 m/min
5.99 - 2.12
RCD-1200
Ø30.0 mm – Ø18.0 mm
Ø27.0 mm – Ø16.0 mm
19% - 21%
Ø1200 mm
20 m/min
5.39 - 1.89
RCD-1400
Ø36.0 mm – Ø25.0 mm
Ø33.0 mm – Ø23.0 mm
16% - 17%
Ø1400 mm
125 HP
17 m/min
6.85
(for Inlet Dia. Ø36.0 mm)
Single capstan inverted vertical type wire drawing machine features
Motors & Drives
Drawing Speed 20 - 120 m/min.
AC Motors + Inverter for Capstan Drum and for Rotating Carrier Plate.
Motors manufactured by SIEMENS, TECO.
Drive with Inverter manufactured by Rehymebus.
Gear type gearbox instead of worm gear (gear gearbox is more efficient).
Double Pressing Rollers.
Power Source: AC 380V / 50Hz / 3 Phase.
Drawing Direction: to be advised by Buyer.
Capstan
The capstan is made of nodular cast iron FCD-55 or FCD-65, machined to a hardness of HRC40°±2°.
Capstan Coating - Tungsten Carbide. After Tungsten Carbide Treatment and Mirror Polishing, Hardness of Block reaches HRC68°±2°.
Capstan drive from AC Inverter Motor.
Capstan and Die Holder (Diebox) both have Water Cooling.
Fixed type Die Holder.
Lubrication type: dry.
Control System
Speed of Capstan & Wire Carrier / Rotating Plate Controlled by Individual Driving Motor Unit.
The speed of the mechanized wire decoiler is independently controlled and can be synchronized with the speed of the wire drawing machine.
Backward & Forward Movement of Rotating Plate operated via Reducer Motor.
Adjustable Jogging & Continuous Running Controlled by AC Inverter
Wire coil take-up weight can be adjusted through user input via the HMI interface. The machine will automatically stop once the user's set weight is achieved; this feature will require optional PLC and HMI console.
A Meter Recorder Mounted for Indication.
Constant Voltage Regulator to avoid electrical damage.
Optional HMI & PLC for controlling and monitoring the full machine line.
Electrical equipment components
AC Motor (3 phase) from SIEMENS and Top Quality Assurance MITSUBISHI Inverters from Japan with High Initial Breakaway Torque and Smooth Running at Low Speeds (1Hz@200% Torque).
Electrical Cabinet with dust prevention and constant voltage regulator to avoid electrical damage during power irregularities.
PLC made by SIEMENS, MITSUBISHI.
Electrical components are of high-quality products with national license.
The power supply shall be of three-phase four-wire system with low-voltage control circuit consisting of 24V.
When the voltage of the power grid fluctuates within ±5%, the equipment is required to ensure normal operations under such condition.
Mechanical equipment components
All Buttons With Dust Protection.
Helical (Bevel) Gearboxes and first set of Hypoid Gear are made in Taiwan for top quality assurance. Material: forged SNCM alloy steel, after hardness treatment, reaches HRC59°±2°. The Gears have been processed with high precision german machinery with secondary grinding of JIS standard for the tooth surface treatmeant, producing a quality lifetime of up to 10 years. This type of the Gear is suitable for long operations under high loads.
Gearbox is equipped with a digital oil level controller to prevent the gears and bearings from damages due to oil loss.
Bearings of SKF or similar precision quality. Oil seals are from renowned Japan NOK brand or similar quality.
Exceptional quality disk brakes from Taiwan with electrical type braking system from Lenze (Germany).
Equipment For Industrial Safety
Emergency Stop implemented on all control panels.
The drawing mill stops automatically if there is no wire rod.
Safety Guard Controlled by Pneumatic Cylinder. Machine will Auto-Stop as it is opening.
Sensors to detect illegal entry of operator into pre-determined danger zone and to automatically stop the machine line.
Wire-Stop Bar is adjustable and controlled by pneumatic cylinder. This safety device was designed to prevent fatal injury from accidental wire swing resulting from broken and finished wire.
C.E. & ISO-9001 Safety & Quality certified.
Take-Up Weight Of Finish Wire
Wire coil take-up weight can be adjusted through user input via the HMI interface.
The machine will automatically stop once the user's set weight is achieved. This feature will require optional PLC and HMI console.
Max. take up weight of wire coil is 3,000kgs.
Other Features
Vertical straightening rollers implemented at the front of the die box for improving feeding and prolong the die life.
Sensors installed for auto-stop of finished / trouble wire via braking system.
Optional wire cage to make packing easier for packing machine.
Patented quick-release system for pulling-dog chain (specially designed to allow for quick release of pulled-wire without the need of hammering the stop-block loose).
Industry 4.0 H & Software
HMI Console Monitor to display all necessary data for the production line, including but not limited to; Gearbox Oil Level, Oil Temperature, Production Speed MTS Output Capacity, Current, Voltage, Frequency, Inlet & Outlet Diameter, Alarm History Log.
HMI will display all possible errors and notification with pop-up running warnings if a system error occurs; and if deemed necessary, the production line will will automatically stop to prevent further damage to the machine equipment.
Graphic data to provide quick analysis of output production relative to the time and day.
All software programs are designed and written in-house to provide ease-of-use and easy-to-read interface.
Optional ethernet networking transmodule to enable LAN connection for remote diagnosis and troubleshooting. Together with an industrial computer and data server, a data management system can be implemented to allow for level 0 to level 2 monitoring.
Optional software also allows to connect to a management information system to monitor production status using a smartphone.
The wire drawing machine software allows for 30 programmable wire drawing setups.
Large diameter wire rod automatic unwinder and feeder
Machine equipment is specifically designed to reduce the downtime of large wire preparation required for large diameter wire feeding. The equipment includes RGO series automatic wire rod unwinder with a straightening mechanism and RGV series sharpening unit for the front end of the wire rod coil. This equipment can work as part of a production line for wire drawing together with the RCD series inverted vertical drawing machine.
Traditional preparation time is approx. 30 minutes with pointing work; however using this equipment, the preparation time can be reduced down to 6 minutes.
From auto-feeding to pressing and striking, straightening, wire shaving, and then to Die end - all tedious work will be performed semi-automatically.
Wire shaving treatment process is automated with no physcial involvement of the operator with the wire rod. Contrary to the conventional method where the operator is always at risk of accident due to physcially holding the wire during pointing.
This automated machine equipment greatly increases production efficiency by up to 5 times by shortening wire rod preparation time.
Automatic Large Diameter Wire Feeding & Shaving Machine Specification
Model
RGO/RGV-20
RGO/RGV-30
RGO/RGV-36
RGO/RGV-45
Wire Range
Ø22 mm ~ 9 mm
Ø32 mm ~ 10 mm
Ø36 mm ~ 25 mm
Ø45 mm ~ 37 mm
Power Source

AC 380 V / 50 Hz / 3 Phase

Feeding Machine Motor
7.5 HP AC Motor + Inverter
Shaving Machine Motors
3 HP + 1 HP Motor with Inverter Drive
Lubricating Motor
1/2 HP
Hydraulic Pump
5 HP
Polearm Wire Capacity
up to 3,000 kgs
Process Sequences
Wire Rod End
Feeding Pressing & Striking with
Hydraulic Pressing Rollers Wire Rod
Straightening Wire Head
Treatment Feeding to
Die Holder Outlet
Automatic decoiler for large diameter wire rod RGO series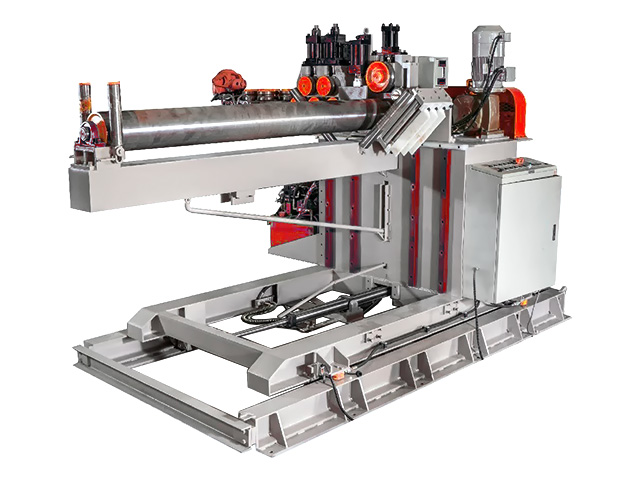 Wire Rod Feeding:
SIEMENS or ТЕСО 7.5 HP AC Motor + Inverter.
Automatic Feeding.
Pedal Control for Jog / Forward / Reverse.
Wire Feeding Roller Controlled Automatically by Hydraulic Cylinder.
Radio Remote Control for Jog / Forward / Reverse.
Wire Rod Straightening: 2 sets of Straightening Rollers of "X" & "Y" Cross Direction.
Pressing Rollers: 3 Set of Hydraulic Rollers to provide a straight feed towards the straigtening rollers. Hydraulic pressing rollers with hardness treatment producing a surface hardness of HRC58°±2°.
Automatic emergency stop when a malfunction occurs, when the wire rod breaks, when the cover of the sharpening mechanism is opened.
Automatic stop during positioning of the sharpening mechanism.
Automated wire shaving machine RGV series
After straightening the wire rod in the straightening unit of the RGO decoiler, proceed to feed the wire to the RGV shaving machine.
Shaving machine will fixate the wire before shaving work can begin. Shaving work is fully automated, and once the shaving is complete, the machine will come to a stop, and the shaved wire end can be reversed out of the RGV equipment.
RGV shaving machine will then slide out of the production line, semi-automatically via railing. The wire rod is fed further into the drawing die.
The wire shaving equipment can work in the same line of equipment synchronously with the drawing machine.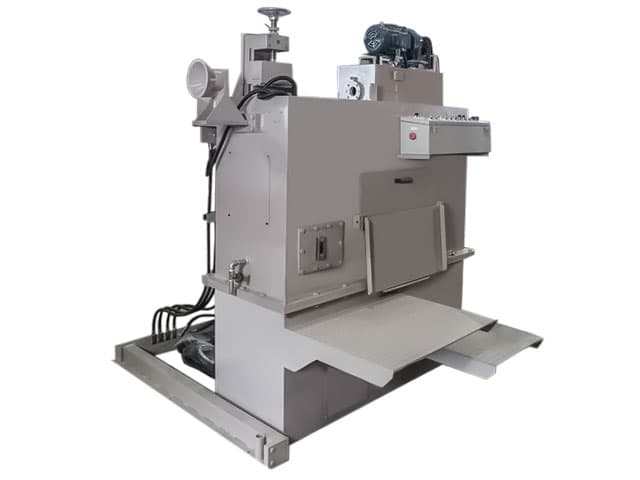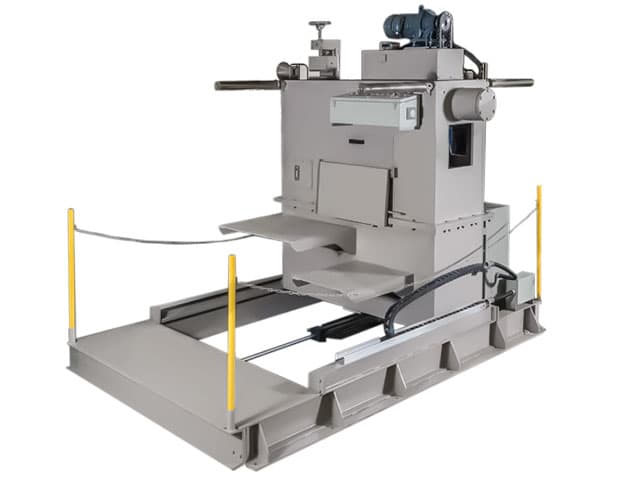 For smaller sized diameter wire rod, use the manual POINTER. This manual method is much more efficient for pointing small diameter wire.
Wire Shaving Device Features
Fast shave time: 1.0m length takes about 5~10 mins (shaving time is dependent on wire diameter).
Produces an uniform round head for smooth insertion through the die, all the way to the automated hydraulic clipper.
Digital Control: relative to the wire diameter and shaving depth the control system will automatically adjust the rotational and feeding speed.
The uniquely designed turning tool adopts a reducer motor that drives the speed of the tool and feeding blade.
Left & right side each has 1 set of hydraulic cylinder for centering. This greatly helps optimize the shaving speed and the roundness of the wire head.
Pre-requisite process before wire shaving treatment: wire rod needs to be straightened before shaving treatment (straightened length must be longer than the shaving distance).
Wire Shaving Device includes
Segmented cross clamping device for fixed wire.
1 set of 3 pcs guide wheel - clamping device - on the front and rear side of turning tool.
Lubricating motor: 1/2 HP
Hydraulic pump: 5 HP
Wire will be treated within specification of the drawing range.
Four blades to adjust simultaneously.
Hydraulic system to automatically move blades during wire head treatment.
Hydraulic trolley: 1 set (shavings waste collector).
Operation video of the vertical wire drawing machine