STEEL SCRAP PROCESSING EQUIPMENT
METAL SCRAP PROCESSING
50% of steel production in the world is necessary for scrap. Since the cost of blast furnaces manufacturing for iron and steel production is extremely high metal scrap melting is becoming a popular method of making steel in the medium-sized and small manufacturing. However, the processing of scrap metal is a key point on the way to increase productivity and quality of manufacture of steel.
Grinding of metal is capital-intensive process, which aims to decrease in size, reduced volume and separation of ferrous or non-ferrous metals and non-metallic parts in order to maximize profits from ferrous and non-ferrous metals.
Mechanism of the technological process control
Equipment for metal scrap processing is fully automated. Process control equipment includes hardware and software. In addition, control of crushing equipment, its nodes, settings (eg, flow rate, etc.) can be carried out remotely via the touch screen or buttons.

Features of automatic control system:
The automatic control is more secure than the traditional equipment control process. The system is capable of analyzing the source material to maximize the operating parameters of the engine and to control the feed rate of the scrap, thus changing the performance of equipment, it is practically impossible to use the manual control mode. The control mechanism is fully automated, it is simple in operation and high energy efficiency.
Processing of metal






Scrap metal recycling scheme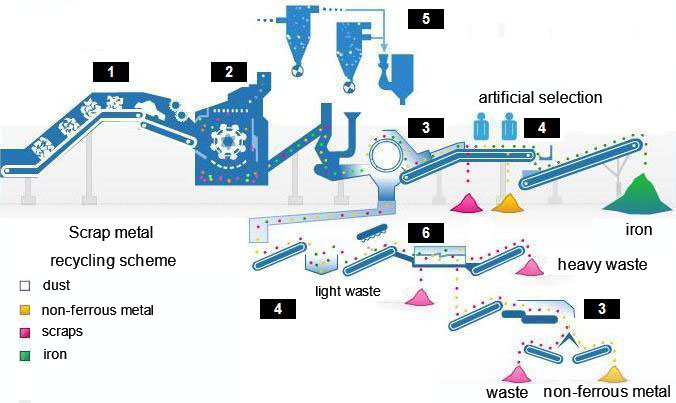 | | |
| --- | --- |
| 1 | Equipment of pre-crushing of metal scrap and scrap feeding. |
| 2 | Crushing equipment for metal scrap. |
| 3 | Equipment for the separation of metal scrap. |
| 4 | Equipment for unloading of metal scrap . |
| 5 | Equipment for dust removal. |
| 6 | Equipment for screening. |