WIRE PLATING EQUIPMENT
WIRE SURFACE TREATMENT LINES COMPONENTS
Pay-off Machine
C-hook type
Pay-off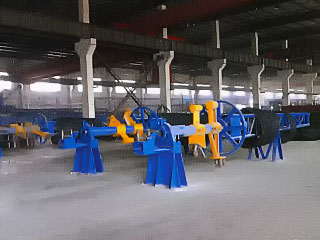 | | |
| --- | --- |
| Material | Carbon Wire |
| Wire Diameter | Ø4 - Ø10 mm |
| Line Speed | < 120 m/min |
| Application | Pre-treatment |
Vertical Spool
Pay-off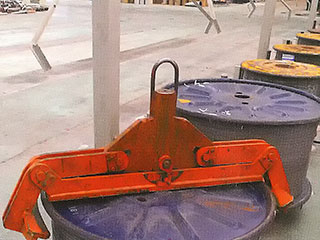 | | |
| --- | --- |
| Material | Carbon Wire |
| Wire Diameter | Ø0.8 - Ø4 mm |
| Line Speed | < 80 m/min |
| Application | Patenting / Galvanizing / Phosphate |
Turning Arm of Spool
(Manual & Automatic)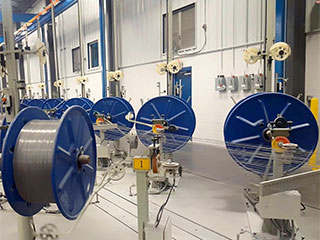 | | |
| --- | --- |
| Material | Carbon Wire |
| Wire Diameter | Ø0.6 - Ø2.6 mm |
| Line Speed | < 80 m/min |
| Application | Patenting / Brass plating / Phosphate |
Vertical Spindle
Pay-off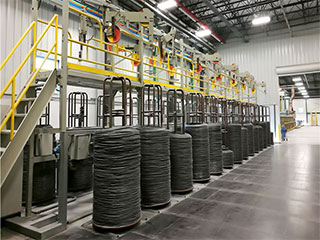 | | |
| --- | --- |
| Material | Carbon Wire |
| Wire Diameter | Ø2.5 - Ø3.5 mm |
| Line Speed | DV: 50-120 mm.m/min |
| Application | Brass Coating / Galvanizing / Phosphate |
Steel Wire Descaling Machine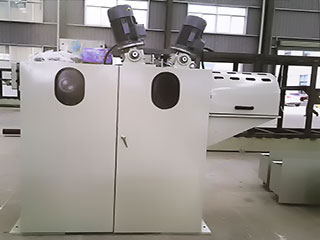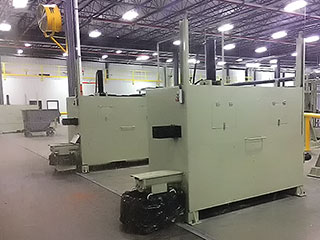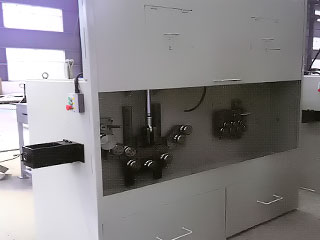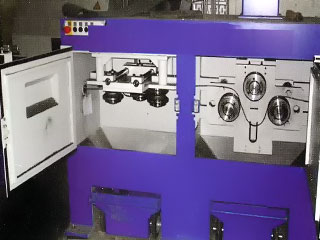 Technical Process Tank
| Material | Frame | Line Speed | Length of Tank | Application |
| --- | --- | --- | --- | --- |
| Carbon Wire | Welded PPH structure | DV:50-120 mm.m/min | Design Base Requirement | All production line |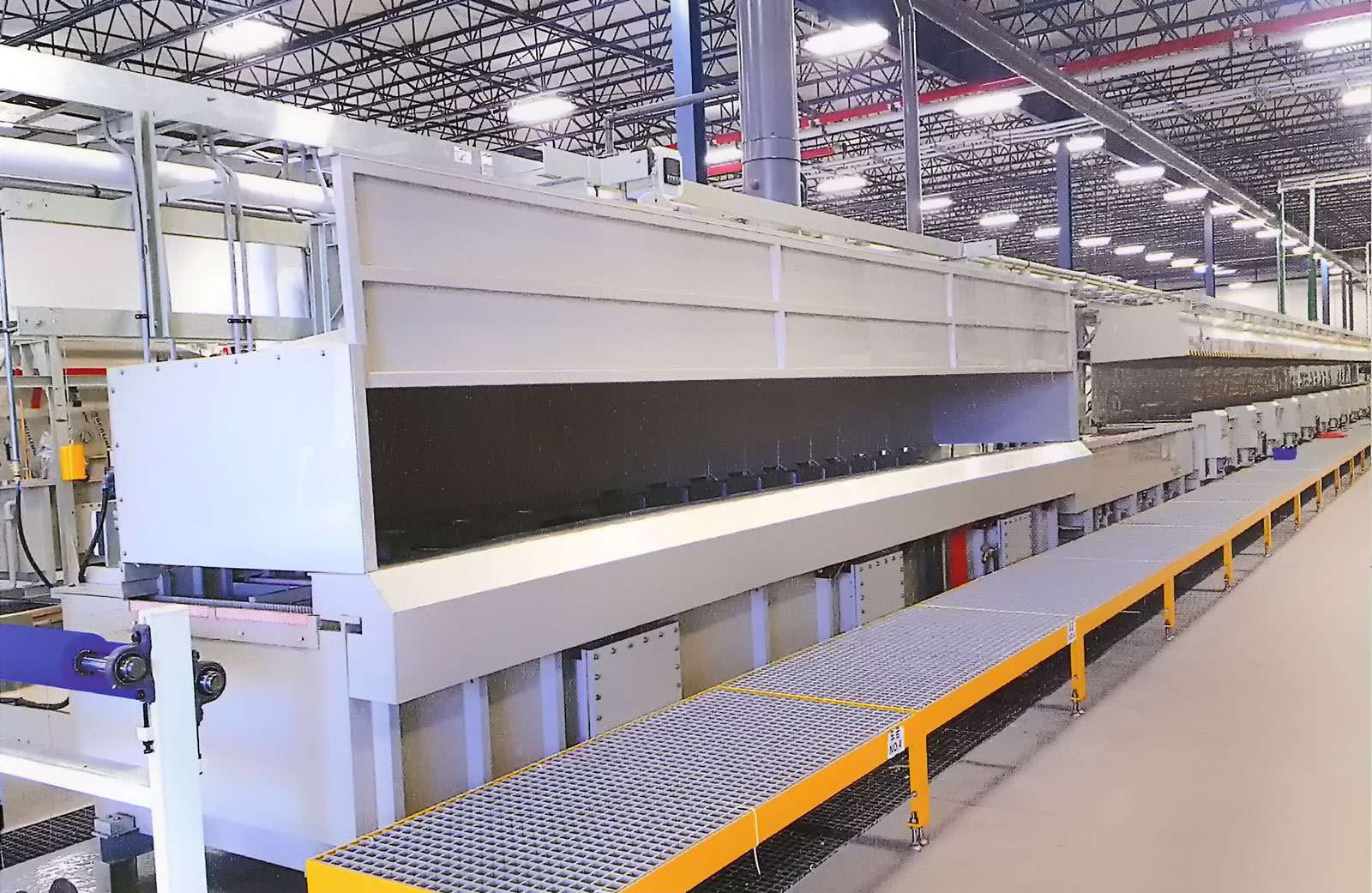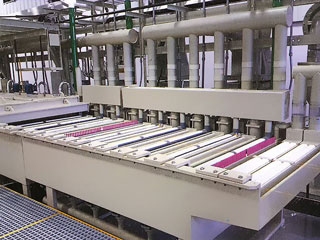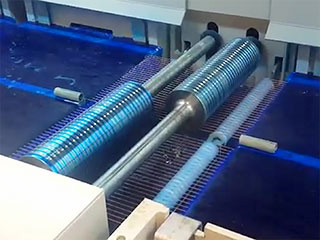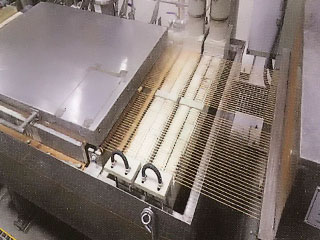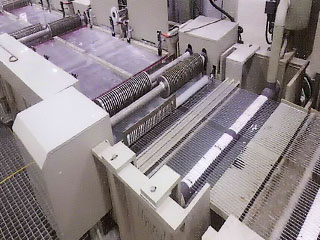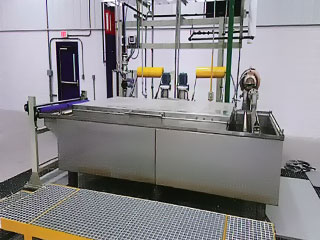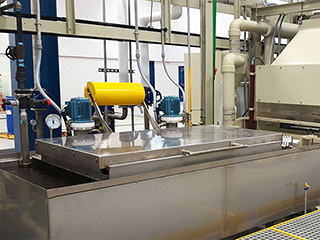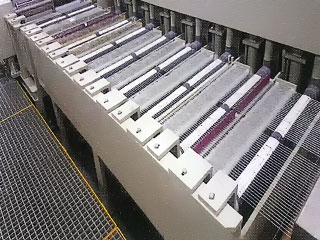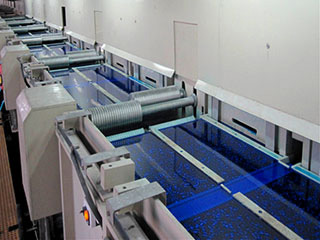 Rising Cover Pickling Tank
| Material | Wire Diameter | Frame | Line Speed | Tank Length | Acid Type |
| --- | --- | --- | --- | --- | --- |
| Carbon Wire | Ø0.5~Ø8.0 | Welded PPH structure | Design Base Requirement | Design Base Requirement | HCL or H2SO4 |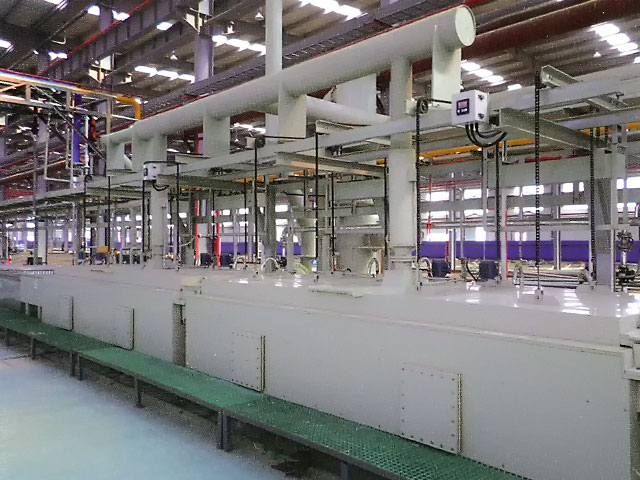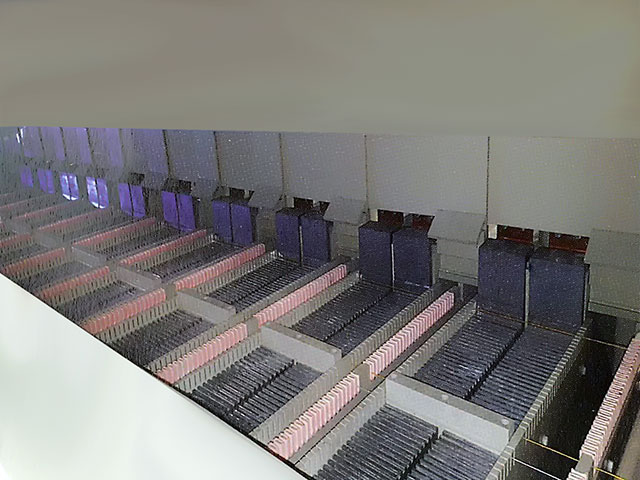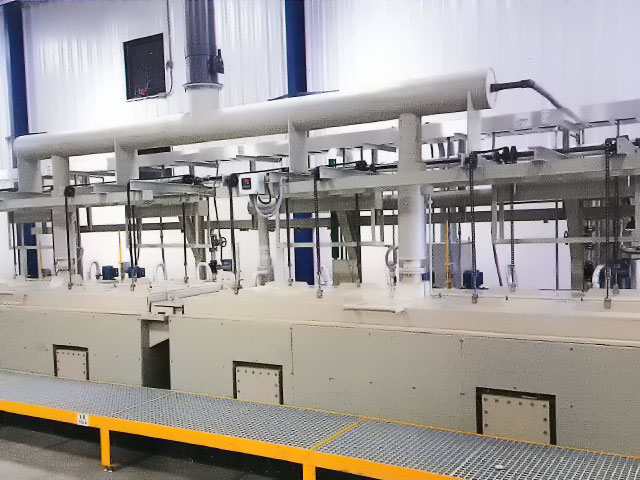 Water Air Patenting
Material
Wire Diameter
Wire Number
Heating Method
Line Speed
Strength of Wire
Carbon Wire 0.45~0.92%
Ø0.8~Ø4.0
Based on design
Steam
DV:50-120 mm.m/min
45# - 920MPa
60# - 1070MPa
70# - 1170MPa
80# - 1270MPa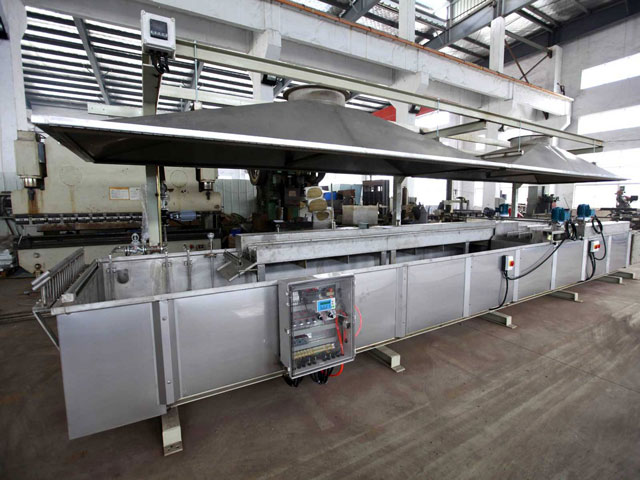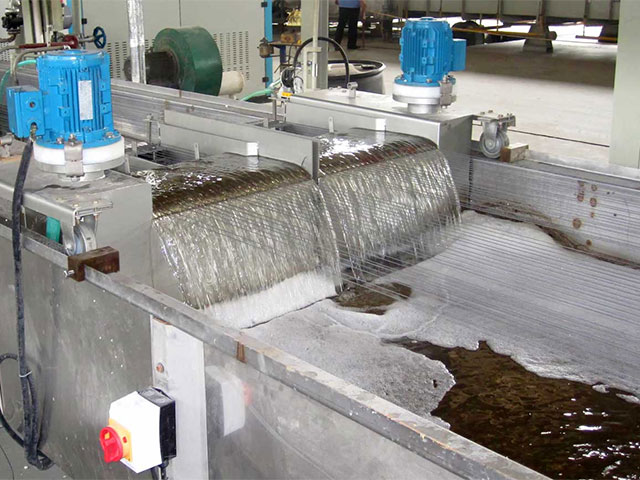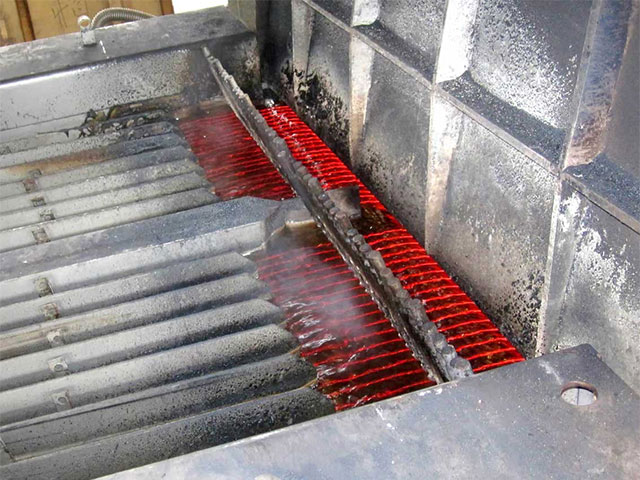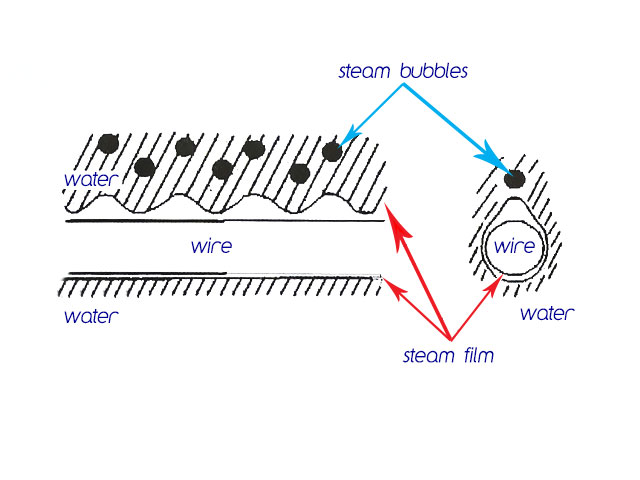 | Appearance (stock solution) | ASTM chromaticity | Viscosity (37.8°C) | Specific gravity (15.6°C, g/cm3) | PH | Water-soluble | Corrosion resistance |
| --- | --- | --- | --- | --- | --- | --- |
| Light amber opaque liquid | 0.5 | 555±25CST | 1,067 | 9,0±0.59 (weak alkaline) | Easily soluble | The corrosion resistance of the aqueous solution within 5% is excellent. |
Cooling mechanism
In general, the cooling state (organization tumover happens in cooling procedure) of steel wire in water can be described as 3 states:
Nuclear boiling: water direct contacts with metal surface and furious boiling occurs, a large number of bubbles are generated, intense liquid convection cooling accompanies in the meantime.
Film boiling: all water surrounding metal gasifies, and forms a steam membrane to cover whole steel wire, metal heat emits via heat conduction and heat radiation inside the membrane, as well as flow of fluid surrounding steam membrane. Because metal and water is insulated by steam membrane, metal cooling speed drops rapidly. The more stable steam membrane is, the thicker the membrane is, and the slower the cooling speed is. Along with thickening of steam membrane, small and homogeneous bubbles are generated by surface tension escape from water.
Convective heat transfer: because temperature of metal surface is lower than temperature of water boiling, so natural convective heat dissipation happens by temperature difference. Steel wire dips into water at Ac3 or Acm temperature and starts cooling from nuclear boiling state, and soon enters into film boiling state, then returns to nuclear boiling state along with temperature drops (because steam pressure inside membrane cannot maintain stabilization of membrane), and finally enters into Convective heat transfer state;
Natural Gas Furnace
Material: Carbon Wire. DV: 50-120 mm.m/min. Wire diameter: Ø0.8-13.0 mm. Wire number: Based on design
The N.G. furnace is about 27 meters, and each heating section is relatively independent and influenced each other. According to the requirements of heat treatment process, the furnace temperature and atmosphere can be set up in order to meet the process requirements.
The furnace body is divided into five heating sections, and each section separately controls the temperature and regulates the atmosphere. The pre-mixed gas heating technology of Belgium FIB company was selected, and several FIB type premix burners were installed in each heating section.
Each heating section is calculated and adjusted by the temperature regulator according to the actual measurement and setting. Combustion control system by the Belgian FIB company introduction of digestion and absorption of technology, when gas stable quality can to control the temperature difference between + 3°C or less.
The system has the function of constant air-fuel ratio, which can accurately control the atmosphere in each section of the furnace. At the same time, the combination of a variety of control means makes the pressure in the furnace controlled in the normal range, eliminating the oxidation of steel wire caused by the air inhaled in the furnace.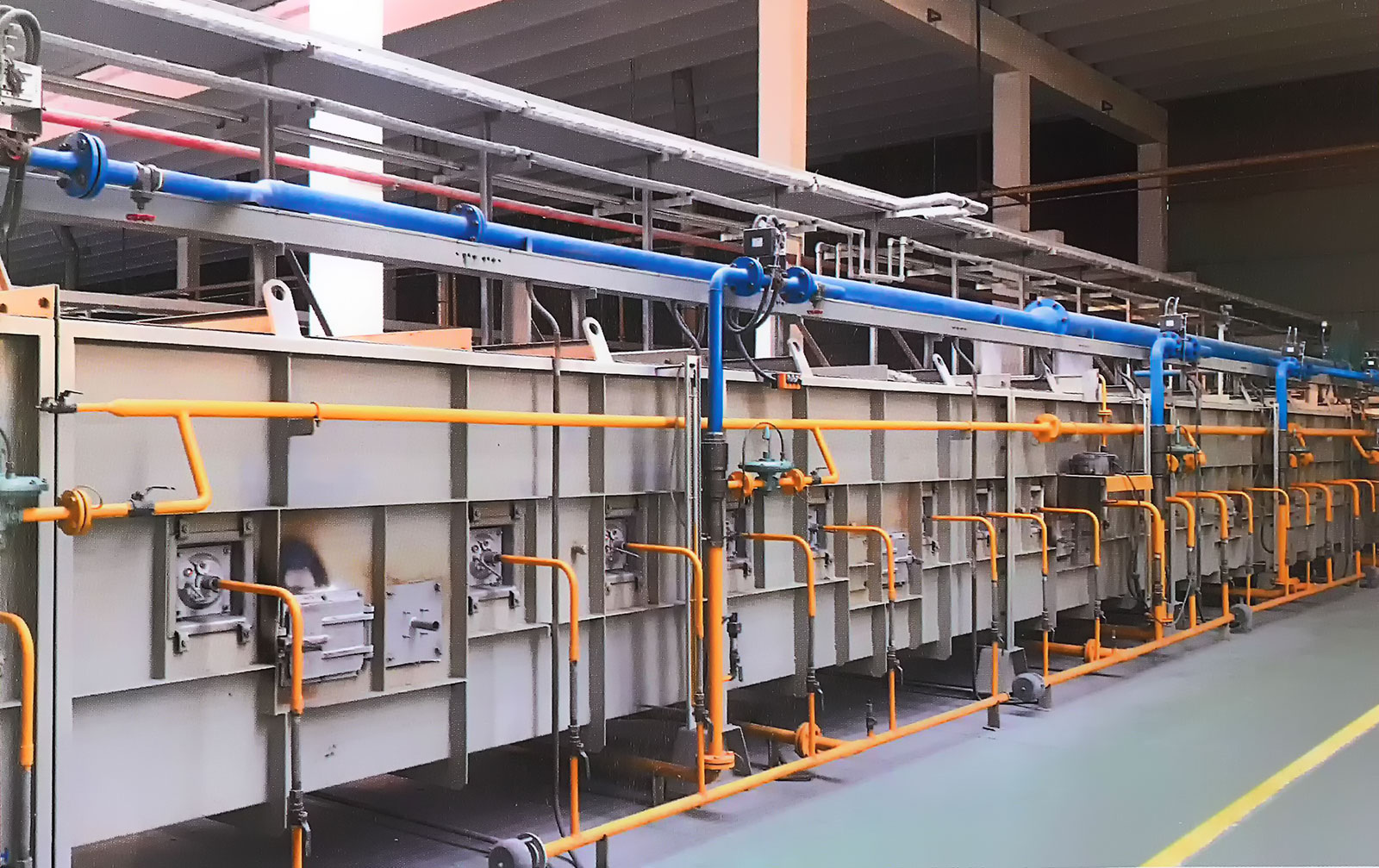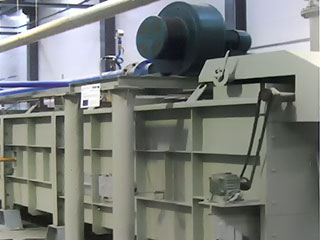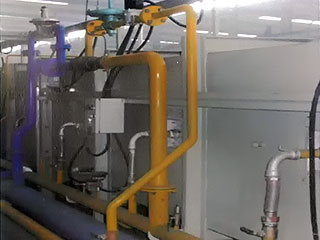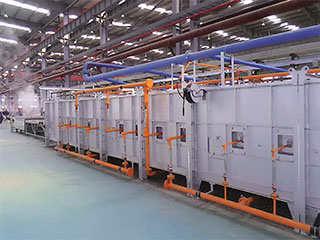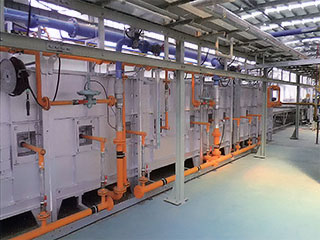 Induction heating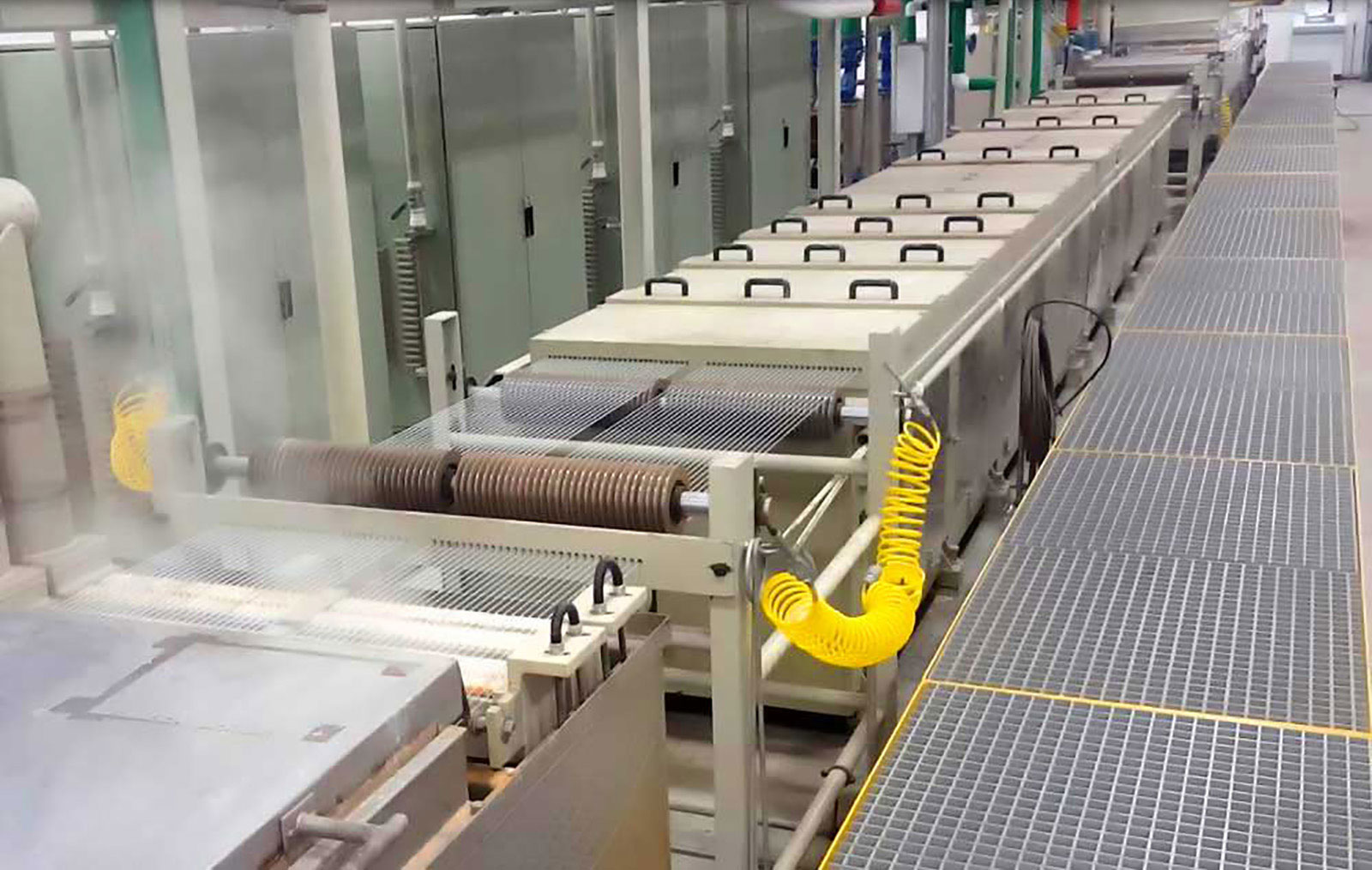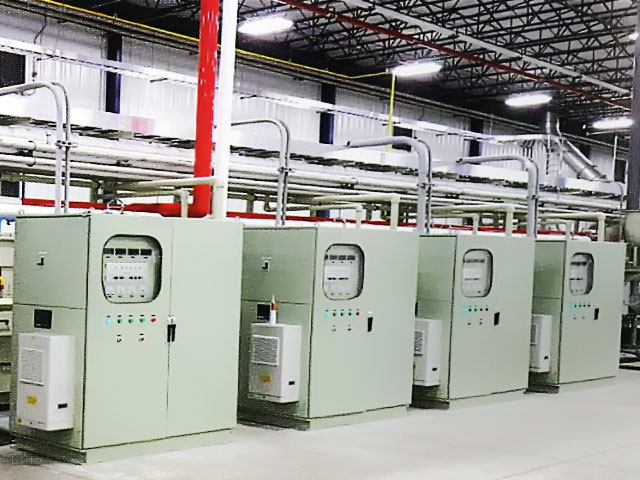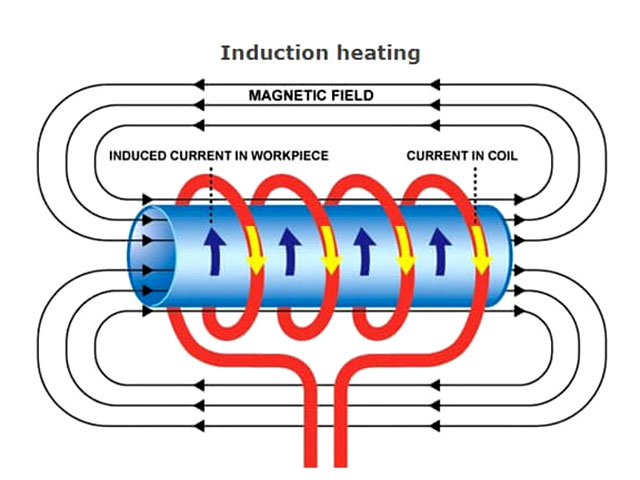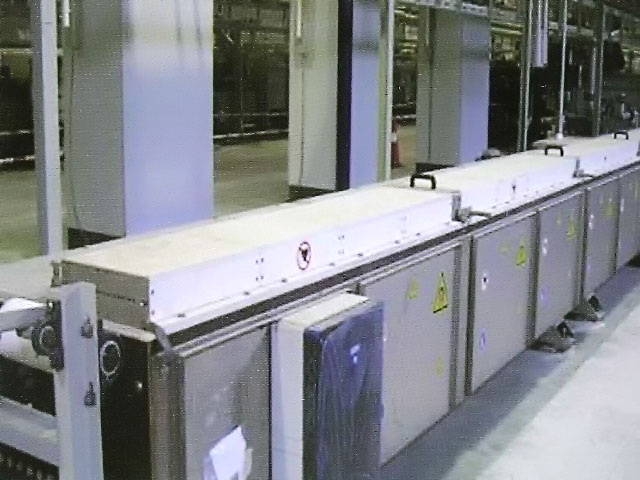 Material
Alloy Steel Wire
Wire Diameter
Ø0.9~2.6mm
Ø0.9~2.5mm
Number of Wires
56/60, double-sided control
36, A/B double sides control
Application
Copper-plated wire annealing heating
Bead wire tempering heat treatment
Heating temperature
550°C
450°C
Inductor
Multi-turn inductor series and parallel
Heating DV value
75mm.m/min
500mm.m/min
Type
Continuous heating
Dimensions
(W)1200×(L)10000×(H)1200
(W)1000×(L)18000×(H)1200
Power parameters
Rated output power
100kW
200kW
300kW
Output frequency range
1-30kHz
Power adjustment range
10 to 100% stepless adjustment
Cooling water flow
> 1.7m3/h, <35°C, industrial pure water
> 3m3/h, <35°C, industrial pure water
> 5m3/h, <35°C, industrial pure water
Power Dimensions
(W)1200×(L)700×(H)2000
(W)1200×(L)800×(H)2000
Dimensions
(W)1200×(L)10000×(H)1200
(W)1000×(L)18000×(H)1200
Note: The above parameters will be different due to different configurations; power size also depends on technical specifications, number of wires and speed.
Take-Up Machine
Vertical Spindle Spider Type Take-Up Machine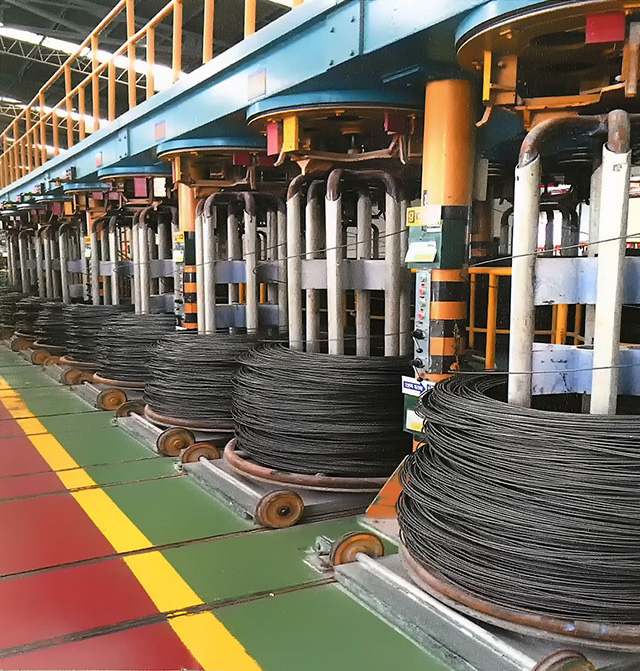 | | |
| --- | --- |
| Material | High Carbon Wire, carbon content 0.7~0.92% |
| Wire Diameter | Ø0.8 - Ø8.0 mm |
| Line Speed | DV: 45 - 65 mm • m/min |
| Drum Diameter | Ø450 mm, Ø650 mm, Ø760 mm |
| Applicable occasions | Heat treatment / Galvanizing / Phosphate |
Bobbin Type Take-Up Machine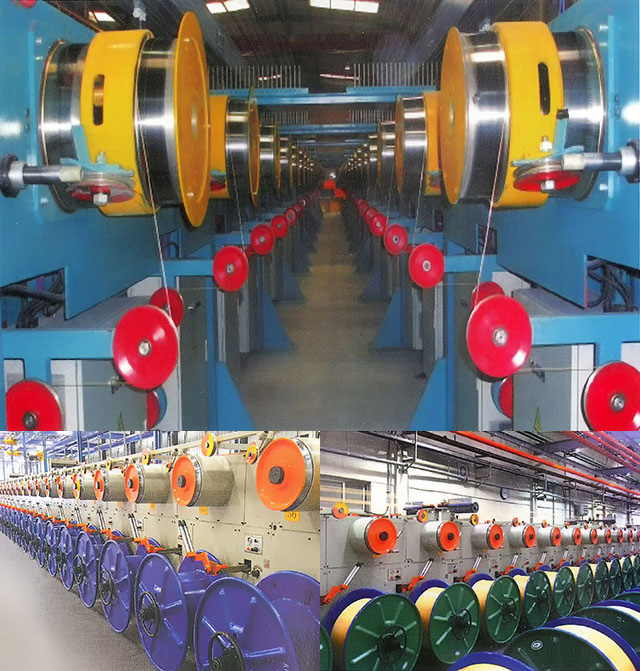 | | |
| --- | --- |
| Material | High Carbon Wire, carbon content 0.7~0.92% |
| Wire Diameter | Ø0.8 - Ø3.5 mm |
| Line Speed | DV: 50 - 80 mm • m/min |
| Diameter of Capstan | Ø350 mm or Ø450 mm |
| Bobbin Type | Design Base Requirement |
| Arrangement | Back to Back or Line |
| Speed Control | Individual Control |
| Accumulation Time | Max 3 min |
| Application | Brass Coating / Galvanizing |