WIRE HEAT TREATMENT FURNACE EQUIPMENT
LINEAR FURNACE FOR BRIGHT ANNEALING OF STAINLESS STEEL WIRE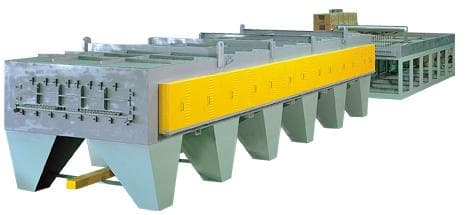 Application:
It is used for the continuous bright annealing of stainless steel wire and wire for special purposes, etching followed by tempering, annealing, high-carbon steel wire, piano, spring steel wire, surface preparation for low- / high-carbon steel wire galvanizing process.
Features:
Uniform temperature control: maintain a uniform temperature level.
High Quality Heat Treatment: heat treatment of the wire passing on this equipment has an ideal surface without the presence of oxidations, foreign matter, which allows easy attachment of the liquid zinc to the surface of the blank.
Protective atmosphere: liquefied natural gas, 2NH3 → N2 +3 H2.
Maximum annealing temperature: 800 ~ 1050 °C
Wire diameter less than 8 mm.
The number of pipelines can be customize.
SPECIFICATIONS
Type
Size mm
Power, kW
Temperature, °C (MAX)
RGSWA-4017
Ø40×17×4000
60
1150
RGSWA-2421
Ø24×21×6000
90
RGSWA-2427
Ø24×27×8500
120
RGSWA-2434
Ø24×34×8500
140
RGSWA-2043
Ø20×43×8500
140