TURNKEY SCRAP METAL RECYCLING PLANT
MAIN SHREDDER UNIT
CRUSHING EQUIPMENT FOR METAL SCRAP
Crushing equipment for scrap metal is the main piece of equipment for the processing of metal scrap. Dimensions of the crushing equipment allow grinding scrap of ferrous and non-ferrous metals with up to width of 2.6 meters. Equipment can dispose without problems a car body as in the whole and in the collapsed state. High feed rate and impact force of the rotating rotor shred scrap to a size sufficient to pass through the grate of the crusher. Scrap not to be crushed, is extracted through a window located in the rear wall of the crushing equipment.
Design and operation of double-rotor Impactor
Crusher Shaft receiving rotation through the coupling of the motor is seated on bearings. Located at the bottom of the crusher grate consists of two parts: the front and back, each of which is a set of grate tapered section set forth in the two rods.
Crusher housing consists of two parts held together by bolts. In the upper part of the body there is a feeding hole for the material. Housing walls are finished with plates which protect the wall from abrasion and also play a big role in crushing of the material. Entered into the crushing chamber material is subjected to a quick succession of rotating rotor blows, and falls through the grate holes. The material is then fed to the conveyor.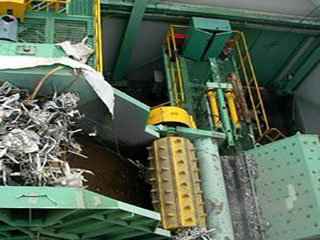 Impactor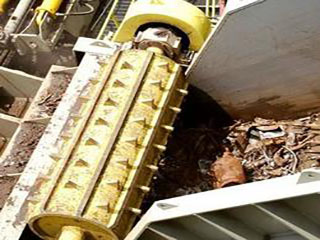 Shaft made of wear-resistant steel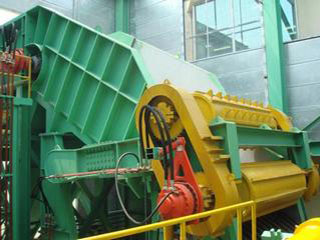 The hydraulic drive provides high feed rate
Features of crushing equipment for scrap metal
Simplicity and reliability of service, the ability to operate at high loads, high economic efficiency and productivity.
Remote control, safe operation.
Specification of crushing equipment for scrap metal
Dimensions of crusher: 60h104 mm - 120x120 mm. 
Productivity: 25-400 tons / h.
The power of the rotating shaft: 1250-10000 hp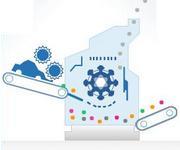 | | |
| --- | --- |
| | dust |
| | nonferrous metal |
| | waste |
| | iron |