GENERATORS FOR HEAT TREATMENT SYSTEM
PRODUCTS FOR HEAT TREATMENT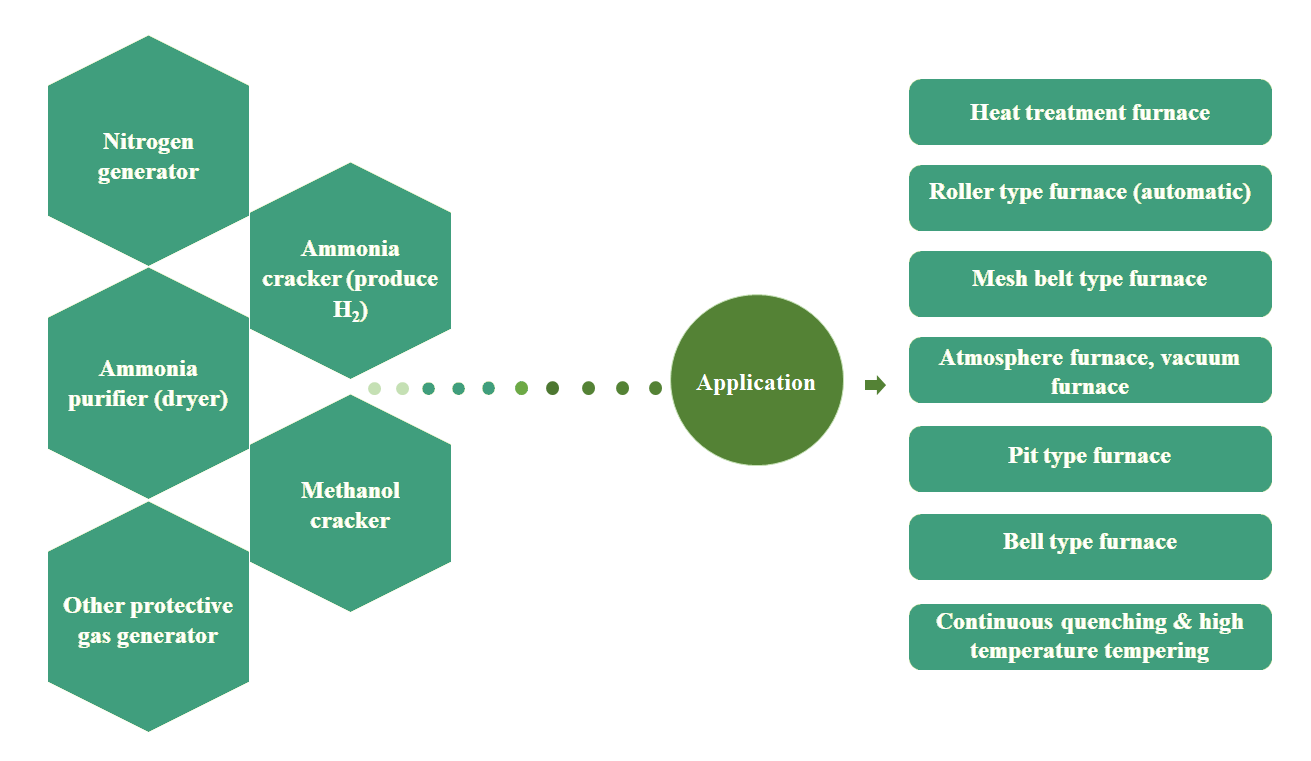 NITROGEN GENERATOR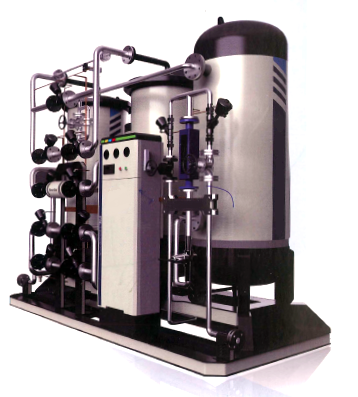 Technical index
Customized pressure, purity and capacity ranges
Capacity: 3 ~ 5500 Nm3/hr
Purity: 95% ~ 99.9995%
Pressure: ≤ 7 bar (Adjustable)
Dew point: ≤ -40°C(Adjustable)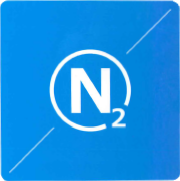 Principle
The equipment takes air as raw material and utilizes the carbon molecular sieve (CMS) as absorbent. CMS absorption of oxygen in air is much larger than its absorption of nitrogen under certain pressure.
Thus, through programmed on and off process of the automatic pneumatic valves, tower A and B will work alternatively to achieve pressurized adsorption and depressurize desorption, and then complete the separation of Oxygen and Nitrogen and reach the targeted purity of Nitrogen.
Features
Fast operating, provides the required nitrogen gas within 15~30 minutes
Equipment operates automatically, no workers are needed in the whole production process
Molecular sieves are efficiently filled and more compact, which results in a longer life span
Nitrogen generator can be custom-made according to customers' project specifications and requirements, with high capacity, pressure and purity ranges
Compact construction, advanced high-tech process, safe and reliable, low consumption
AMMONIA CRACKER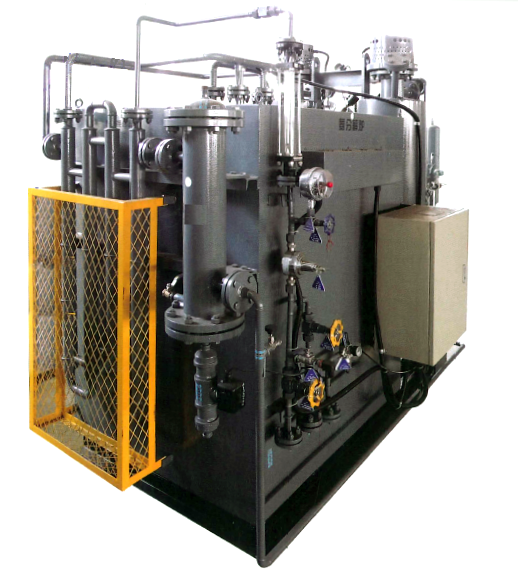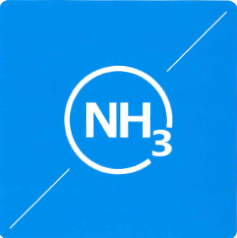 Principle
2NH3 → 3H2 + N2
Ammonia cracker's raw material is liquid ammonia; it will produce the mixed air, which contains 75% of hydrogen gas and 25% of nitrogen gas after it is vaporized under catalyst heating and decomposition. And then, via pressure swing adsorption principle we can get 99.999% high purity hydrogen gas.
Features
Simple, compact structure, relatively lesser space for installation is needed, easy operation
Small investment, low consumption, low running cost
Widely used, satisfies most customers' hydrogen gas requirements
Optimized industrial design for key parts, such as furnace stack, furnace tube and heating wire, 3 years quality assurance.
Technical index
Capacity: 1 ~ 1000 Nm3/h
Dew Point: ≤-10°С
Remaining ammonia: ≤0.1%
AMMONIA PURIFIER (DRYER)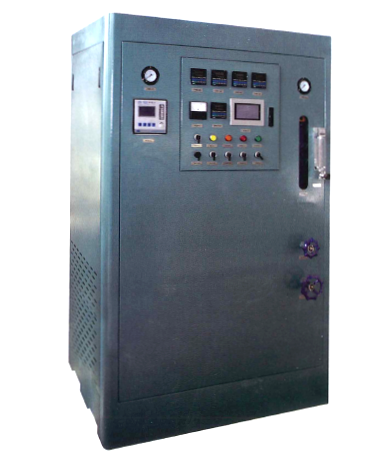 Principle
Ammonia purifier uses molecular sieves with different tem different adsorbing ability principle, via normal tem for working, heating regenerate to get drying ammonia.
Characteristics
Simple structure
Index stable, lower impurity
Fully automatic (optionally)
Working with ammonia cracker also can be used for other gas absorbing
Technical Index
Pressure: 20 bar
Dew point: ≤ -60°C
Capacity: 3 - 500 nm3/h
METHANOL CRACKER
#1 Methanol via high temperature cracking produces CO + H2 mixing gas.
CH3OH + H20 → CO2 + H2
CO2 + H2PSAH2 (99.9995%)
#2 Mixing pure water & methanol cracking produces CO + H2 mixing gas, then via PSA, we get 99.999% pure hydrogen.
Technical index
Capacity: 100 - 10000 nm3/h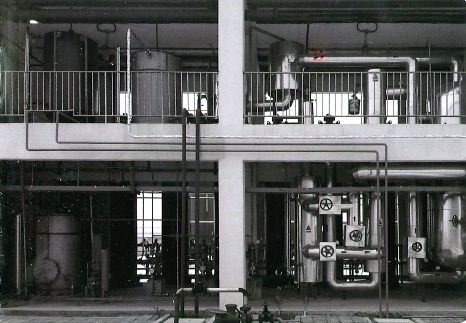 LNG CRACKING UNIT
Application
DX & RX cracking gas have OSP and oxygen reduction characteristics, widely used for anneal protection, agglomeration protection, furnace washing and blowing, etc. Used in fields such as metal heating treatment, powder metallurgy, magnetic material, copper process, metallic mesh, galvanized wire, etc.
DX GAS GENERATOR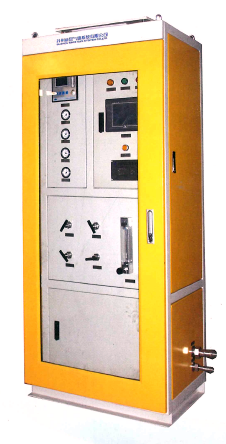 Description
DX gas generator is one kind of exothermic type gas generator that uses methane, propane, and LNG as raw material, under high temperature with filtering gas mixing insufficiency buring cracking N2, H2, CO, CO2 mixing gas.
Technical index
Capacity: 5 - 300 Nm3/h
Dew point: ≤ -70°C
RX GAS GENERATOR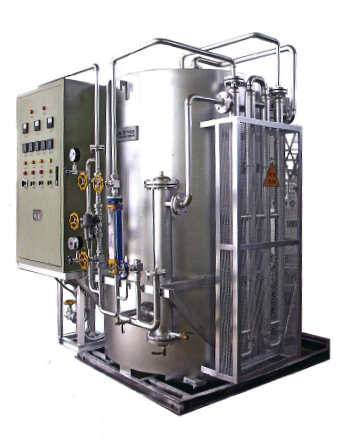 Description
RX gas generator is one kind of Endomethric Atmosphere type Generator that uses LGN as raw material under 1010°C, crackling producing H2, N2, CO mixing gas.
Technical index
Capacity: 5 - 350 Nm3/h
Dew point: ≤ -70°C