EQUIPMENT FOR THE MANUFACTURING OF PLASTIC COLLATED NAILS
Nail Collator Machines for Plastic Collated Coil and Strip Nails
Plastic Collated Nails
Collated nails, fastened into plastic clips (cassettes, strips or coils), are used in pneumatic nail guns (air nail guns) to mechanize manual labor in construction, manufacturing, and repair of wooden containers, where high strength of parts connection is required.
Special Plastic Collation Machines are used to produce such nails, which are automatic equipment for packing nails with plastic tape into special holders (strips or coils).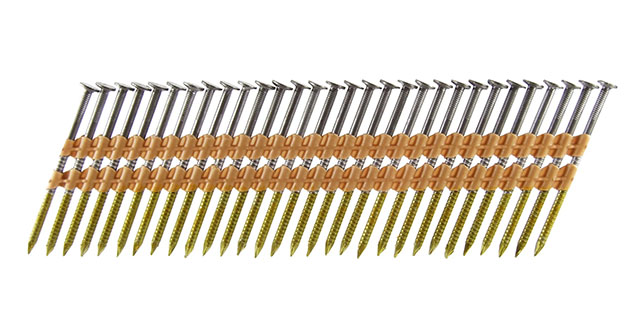 Plastic collated nails, also known as plastic strip nails or plastic collated framing nails, are the most economical type of framing nails. They are a strip of nails connected to each other with plastic tape. The angle of the nails in the cassette can be 17, 21, 26, 30, or 34 degrees. The nails can have smooth, screw shank or annular ring shank, and different coatings (bare, electroplated, hot-dip galvanized) or be made of stainless steel. The head of the nail is round, and it is rigidly fixed in the magazine, not moving at different angles of the tool.
Unlike coil nails, strip nails can be used in hard-to-reach places and are not capricious to the driving angle. Disadvantages include a small number of nails in the cassette (requiring frequent reloading) and a rather high cost.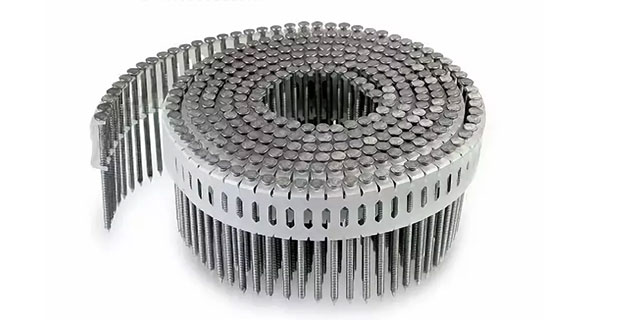 Plastic Collated Coil Nails for air guns are packed with plastic tape. These nails, connected to each other in a single coil in the amount of 250 or more pieces, are produced with annular, helical knurling, or without knurling. They come with different angles of inclination in the tape and can have different types of coatings. They are used in wooden construction, pallet assembly, and other tasks that require high performance (there are quite a lot of nails in the reel, which means the gun can be used longer without reloading) and low cost (industrial drum-type pneumatic tools have a higher resource).
Plastic Collated Concrete Nails Assembly Machine RY-50A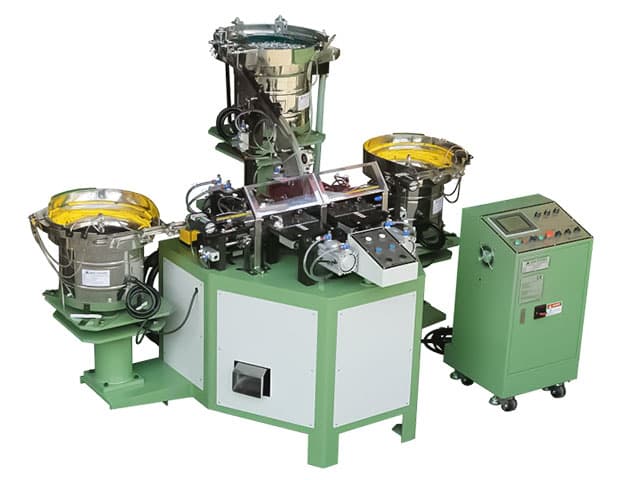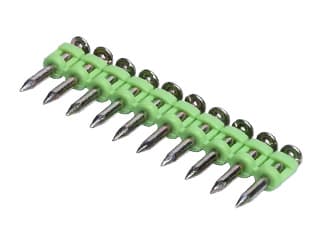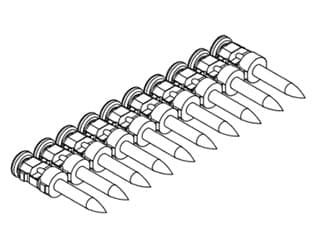 RY-50A
RY-65
Output
450 ~ 600 nails/min
400 ~ 500 nails/min
45 ~ 60 clips/min
40 ~ 50 clips/min
Nail Size

Length
15 ~ 50 mm
15 ~ 65 mm
Diameter
Ø2.5 ~ 3.1 mm
Clip Size
Length
70 mm
Pitch
7 mm
Segments in Clip
10
Nails Vibrator Out Diameter
Ø520 mm
Strip Vibrators Out Diameter
Air Motor
air pressure 5 ~ 7 kgf/sm2, air flow 900 L/min
Electricity
3-phase 380V 50 ~ 60Hz
Power Consumption
5.9 kW
Overall Dimensions (L × W × H)
2300 × 1800 × 1700 mm
Weight of equipment
1125 kg / 1230 kg
The RY-50A / RY-65 Plastic Collated Concrete Nails Assembly Machines are equipped with a protective cover at the request of the Customer.
Both the left and right sides of the machine have a single mechanism for feeding plastic strips. The machine makes a fast and stable reciprocation to assemble concrete nails, and each reciprocation motion can assemble six plastic clips, resulting in 60 pieces of nails.
The assembly machine is operated under PLC control and is equipped with an interface screen that indicates the workflow and diagnoses faults.
The machine senses every process of its motion, making it easy to operate and eliminate malfunctions, and ensuring the safety of both the machinery and the operator.
Overall, the operation is safe, and troubleshooting is easy.
Plastic Collated Nails Assembly Machine RPZ-700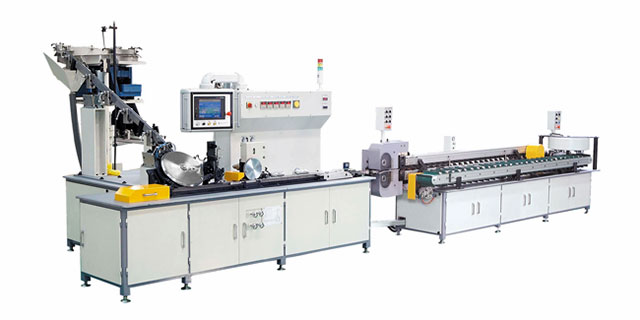 The RPZ-700 is a collating machine used to produce plastic strip nails for air nailer gun. Its design is tailored to pack nails into plastic rails suitable for use with air guns. With a horizontal two-lane feed, the collator can handle a high volume of nails, producing up to 2500 per minute, while minimizing plastic consumption.
The machine features a range of equipment, including a transmission mechanism, double-flow belt conveyor, water-cooled crimp gears, rotary cutter, anti-corrosion coating device with a splasher, and an auto-adjusting accumulator. All of these elements work together to ensure smooth and efficient operation, delivering high-quality results in the production of lath nails.
Plastic Strip Nails Assembly Machine RPZ-160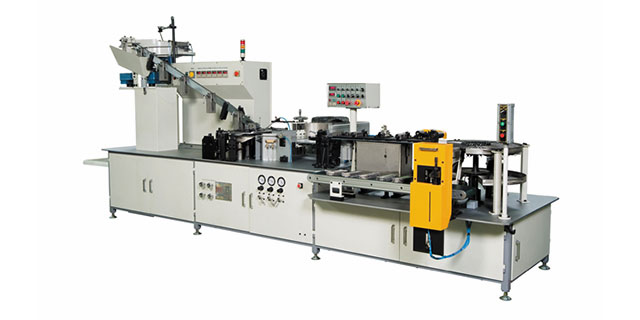 This equipment is designed to create plastic clips, also known as rails, and pack ordinary nails ranging from 32 to 100 mm in length into these clips. The collator can pack up to 1500 nails per minute into the plastic clips, which are then coated with an anti-corrosion solution and dried. The machine is also capable of stacking the plastic clips, each containing 10 nails, onto the outfeed conveyor.
With this machine, the process of creating and packaging lath nails is streamlined and efficient. By automating these steps, the equipment can significantly increase production while maintaining consistent quality.
Plastic Tape Collated Coil Nails Assembly Machine RPZ-125
This plastic tape nail collator is designed to be used with air guns and can accommodate nails ranging in length from 19 to 125 mm.
With its automatic functionality, this equipment is capable of processing up to 1800 nails per minute.
Additionally, it applies an anti-corrosion coating to the nails, dries them, and then wraps and ties each coil of nails before sending them to the outfeed conveyor.
RPZ Series Nail Collator Machines Specification
RPZ-125
RPZ-160
RPZ-700
Output
up to 1500 nails/min
up to 2500 nails/min
Nail Size

Nail Length
16 ~ 125 mm
45 ~ 160 mm
45 ~ 100 mm
Nail Diameter
1.47 ~ 4.10 mm
2.03 ~ 4.10 mm
Clip Parameters
Angle of Nails
0° - 16°
0° - 40°
any
Clip Size
50 - 300 nails per coil
20 - 40 nails per strip
Electricity
3-phase 380V 50 ~ 60Hz
Power Consumption
30 kVA
45 kVA
Required space (L × W × H)
5250 × 2200 × 1960 mm
5250 × 1600 × 2150 mm
7700 × 2600 × 1800 mm
Weight of equipment
3200 kg
3600 kg
4000 kg