Dear Partners,
We are having a long weekends coming up to celebrate the Middle Autumn Festival (Taiwan National Holiday) September 29th - October 1st.
We would like to take this great opportunity to thank you for your continued support, wish you and your family, the members of your company healthy, wealthy, prosperous and all the best.
Happy Middle Autumn Festival!
THREAD ROLLING MACHINES FOR THE FASTENERS INDUSTRY
THREAD ROLLING EQUIPMENT FOR FASTENERS, METALWARE AND PARTS
FEATURES OF FASTENERS PRODUCTION
We produce high-quality range of thread rolling machines designed for the production of different types of rolling on the bars with diameter up to 120mm, as well as steel or aluminum tubes with diameter up to 153mm.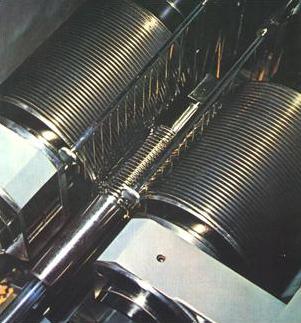 Machines are made using the latest Japanese technology and provide high performance and high quality products. With high-tech design full and simple hydraulic control is also provided through (fixed and elongated lengths) rolling and cut-in (fixed and limited) thread rolling .
The machines are designed for a wide range of types of thread rolling: pins, screws ACME great length screws, keys, spindles, fastener parts of bicycles, motorcycles, cars, electric fans, valves etc. Opportunity of production this wide spectrum of products distinguishes our cars from other analogs.
The main frame of the machine is stable and has a strong structure made of cast iron.
The stable and smooth movement of submission: slide rails are cast together with the frame of the machine as one part, and precisely primed to guarantee the absence of shocks, vibrations and rapid wear in the process of rolling.
Accurate feeding: the trunk of the worm gear with precise thread hardened and heat treated. It includes special phosphorus - bronze worm wheel to smooth stable transmission.
The range of sliding and the feed rate can be adjusted. Hydraulic pressure supply also can be adjusted at Depending from operation type.
Powerful rolling pressure (adjustable), and a hydraulic drive provides high power equipment, as well as the possibility of rolling a large range of thread sizes.
Various spindle rates provide great opportunities for thread rolling of various types and sizes. Also performance and service life period of rolling clips and products quality increases.
On cut-in rolling time can be adjusted and controlled by a timer. It provides opportunity of simple adjustment of frequent and rare thread. If the need arises, the cycle can be interrupted, and fast rebuilt.
According to the form of the processed product, the central support can be fitted to the two ends during the rolling process in order to modify the concentricity of the blank.
Thread rollers of the highest quality are made of special carbide tool steel HITACHI SLD2 (JIS SKD-11) heat treated in the Japanese vacuum hardening furnace, that provides long service life, hardness and strength. Steel for rolling clips manufacturing is delivered from Japan, the United States and Europe. Profile thread cut is performed on thread- grinding machines made by REISHAUER (in Switzerland) and MATRIX (in Great Britain). Strict quality control guarantees a long working life of rollers and high precision manufacturing, which ensures high quality products. High accuracy and workmanship of rolling rollers allows their use for the production of many kinds of products, including pins, screws, transmission shafts, bicycle, motorcycles, as well as various instruments.
The equipment includes an automatic feeding and unloading unit. This device is manufactured according to the special design appropriate to customer products size and form.
FEATURES OF THREADS ROLLING EQUIPMENT
Thread rolling is performed by two rollers that provides high-technology process of cold forging, during which the metal fibers are formed, rather than cutting, which occurs on a conventional lathe machine.
Main advantage of cold forging is not only in high speed and high precision in mass production, but also achieving a large tensile strength, shear strength and wear resistance.
We offer thread rolling tools of the highest precision requirements of world standards.
All the advantages of cold forging embodied in our machines: continuous direction of fiber material and strengthened surface, high grade surface treatment, high speed performance and reduce costs.