CONTINUOUS FURNACE FOR CARBURIZING, HARDENING AND TEMPERING
To see the specification of your hardware, click on the appropriate section.
ENDOTHERMIC TYPE GAS GENERATOR & ITS AUTOMATIC TEMPERATURE CONTROL PANEL

Features & Equipment configuration of the Endothermic Type Gas Generator
Equipment Configuration
Shielding gas generator for endogas production with automatic temperature control panel RG-801 consists of the following components:
Gassing panel: gas / air and piping.
Air intake by fan to ensure better gas combustion.
Built-in electric heating chamber.
Decomposing retort insert with catalyst.
Features of Endothermic Type Gas Generator
Gas control with protection system, safe and durable for use, stable control on dew point control with precise indication, available to be connected with CO2 controller for auto control purpose.
The system is the most advanced technology, created in cooperation with the professional company in USA.
The main parts & devices are imported from USA & Japan.
The air cooling system can improve many issues that original water-cooling system has & can reduce the high cost of cooling system which is required to be changed by blocked problem.
The ratio of air-enriched gas is automatically adjusted, thus avoiding manual adjustment. Additionally, it can helps to reduce the costs of periodical change of expensive part of mixing pump blades & cut costs for regular maintenance for mixing pump.
The Endo-gas generator has a standard computer system.
Heater's design with high efficiency, and the furnace can be opened for convenient maintenance and repair purpose.
Reserved connectors for simple and easy cleaning the trash inside the pipe.
Product Appearance of the Generator of Endogas Production RG-801 (with Automatic Temperature Control Panel)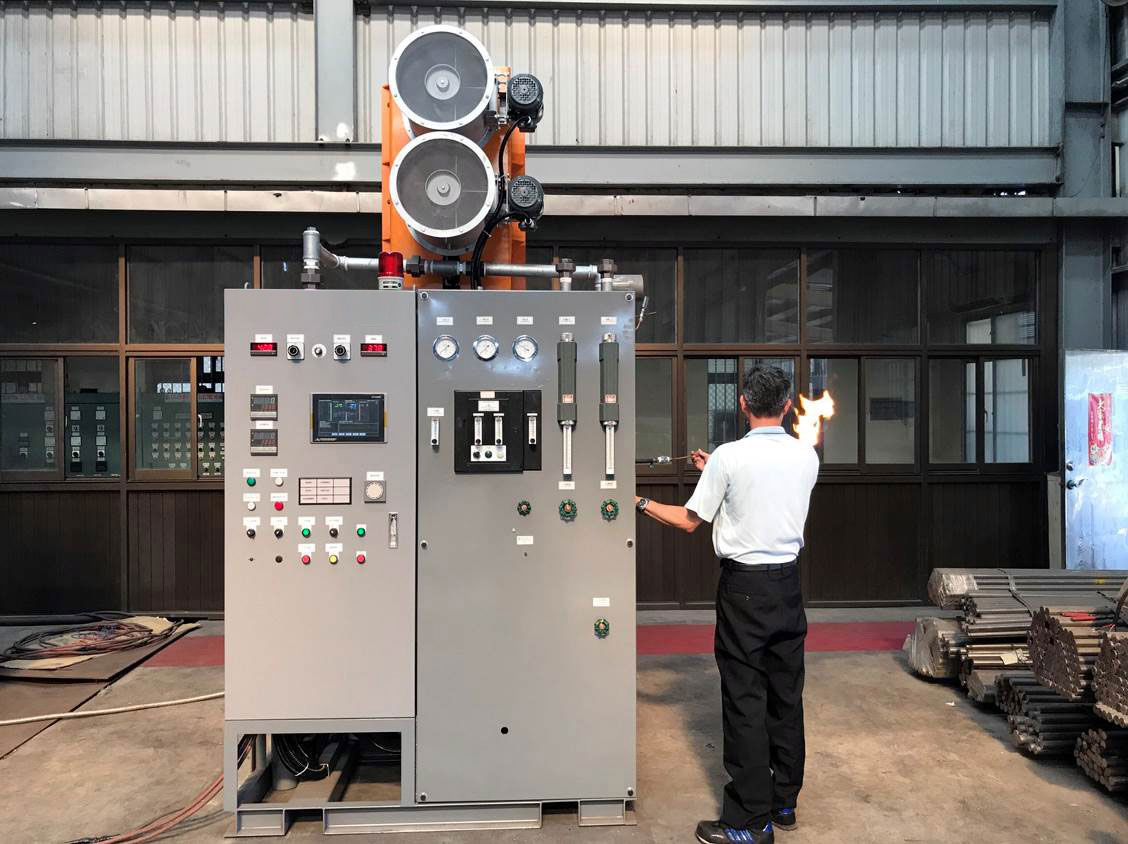 Gas Reforming Theory

Specification of the Endothermic Gas Generator with Automatic Temperature Control Panel
Model
Gas production capacity, m3/h
Power, kW
Outer dimensions, mm
Width
Height
Length
RG-801-A
15
34-42
1530
2750
2200
RG-801-1
20
34-42
1530
2750
2200
RG-801-2
25
34-42
1530
2750
2200
RG-801-3
30
34-42
1530
2750
2200
RG-801-4
35
34-42
1530
2750
2200
RG-801-5
45
34-42
1530
2750
2200
RG-801-6
55
34-42
1530
2750
2200
RG-801-7A
75
50-55
1800
2750
2500
RG-801-7
75
50-55
1800
2750
2500
RG-801-8
75
50-55
1800
2750
2500
Parts of Endothermic Gas Generator
| | | |
| --- | --- | --- |
| 1 | Gas fire curtain | 1 unit |
| 2 | Catalyzer protecting barrel, SUS310S heat-resisting steel: | 1 pcs. (Made in Japan) |
| 3 | One full set of gas generator parts (Made in USA) includes: | Blower, a full set of flow rate control system, Human-machine control interface (HMI), atmosphere control, Human-machine (HMI) record function - temperature, flow, ratio, atmosphere record |
| 4 | Gas generator pipe (1 unit) includes: | Emergency shut-off valve, gas low-voltage switch, pressure modulator, safety valve (imported from abroad) |
| 5 | Heating element: | spring type heater (Made in Japan) |
| 6 | Automatic annunciated lamp: | 1 unit (Made in Japan) |
| 7 | ON-OFF switch, 3 phase 380V × 50kW: | 1 set. (Made in Japan) |
| 8 | Catalyst | 50 kg (Made in Japan) |
| 9 | Cooling system: | Air-cooling type |
| 10 | Gas source: | use liquid gas/natural gas (provided by the buyer) |
| 11 | Carbon potential control system: | 1 unit (Made in USA) |