CONTINUOUS FURNACE FOR CARBURIZING, HARDENING AND TEMPERING
To see the specification of your hardware, click on the appropriate section.
FRONT DEGREASING & WASHING TANK

Application & Features of Front Degreasing & Washing Tank
The products go through the washing & degreasing process before being loaded to the de-phosphating equipment. Two types of front washing and degreasing equipment are available: soaking type and flat type.
The tank has a heater to supply the preheating zone with hot water in the carburizing furnace, in order to save electricity. Front Degreasing and Washing Tank is also equipped with oil and water separator and a powerful air blower. Quenching oil sticks to the material, which lets the quenching oil go back to the oil tank for future reuse.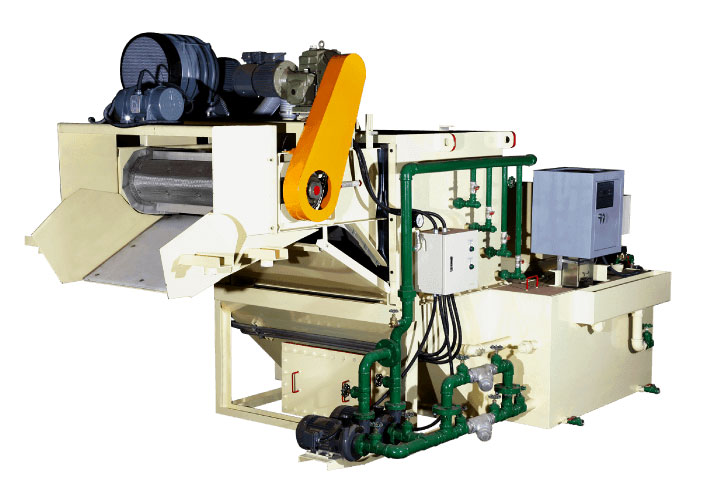 RG804-1 the first electric heated immersion washing device
Degreasing Area                            
60…80°C
Phosphate removal Area                       
60…80°C
Washing zone                                                     
60…80°C
Hot air drying zone               
80…100°C
For one bath mentioned above, 1 pump and 6 heaters with a total capacity of 78 kW are applied. The heaters are used as spare power sources and only at the beginning of the furnace application (see. Note below);

Note:
The heat source of the sink is the heat arised from hardening furnace gas burners and its heating system (heating temperature of the water is up to 80 ° C). Design and construction of piping performs by the Buyer according to the scheme provided by the Seller. You also need additional heat exchanger. Heaters in the sink are usually switched off and work only when you start the oven.The washing machine 6 heaters are also installed, 13 kW each
Irrigation system for degreasing, washing phosphate removal zones (one system)
| | |
| --- | --- |
| Pumps for irrigation                                                        | 1 pcs |
| Oil separator operates on the principle of densities separation | 1 pcs |
| Electric heating (13 kW)                                                        | 6 pcs |
| The volume of washing tank                                   | about 2,7 m3 |
| Engine power                                                   | 0,75 kW |
| The volume of quick-btn-conts for degreasing                                   | about  3 m3 |
| The volume of quick-btn-conts for phosphate removal                                   | about  3 m3 |
| The volume of quick-btn-conts for washing                                    | about  3 m3 |
Industrial Design of Soaking-type Washing and Degreasing Equipment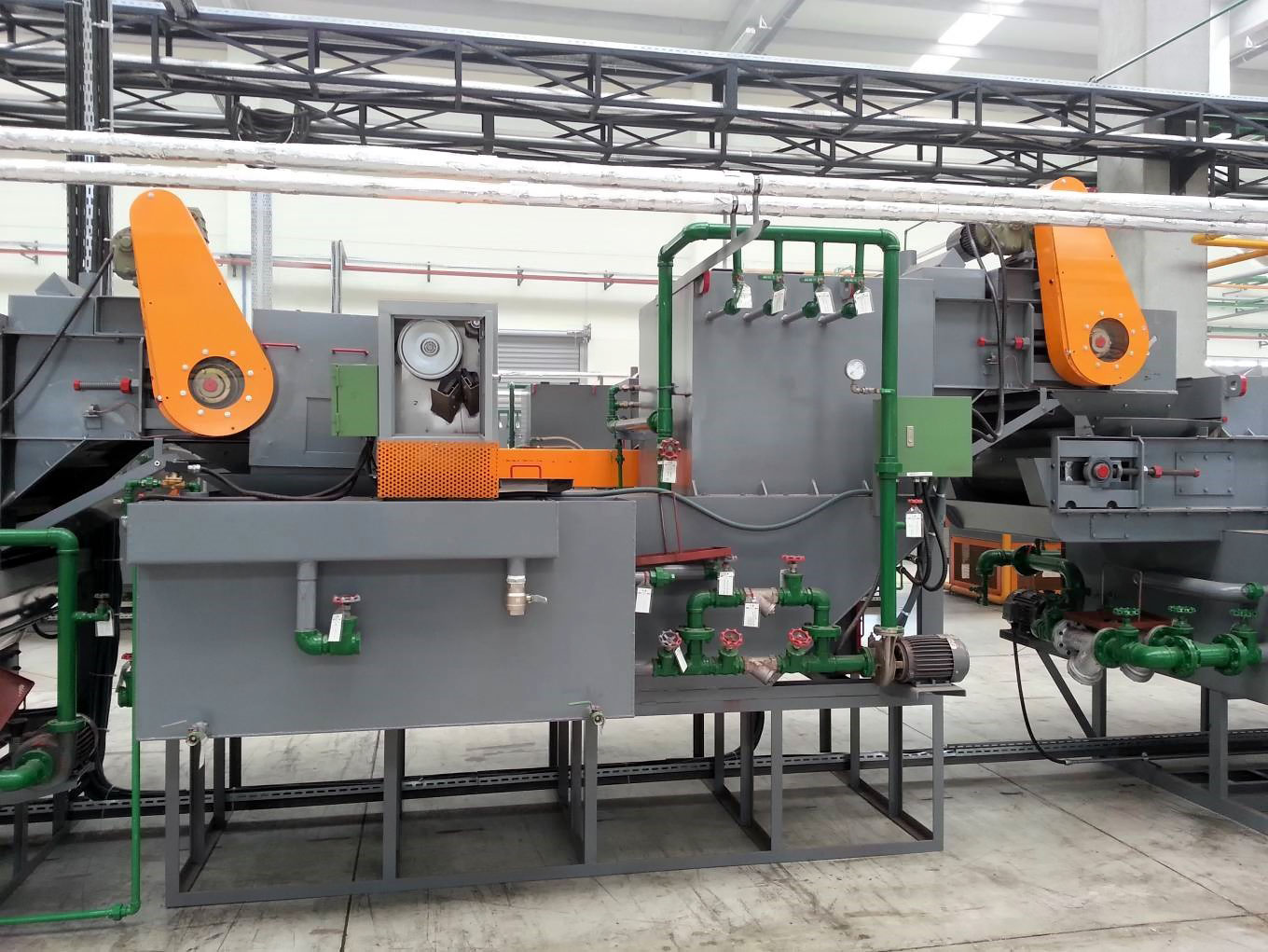 Technical Specifications of Front Degreasing & Washing Tank (Soaking type)
Model
Conveyor Width, mm
Supplemental Power, kW
Degreasing Tank capacity, l
Degreasing Pump capacity, hp
Outside Dimension, mm
Width
Height
Length
RG-804A-A
500
26
1810
2
1800
2345
3800
RG -804A-1
500
26
1810
2
1800
2345
3800
RG -804A-2
500
26
1810
2
1800
2345
3800
RG -804A-3
600
26
2180
2
1900
2345
3800
RG -804A-4
800
26
2900
2
2100
2345
3800
RG -804A-5
800
26
2900
2
2100
2345
3800
RG -804A-6
800
26
2900
3
2100
2345
3800
RG-804A-6S
800
26
2900
3
2100
2345
3800
RG-804A-7
1000
39
3620
3
2300
2345
3800
RG-804A-7S
1000
39
3620
3
2300
2345
3800
RG-804A-8
1000
39
3620
5
2500
2345
3800
Technical Specifications of Front Degreasing & Washing Tank (Flat type)
Model
Conveyor Width, mm
Supplemental Power, kW
Degreasing Tank capacity, l
Degreasing Pump capacity, hp
Outside Dimension, mm
Width
Height
Length
RG -804B-A
500
26
750
2
1560
2240
3100
RG-804B-1
500
26
750
2
1560
2240
3100
RG-804B-2
500
26
750
2
1560
2240
3100
RG-804B-3
600
26
900
2
1660
2240
3100
RG -804B-4
800
26
1200
2
1860
2240
3100
RG -804B-5
800
26
1200
2
1860
2240
3100
RG -804B-6
800
26
1200
3
1860
2240
3100
RG -804B-6S
800
26
1200
3
1860
2240
3100
RG -804B-7
1000
39
1500
3
2060
2240
3100
RG -804B-7S
1000
39
1500
3
2060
2240
3100
RG -804B-8
1000
39
1500
5
2260
2240
3100
Components of Front Degreasing & Washing Tank (Soaking type) RG-804
Washing tank:

Material: SS41
Soaking height: 255~300 mm
Tank capacity: approx. 2,300 liters
Tank sizes: W1,320 mm × H800 mm × L2,850 mm

Washing pump: 3HP (2.2KW) with Y type filter (by-pass design) × 1 unit
Washing conveyor:

Driving system: 1 HP (0.75KW) motor with gear box (1/450) × 1 unit
Belt type: Mesh type
Belt material: Stainless SUS204
Wires diameter of belt: 1.6mm × 1.6mm
Belt width: W.800mm × H.30mm
Belt length: Total 7.8 meters

Conveyor frame: SS41 steel by strong construction
Belt chain:

Type: 05075L
Materials: Chain plate - stainless SUS304; roller + bush + pin - SCM415, heat-treated

Heating system:

Heater type: piping type heater
Power: 52 KW (13kw/pc × 4 pcs)
Temperature control : thermostat on-off control

Skimmer: belt type (0.2kw) × 1 set
Carrying bar: aluminum in L shape × 1 unit
Injection pipes (design is patented): 1 unit
Floor control system proximity switch type × 1 unit
Pressure meter × 1 set
Drying blower × 1 set