CONTINUOUS FURNACE FOR CARBURIZING, HARDENING AND TEMPERING
To see the specification of your hardware, click on the appropriate section.
EMULSION COOLING AND ANTI-CORROSION TREATING BATH

Features and composition of the emulsion bath of the series RG-809
Features of construction
Making use of tempering heat for dyeing to save energy.
Adopts high-efficiency heat exchanger to prevent fire caused by overheated oil.
Uses double-layer type cooling tank with circulation pump, and the color of dyeing can be optional.
Emulsion cooling and anti-corrosion treating bath Composition
Conveyor of wire links for products unloading.
Outer aqueous emulsion heat exchanger with circulation by pump (the amount of circulating water 60912 l/h).
SWEP outer heat exchanger (Sweden) - performance 100RT
Circulation pump (2 hp) for chemicals 1 pcs
Conveyor chain 1 unit
Driving engine (1 hp) 1 pcs
Speed reducer 60-100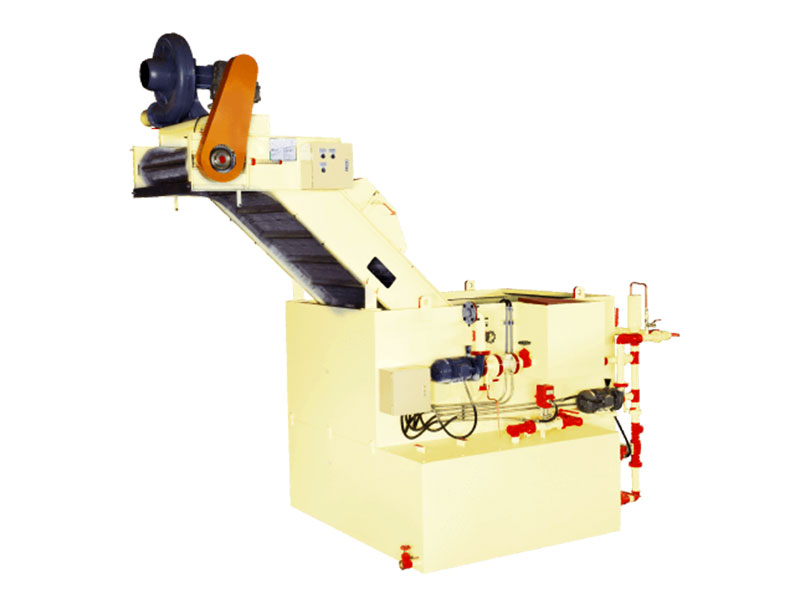 Specifications and technical characteristics of emulsion cooling and anti-corrosion treating bath
Thermal capacity
304000 kcal/h
Total heat exchange area
10.4 m2
Water flow rate
60,912 m3/h
Oil flow rate
31320 kg/hr
The maximum temperature of the emulsion bath 
50°C
The depth of products fall to emulsion environment (from the environment surface to the conveyor belt surface)
800 mm
Unloading belt width  
1000 mm
Power spent to the electric heating
very small
Power spent by engines
0,75 kW
Amount of circulating water
60912 l/h
Bath volume 
about 4000 l

Scaling during equipment processing must not exceed 3.4 kg per tonne

Transverse conveyor for parts unloading from an emulsion bath to the in-plant transport containers includes conveyor belts of wire links

The width of the cross belt conveyor     
500 mm
The power consumed by motors         
4,5 kW
Approximate speed of unloading                
1500 mm/min
RG-809A [Single Layer] Cooling Tank Technical Specification
Model
Conveyer Width, mm
Capacity of Dyeing Tank, L
Dyeing Circulation Pump, hp
Outside Dimension of Dyeing Tank, mm
Width
Height
Length
RG-809A-A
800
2000
2
1220
1000
2450
RG-809A-1
800
2000
2
1220
1000
2450
RG-809A-2
800
2000
2
1220
1000
2450
RG-809A-3
800
2000
2
1220
1000
2450
RG-809A-4
1000
2500
2
1530
1000
2450
RG-809A-5
1000
2500
2
1530
1000
2450
RG-809A-6
1000
2500
3
1530
1000
2450
RG-809A-6S
1000
2500
3
1530
1000
2450
RG-809A-7
1200
2830
3
1730
1000
2450
RG-809A-7S
1200
2830
3
1730
1000
2450
RG-809A-8
1400
3150
5
1930
1000
2450
RG-809B [Double Layer] Cooling Tank Technical Specification
Model
Conveyer Width, mm
Capacity of Dyeing Tank, L
Dyeing Circulation Pump, hp
Outside Dimension of Dyeing Tank, mm
Width
Height
Length
RG-809B-A
800
2000
2
1220
1000
2450
RG-809B-1
800
2000
2
1220
1000
2450
RG-809B-2
800
2000
2
1220
1000
2450
RG-809B-3
800
2000
2
1220
1000
2450
RG-809B-4
1000
2500
2
1530
1000
2450
RG-809B-5
1000
2500
2
1530
1000
2450
RG-809B-6
1000
2500
3
1530
1000
2450
RG-809B-6S
1000
2500
3
1530
1000
2450
RG-809B-7
1200
2830
3
1730
1000
2450
RG-809B-7S
1200
2830
3
1730
1000
2450
RG-809B-8
1400
3150
5
1930
1000
2450