COLD FORMING EQUIPMENT FOR SELF-TAPPERS AND SCREWS
COLD HEADING MACHINES FOR THE PRODUCTION OF SCREWS AND SELF-TAPPING SCREWS (
IN A PROTECTIVE COVER

)
Thanks to the fully sealed design, the cased cold heading machines have the lowest noise level and the highest environmental performance.
The service life of the cold forming machines and machine tools is much longer due to the exclusion of dust or foreign objects entering the machine.
Cold heading equipment with a protective cover guarantees maximum protection of the operating personnel. This is ensured due to several design features of the machines: a closed oil tank completely excludes ignition from the effects of an open flame or sparks in the workshop, safety sensors will perform an emergency shutdown of the equipment in the event of unauthorized access inside the machines and in the event of abnormal situations in operation, connecting the exhaust ventilation to the machine removes the arising in the process of cold disembarkation of fumes.
Advanced control of cold heading parameters.
Maximum standard and optional configurations.
Advantages of our cold heading machines
The solid bed is made of high quality steel imported from Japan. The dimensions of the bed are larger than those of similar machines from other manufacturers, which ensures reliable stability of the machine during operation.
The cold heading machines are controlled by an automatic control system.
CE Noise Compliant - Low-noise machines. The full protective cover also provides dust protection and safety for the operator.
The power consumed by the motors of the machine is relatively small, which saves energy.
Faster and more convenient tool changing system compared to other manufacturers' equipment - tool changes for the upsetting machine can be done in less than 30 minutes.
The simple, convenient design of the machines makes it possible to replace any part of the machine without completely opening and disassembling the machine mechanism, which favorably distinguishes our machines from machines from other manufacturers, including Taiwanese ones.
The entire process of production and assembly of machines is made in Taiwan, which guarantees the quality of the materials used and strict control over the production of equipment.
With constantly developing technologies, stability, quality, long-term precision in work are in great demand. The latest equipment for the production of machine tools is used, equipped with computer analysis and verification systems, which ensures the ideal technical characteristics of the machines produced.
Complete set of cold heading machines
The set of each cold heading machine includes:
1 set of machine tools
Wire unwinder
Automatic counting device
Work lighting
Maintenance tools
Passport
Operation manual in English
Electrical cabinet (with protection class IP 64)
Security door with power cut-off and automatic shutdown system (option)
Inverter (optional)

Cold heading machine in protective housing Model RA-2C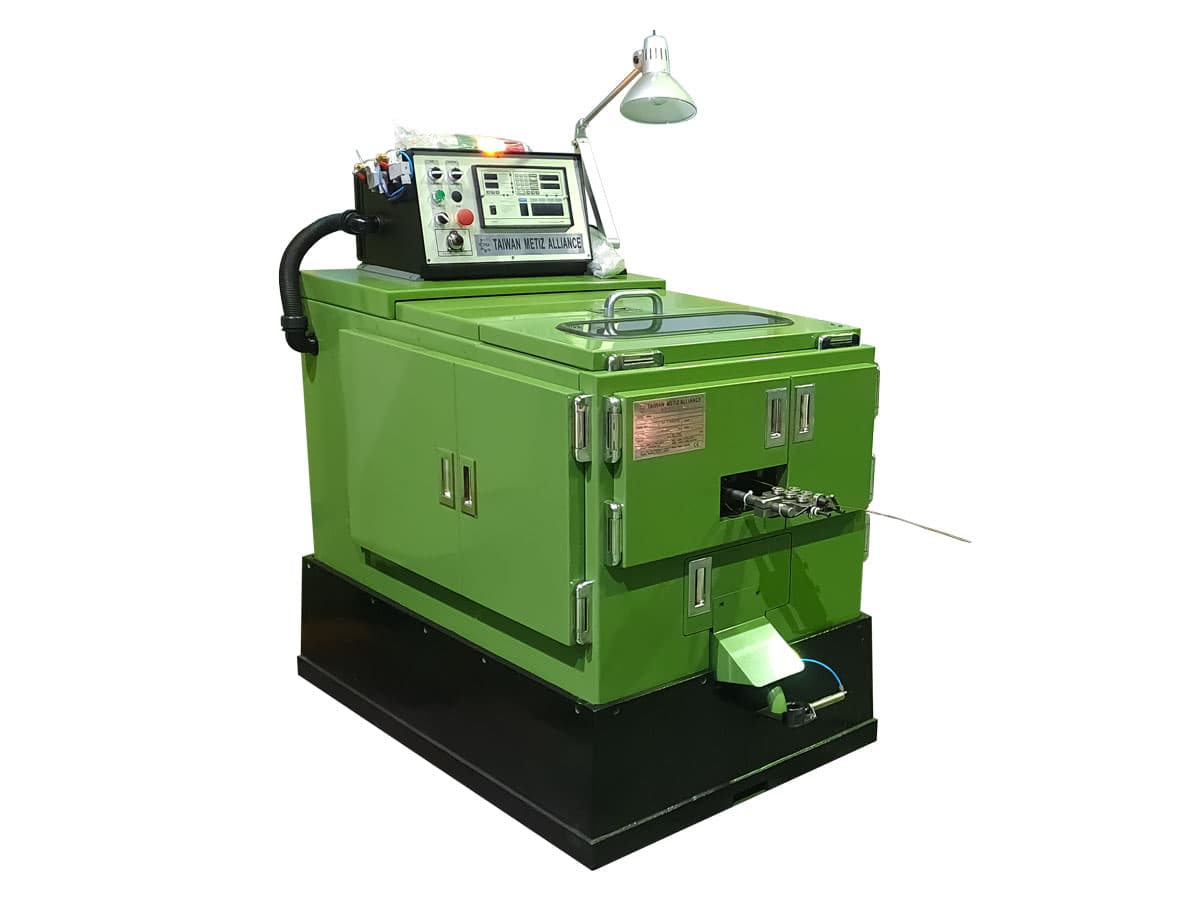 Model
Max. blank diameter
Max.blank length
Stroke Length
Performance, pcs./min.
Main die diameter
Cut-off Die diameter
First Punch diameter
Second Punch diameter
Main motor power
Oil pump power
Size,
L × W × H, sm
Net Weight, kg
Gross Weight, kg
RA-2C
0.8~3 mm
24 mm
38 mm
190~220
20 mm
13.5 mm
18 mm
18 mm
1 HP
¼ HP
165 × 110 × 156
860
930
Cold heading machine in protective cover Model RA-5.5C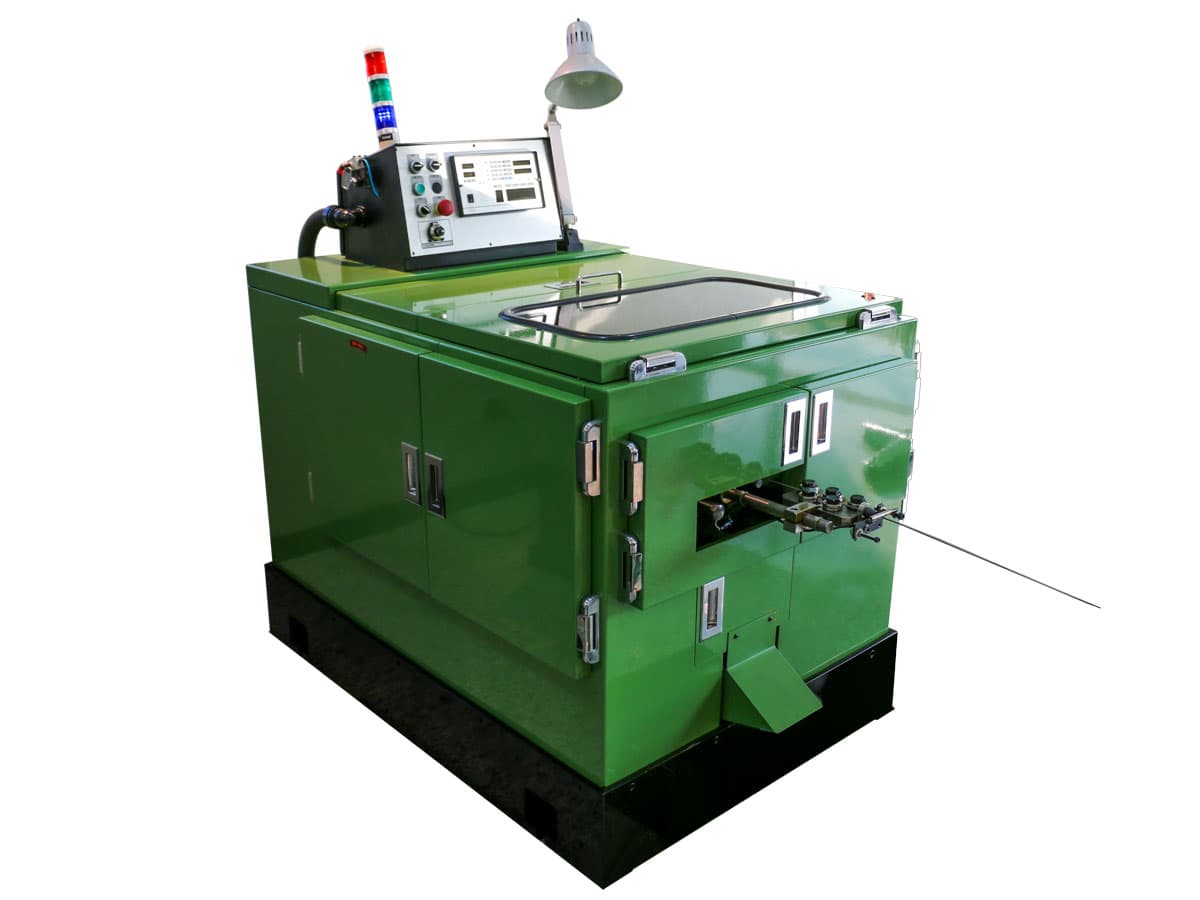 Model
Max. blank diameter
Max.blank length
Stroke Length
Performance, pcs./min.
Main die diameter
Cut-off Die diameter
First Punch diameter
Second Punch diameter
Main motor power
Oil pump power
Size,
L × W × H, sm
Net Weight, kg
Gross Weight, kg
RA-5.5C
2~3.5 mm
28 mm
46 mm
200~250
25 mm
13.5 mm
18 mm
18 mm
1 HP
¼ HP
175 × 115 × 185
980
1050
Cold heading machine in protective housing Model RA-10C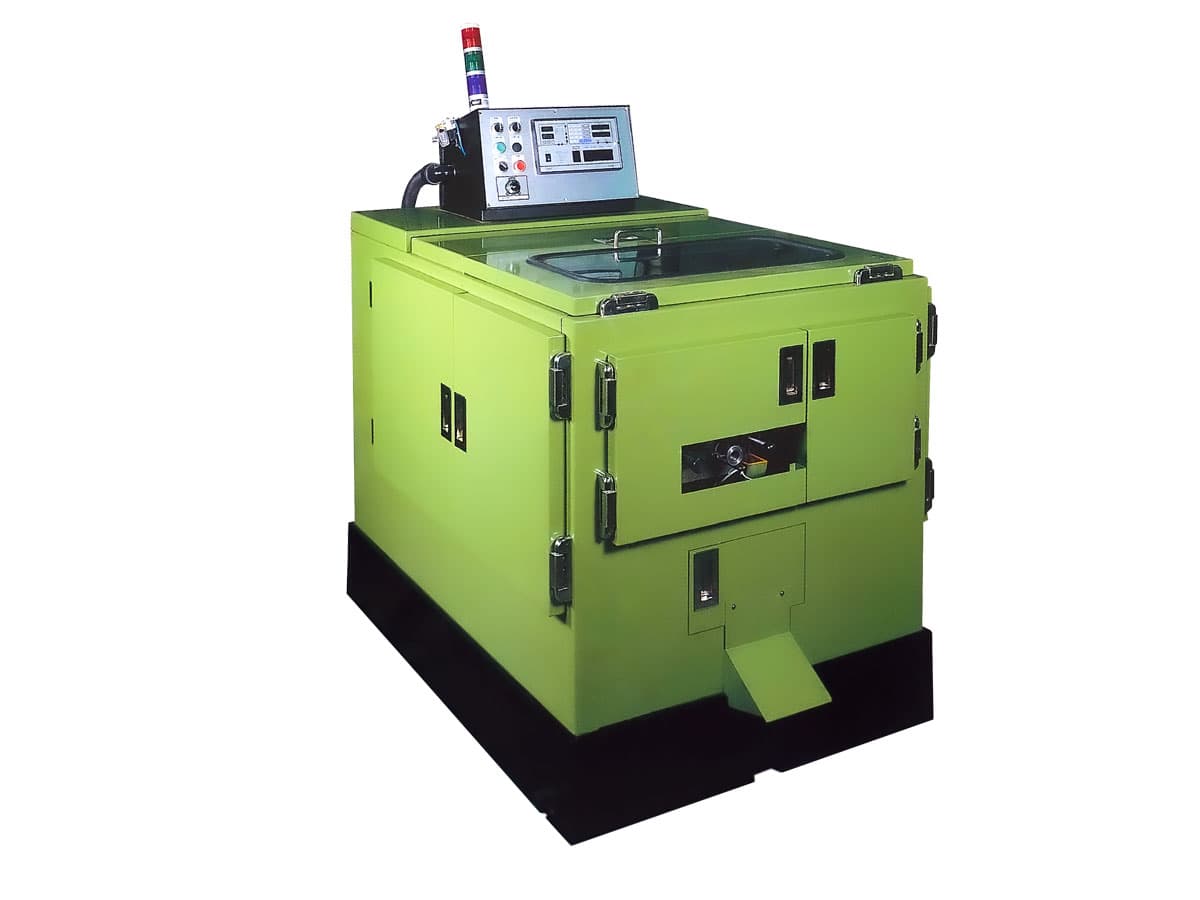 Model
Max. blank diameter
Max.blank length
Stroke Length
Performance, pcs./min.
Main die diameter
Cut-off Die diameter
First Punch diameter
Second Punch diameter
Main motor power
Oil pump power
Size,
L × W × H, sm
Net Weight, kg
Gross Weight, kg
RA-10C
2~4 mm
32 mm
58 mm
190~220
30 mm
15 mm
24 mm
20 mm
2 HP
¼ HP
185 × 130 × 200
1060
1360
Cold heading machine in protective housing Model RA-15C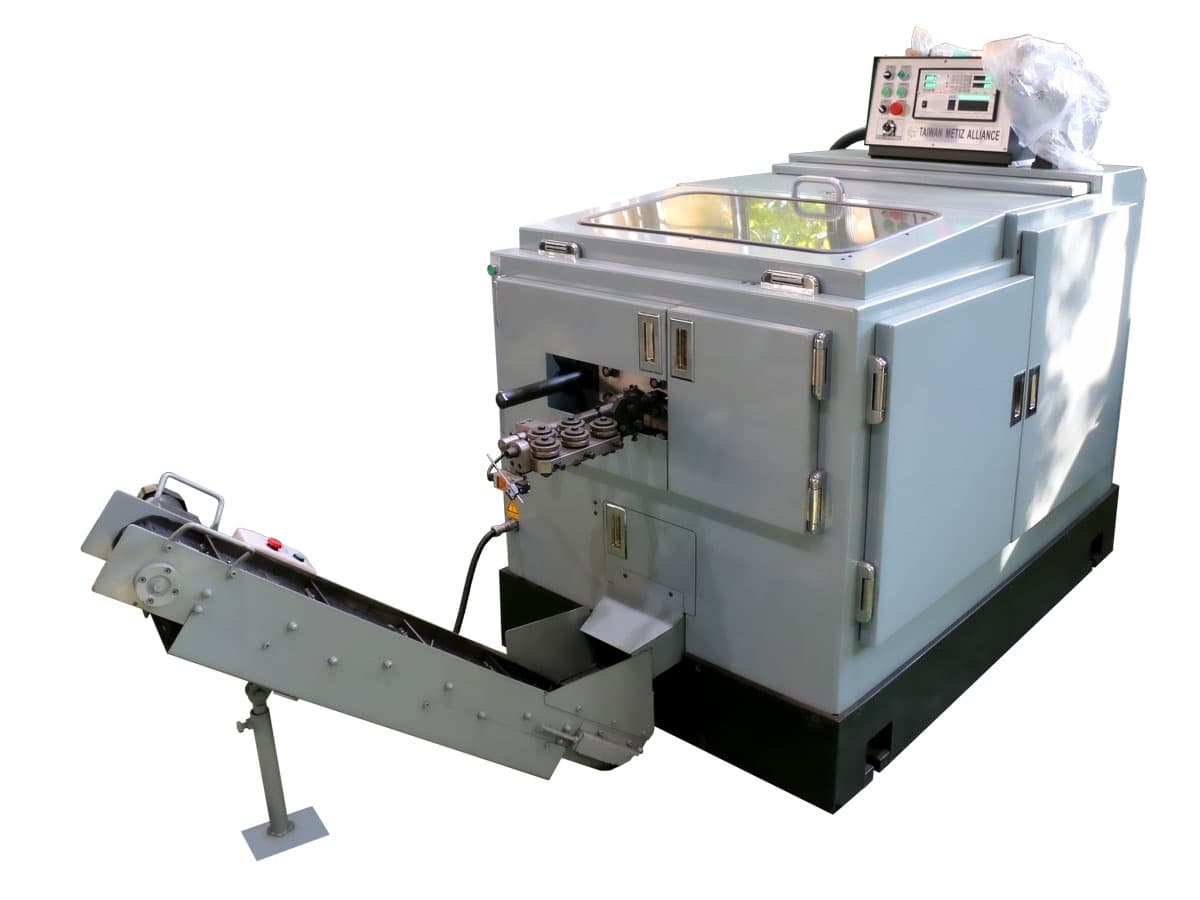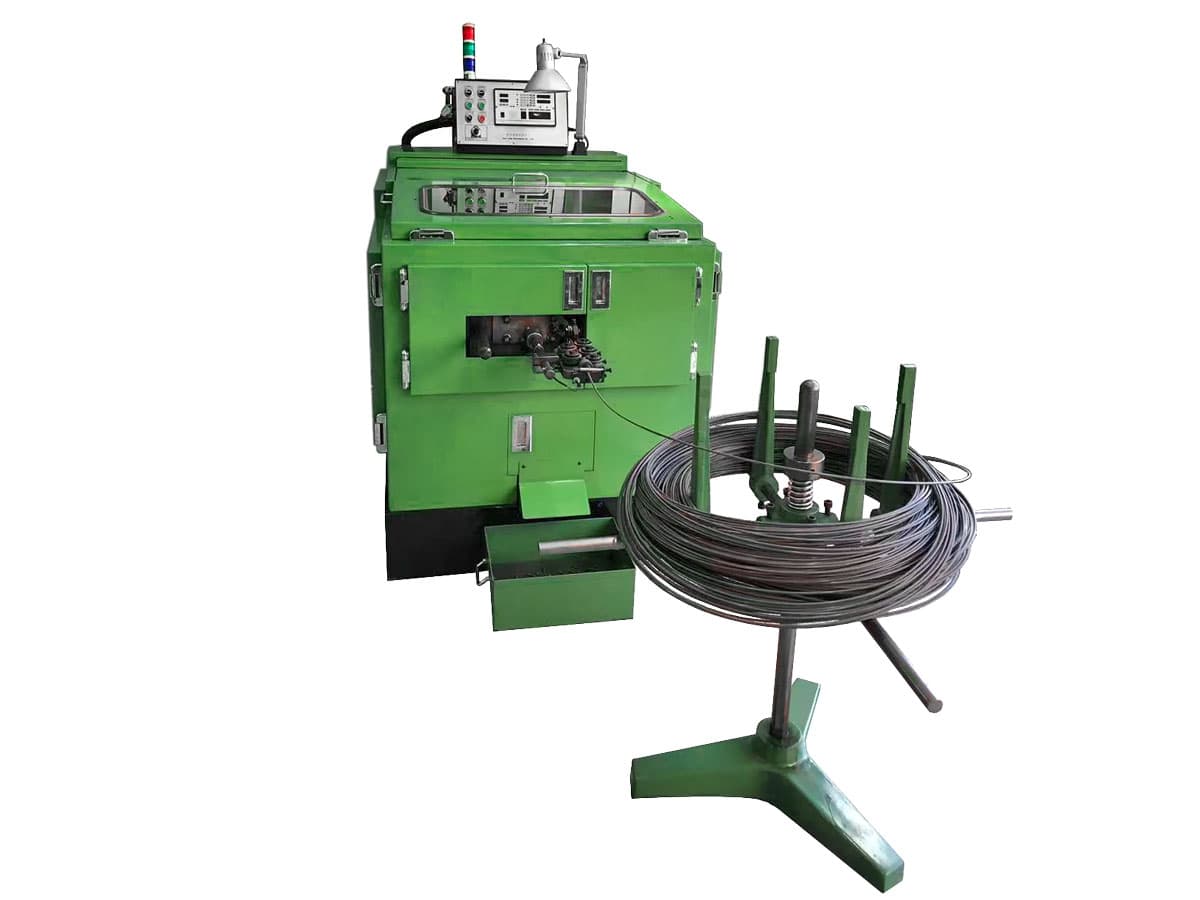 Model
Max. blank diameter
Max.blank length
Stroke Length
Performance, pcs./min.
Main die diameter
Cut-off Die diameter
First Punch diameter
Second Punch diameter
Main motor power
Oil pump power
Size,
L × W × H, sm
Net Weight, kg
Gross Weight, kg
RA-15C
4~5 mm
64 mm
92 mm
150~180
34.5 mm
19 mm
31 mm
31 mm
2 HP
¼ HP
198 × 130 × 175
1930
2130
76 mm
110 mm
2030
2230
Cold heading machine in protective housing Model RA-20C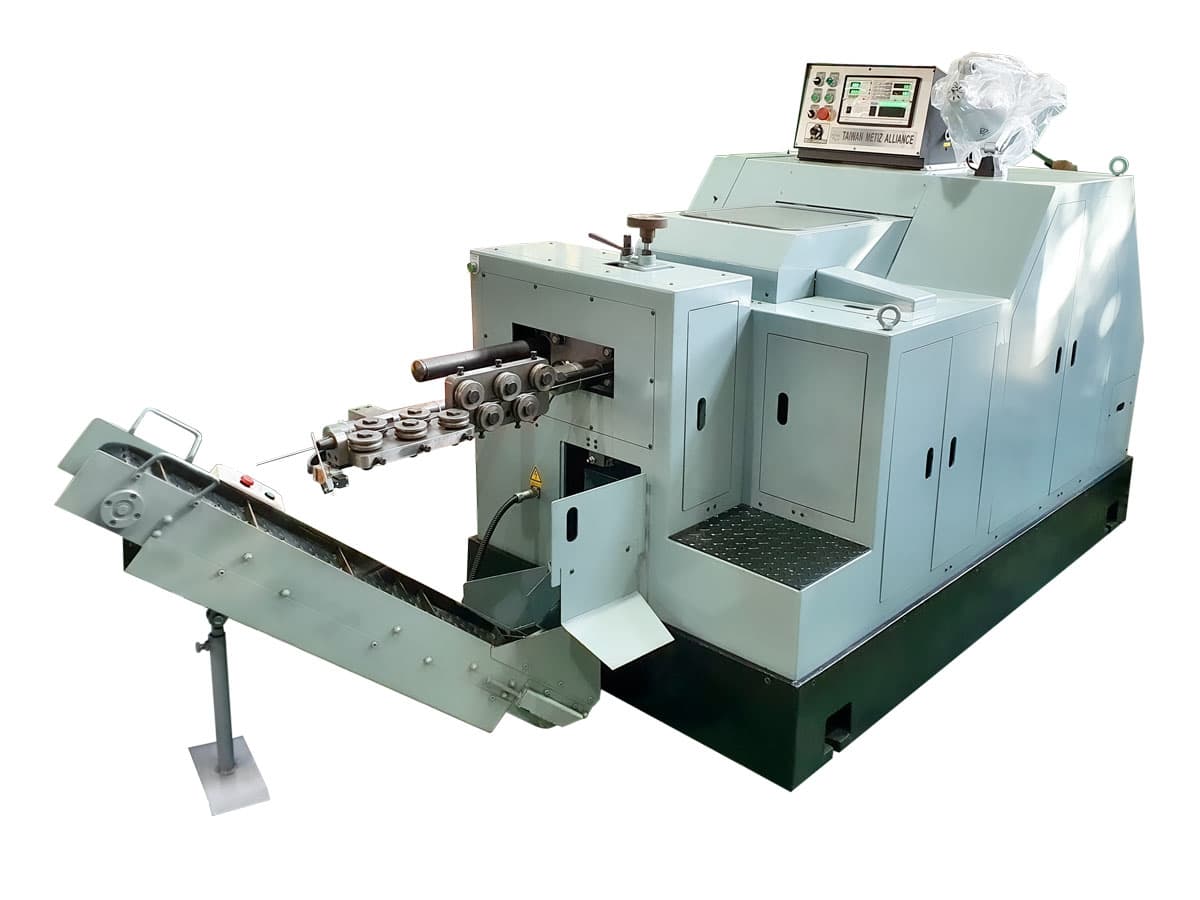 Model
Max. blank diameter
Max.blank length
Stroke Length
Performance, pcs./min.
Main die diameter
Cut-off Die diameter
First Punch diameter
Second Punch diameter
Main motor power
Oil pump power
Size,
L × W × H, sm
Net Weight, kg
Gross Weight, kg
RA-20C
4~6 mm
76 mm
124 mm
80~100
45 mm
25 mm
36 mm
36 mm
3 HP
¼ HP
240 × 140 × 150
2775
2280
102 mm
160 mm
265 × 140 × 188
3250
3400
Cold heading machine in protective housing Model RA-25C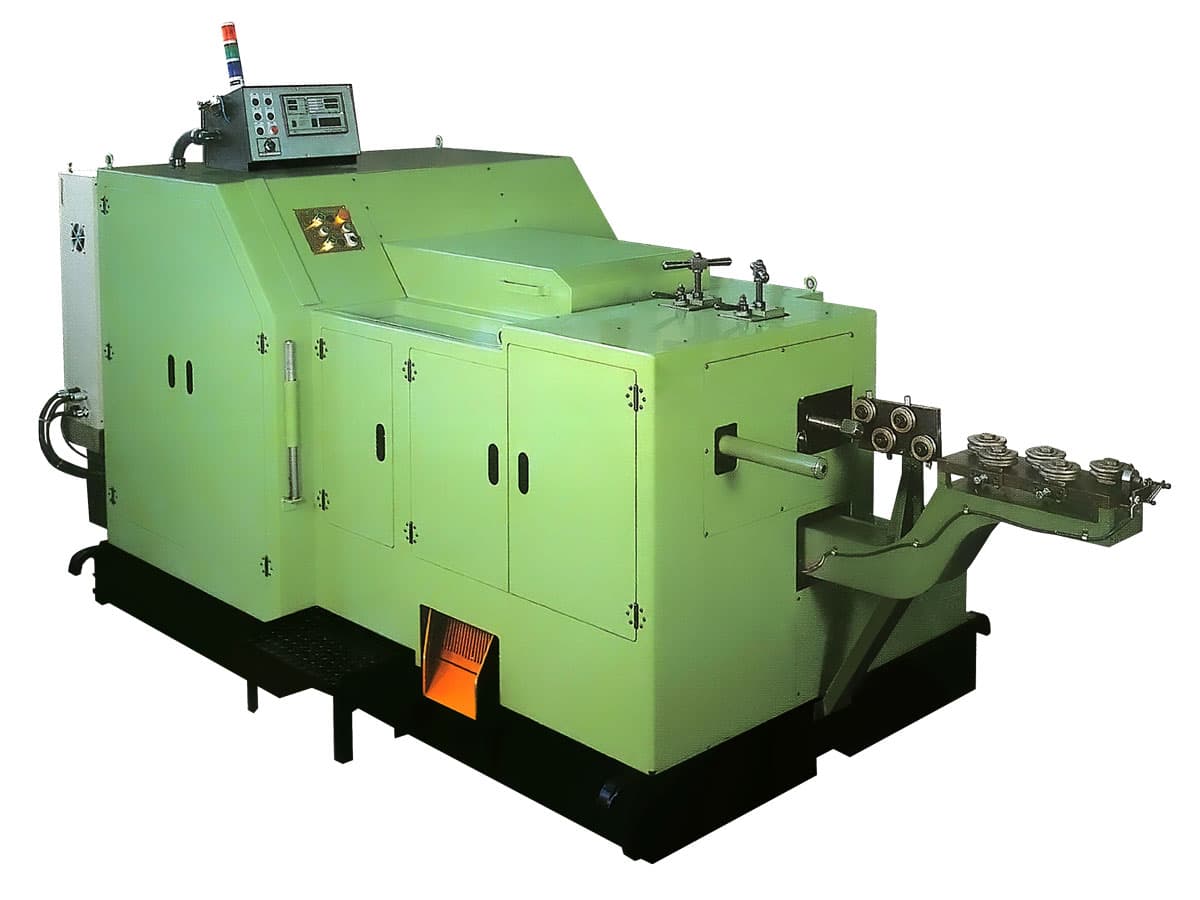 Model
Max. blank diameter
Max.blank length
Stroke Length
Performance, pcs./min.
Main die diameter
Cut-off Die diameter
First Punch diameter
Second Punch diameter
Main motor power
Oil pump power
Size,
L × W × H, sm
Net Weight, kg
Gross Weight, kg
RA-25C
4~8 mm
102 mm
160 mm
65~85
60 mm
32 mm
38 mm
38 mm
7½ HP
¼ HP
350 × 160 × 180
4500
4650